Africa Federation
History of Africa Federation Leaders
1946 - 1949
1. 1st Chairman of Africa Federation – Alhaj Abdulhussein H. Nurmohamed.
2. Vice Chairman - M.A. Khimji
3. Hon. Secretary - Gulamhussein N. Lakha
4. Hon. Treasurer - Abdulrasul M. Dewji
1950 - 1953
1. Chairman - Abdulrasul bhai N. Virji
2. Vice Chairman - H. K. Jaffer
3. Hon. Secretary - Mohamedali Janmohamed
4. Hon. Treasurer - Juma Haji
Abdulhussein Bhai Nasser Virji was elected as chairman to serve for the three years term. He took the Federation forward and maintained the unity and dedication towards the progress, Abdulhusein bhai introduced welfare and education sections. On the religious section Africa Federation started bringing maulanas from India and Pakistan to be stationed as resident Aalims in different Jamaats in Africa..
1953 - 1956 / 1956 - 1959
1. Chairman – Abdulhusein H. Nurmohamed
2. Vice Chairman - Mohamed Abdallah Khimji
3. Hon. Secretary - Gulamhussein N. Lakha
4. Hon. Treasurer - Ally Jaffer Sherrif
Prior to 1946 Jamaats already existed in the main cities, towns and villages of Africa, mainly in East Africa. Africa Federation was in its infancy and there was no proper means of communication and roads, it was a big challenge to unite all the Jamaats under the umbrella of the Federation. With the help of its members and with full support of the Jamaats this task was overcome. Unity and dedication was the priority and emphasis was put on religious as well as secular education. Spirituality and Islamic values took precedence over all other sectors of the Federation. In A. H. Nurmohamed bhai's term the Conferences started to be held. The main purpose of the Federation was to discuss faith, progress and welfare of the Khoja community. In the year 1958 a special fund called Tabligh, and Scholarships were also started. Twenty five members were appointed to tour all member Jamaats to collect the funds. Ebrahim bhai Sheriff Dewji and Maulana Syed Azizul Hassan Naqvi joined the tour.
1959 - 1962 / 1962 - 1965
1. Chairman - Ebrahim Sheriff Dewji
2. Vice Chairman- Mohammedali Sharrif Jiwa
3. Hon. Secretary - Hassanali P. Visram
4. Hon. Treasurer - Mohammedtaki R. Pirbhai
Ebrahimbhai was very ambitious and had toured Middle East to build the relations with the Muslim communities. In 1962 he went to Iraq and met Ayatullah al Udhma Sayyid Muhsin al Hakim. On the recommendation of Ayatullah, the Tabligh work started by Maulana Seyed Saeed Akhtar Rizvi in the year 1963. In the year 1967, Maulana went to Mombasa and had a meeting with the Office Bearers of the Supreme Council in which it was decided to establish two institutions namely Bilal Muslim Mission of Kenya and Bilal Muslim Mission of Tanzania. In the year 1968, Bilal Muslim Mission of Tanzania was registered and in 1971 Bilal Muslim Mission of Kenya was registered. Maulana was appointed as the Chief Missionary and also Tabligh Advisor.
In 1962 Africa Federation received the Ijazah from Marja-e-Taqlid and this was the beginning of centralization of Hukuk in Africa.
Ebrahim bhai organized a special entourage to visit the Jamaats of Madagascar, Mauritius and other neighboring Jamaats in the Indian Ocean islands; they were encouraged to join as members of the Federation.
In 1964 Ebrahim bhai Sheriff a dedicated, humble and a far-sighted leader of the Federation on his visit to Zanzibar succumbed to the will of Allah (SWT) and passed away on 10th of January 1964. The sudden death of this illustrious and eminent leader of the Federation sent a shock-wave throughout Africa and beyond its borders. Sadly, at the same time, Zanzibar was engulfed by the revolution in the same month in 1964 and the future of our brothers in Zanzibar and Pemba became uncertain. Many of them migrated to Dar es Salaam, and some ventured to other countries overseas.
The Revolutionary Government had started the system of forced marriages in Zanzibar. Africa Federation played a major role in shifting the would be victims of the forced marriages. Mulla Asgharali M. M. Jaffer was then the Hon. Secretary of AFED based in Mombasa, Kenya. He took charge of shifting some families to Dar es Salaam. The expenses were covered by Africa Federation. The Federation also provided loans and grants to the families who had their businesses looted and destroyed during the revolution.
1964 - 1965
Mohamed Ali bhai continued taking forward the missions of Marhum Ebrahim bhai Sherrif Dewji.
1965 - 1968
1. Chairman – Alhaj Mohammedali bhai Meghji
2. Vice Chairman - Hassanali Ladak
3. Hon. Secretary – Mulla Asgharali M.M. Jaffer
4. Hon. Treasurer - Hassan Ali M Jaffer
1968 - 1971
1. Chairman – Alhaj Mohammedali bhai Meghji
2. Vice Chairman - Alhaj Alimohamed Jaffer Sheriff Dewji
3. Hon. Secretary - Jafferali H. Asaria
4. Hon. Treasurer - Jafferali M. Merali
1971 - 1974
1. Chairman – Alhaj Mohammedali bhai Meghji
2. Vice Chairman - Mulla Asgharali M.M. Jaffer
3. Hon. Secretary - Bashir H. Peera
4. Hon. Treasurer - Gulamali E. Karim
In 1967 AFED conference in Tanga it was resolved that the Bilal Muslim Mission should be established and registered under Africa Federation. The Mission work would be fully financed by the Federation. Maulana Syed Saeed Akhtar Rizvi who was already doing the Tabligh work, was appointed as Chief Missionary of Bilal and gained full support of all the Jamaats. The propagation of the Ahlulbayt faith was officially approved to be propagated outside the community.
In 1972 the Uganda expulsion came suddenly and AFED was taken by surprise. Our brothers in Uganda helped each other; many of our community members were British citizens and were taken by the British Government. Others who were Ugandan citizens lost their citizenship and had to leave Uganda. Alhaj Sultanbhai Datoo who was the President of Kampala Jamaat organized one-way tickets for them and they finally got asylum in Canada, USA, and some European countries. Some families settled in Kenya.
1974 - 1977
1. Chairman - Mulla Asgharali M.M. Jaffer
2. Vice Chairman - Hussein Nasser Walji
3. Hon. Secretary - Bashir Peera
4. Hon. Treasurer - Gulamali E. Karim
1977 - 1980
1. Chairman - Mulla Asgharali M.M. Jaffer
2. Vice Chairman - Abdulrasul A. Lakha
3. Hon. Secretary - Akberali A. Karim
4. Hon. Treasurer - Mohamedjaffer G. Hasham
This decade was very important in the Africa Federation's history many of our brothers in Europe had no centres to hold the religious ceremonies. They all started depending on Africa Federation. Africa Federation was in constant touch with them and also provided religious guidance and books. Several Jamaats in Europe and North America received funds for the construction of their centres from our institutions and brothers from East Africa and Madagascar, the association between the Federation and the overseas Jamaats became even stronger and progressive.
Mulla Asgharali decided to start the World Federation, and in 1976 World Federation was registered and Mulla Saheb became the first President of the World Federation. In the establishment of the World federation our Marja-e-Taqlid Ayatollah al Udhma al Sayyid Abulqassim al Khoi offered his full support, as our Khoja brothers in Europe required the centres. The first Khoja Shia Ithna asheri centre was started in Hammersmith in the U.K. and later on then moved to Stanmore. World Federation extended its activities to Europe, North America and India. Our Khoja Jamaats of Europe (COEJ) and North America (NASIMCO) and India became members of World Federation. Africa Federation played a pivotal role in the formation of the World Federation; most of our brothers who were then in Europe and North America were originally from East Africa.
1980 - 1983
1. Chairman – Alhaj Abdulrasul A. Lakha
2. Vice Chairman - Hassan Ali M. jaffer/Yusuf M Kermalli
3. Hon. Secretary - Mohamedraza Datoo
4. Hon. Treasurer - Abdulrazak Khalfan
After Mulla Saheb became President of the World Federation, Abdulrasul bhai Lakha became the President of AFED during his term very close relations were maintained with the Jamaats in Western countries; many mosques and centres were built across in Western countries and quite a big donation was organized from East Africa and Madagascar through AFED.
It is interesting to note that the Khoja community was spread all over the world; Madagascar, Reunion, Mauritius, Australia, North America and Europe are well settled with their own centres. It is also pleasing to see the good cooperation and collaboration between the World Federation and Africa Federation for the wider benefits of the Khoja community worldwide.
1983 - 1986
1. Chairman - Mohamed bhai Dhirani
2. Vice Chairman - Habib Mulji
3. Hon. Secretary - Mohamed Rafiq Somji
4. Hon. Treasurer - Akber Dhirani /Mohamed Hassam
1986 - 1989
1. Chairman - Mohamed bhai Dhirani
2. Vice Chairman - Habib Mulji
3. Hon. Secretary - Mohammed Somji
4. Hon. Treasurer - Mohamed Hassam
1989 - 1992
1. Chairman- Alhaj Habib bhai Mulji
2. Vice Chairman - Mohamed Rafiq Somji/Mohamed Khalfan
3. Hon. Secretary - Habib Virani
4. Hon. Treasurer - Murtaza Walji
1992 – 1995
1. Chairman- Alhaj Habib bhai Mulji
2. Vice Chairman - Habib Virani
3. Hon. Secretary - Murtaza Walji
4. Hon. Treasurer - Mohamed Hassam
Habib bhai Mulji headed AFED and was instrumental in enhancing the relationships with the World Federation and jointly working in supporting our brothers in Gujarat India AFED helped many of our needy families in Gujarat and other places in India.
In 1991 civil war in Somalia started between different fractions there was no Law and Order, and the Government was almost non-existent. Our brothers in Mogadishu and Merca were trapped in this civil conflicts and violence accelerated. AFED organized a team to go for their rescue. Hon. Sajjad Bhai Rashid of Mombasa, Kenya volunteered and organized a group that went to Somalia to rescue over 800 of our brothers, sisters and children. A special ship was hired with full medical team. Hassan bhai Ali M. Jaffer was monitoring the whole rescue operations and was keeping AFED office bearers informed all the time. Sajjad bhai was awarded several medals for this brave and risky rescue mission he undertook with his team. A Setwell committee was formed to look after and settle our brothers from Somalia many settled in East Africa some migrated to England, Pakistan and other countries in the West. Leadership, Unity, Wisdom and Faith played a big role in the wellbeing of our community.
1995 - 1998
1. Chairman - Mohamed bhai Dhirani
2. Vice Chairman - Mohamed Pirbhai
3. Hon. Secretary - Mohammed Somji
4. Hon. Treasurer - Mohamed Hassam
1998 - 2001
1. Chairman - Mohamed bhai Dhirani
2. Vice Chairman - Mohamed Pirbhai
3. Hon. Secretary – Asger J. Dhanji
4. Hon. Treasurer – Ahmed H. Alloo
Mohammed bhai Dhirani with long experience in the community services was given the opportunity to serve the community for two terms twice. In his term Mohamedbhai supported Jamaats in housing, education and madressah projects. During these periods Bilal Tabligh Mission extended its wings to the neighboring countries like Mozambique Burundi and DRC - Congo. AFED Jointly with World Federation built 22 flats in Kutch Bhuj in India for our needy brothers. Mohamedbhai is still active and attends the AFED conferences and supreme council sessions at various places in different parts of Africa.
In the year 1997 the 55th Session of AFED Supreme Council was held in Kampala in Uganda after 42 years. Mohamed bhai's idea was to gather our brothers in Kampala which was once our glorious centre.
Participants expressed their appreciation to Kampala Jamaat for organizing the Session in Kampala which gave them the opportunity to visit the Kampala City which was once a strong wing of AFED, it was also reported that the Jamaat was enjoying with 250 members and with past glory is reviving gradually.
The Chairman also thanked Kampala Jamaat for taking such a mammoth task of hosting the conference it made him proud in spite of a very young Jamaat they took this bold step Jazakallah.
The 11th Supreme Council Meeting of AFED was held in Kampala in 1955 many dignitaries from abroad attended the Conference; among them were Haji Dawoodbhai Haji Nasser of Mumbai, India and Haji Ismail Bhai Abdulkareem Panju.
Sadly, on the 5th April 1985 community lost one of its veterans Councillor from Mwanza Jamaat Alhaj Muhammad Jaffer Nasser during the 43rd Supreme Council meeting held in Arusha Conference Centre. Marhum passed away after making observations on the Chairman's address. Condolence message from AFED Chairman was delivered by Alhaj Mohamedbhai Dhirani.
2001 - 2004
1. Chairman – Alhaj Zulfikar bhai Khimji
2. Vice Chairman – Alhaj Ramzan Nanji
3. Vice Chairman CROI - Mohammedraza Khamis
4. Hon. Secretary - Hussein Rashid / Barkat Rajani
5. Hon. Treasurer - Mustafa Pirmohamed
2004 - 2007
1. Chairman – Alhaj Zulfikar bhai Khimji / Alhaj Ramzan Nanji
2. Vice Chairman - Ramzan Nanji/ Dr. Asgher Moledina
3. Vice Chairman CROI - Mohammedraza Khamis
4. Hon. Secretary - Barakat Rajani/ Fazleabbas Chandoo
5. Hon. Treasurer - Murtaza Kanani
Zulfikar Bhai Khimji with a dynamic nature and zeal to steer the youths, encouraged them to study further to higher academic levels. He was instrumental in raising funds and created some scholarships, Alhamdulillah many of our boys and girls took advantage of the support provided by AFED Higher Education Loans. Zulfikar bhai visited almost all Jamaats in East Africa and also Madagascar, Reunion, Mauritius, Congo and Mozambique.
Zulfikar bhai was a practical person and had the vision to take the Federation to higher level of success. He also took keen interest in Tabligh work of Bilal Muslim Mission and visited many Bilal centres in rural areas. He had a great passion for Madressah, and in higher religious education for our youths.
Sadly, in 2004 when he took over the post of the Chairman of AFED for the 2nd term he was attacked by some thugs in Nairobi city and died from the attack. His death was a shock to the community.
2007 - 2010
1. Chairman – Ramzan Mulla Nanji
2. Vice Chairman - Zulfikar Dewji
3. Hon. Secretary - Fazleabbas Chandoo
4. Hon. Treasurer - Murtaza Kanani
Ramzan bhai continued the mission of marhum Zulfikar bhai Khimji. He launched the Zulfikar Ali Khimji Memorial Fund (ZAKMEF) project keeping the legacy of marhum Zulfikar bhai alive. This project was to collect funds for higher education loan for students both, boys and girls to pursue further studies up to university/college levels for bachelor's degrees or advance diploma course.
During his tenure, Ramzan bhai improved the property portfolio by disposing off the old buildings whose yields were minimal and re-invested the money including funds raised through donations to acquire four residential properties in good locations in Dar es Salaam for rental, and whose income is used for ZAKMEF higher education loans for students.
Ramzan bhai was also very keen to promote Tabligh within the indigenous Shia population, Nairobi and Nakuru Centres in Kenya were further developed with the support from Mulla Nanji family.
2010 – 2013
1. Chairman – Alhaj Anwarali Dharamsi
2. Vice Chairman - Shabir Najafi
3. Vice Chairman CROI - Sabirhoussen Goulamlay
4. Hon. Secretary - Aunali Khalfan
5. Hon. Treasurer - Mohammed Hemani
2013 - 2016
1. Chairman – Alhaj Anwarali Dharamsi
2. Vice Chairman - Shabir Najafi
3. Vice Chairman CROI - Navazaly Molou
4. Vice Chairman UAKSIR - Amine Nassor
5. Hon. Secretary - Aunali Khalfan
6. Hon. Treasurer - Mohammed Hemani
Alhaj Anwer bhai's vision and mission was to forge closer ties with the parent body - The World Federation and the Regional Federations. His key objective was to strengthen Africa Federation in administration, operations and finance, giving greater focus in economic empowerment, housing, tabligh and secular education thereby creating a sound base for the community at large. During his two terms (6 years) he enhanced communications with member Jamaats, through visits and networking which improved the working relationships with member Jamaats in mainland Africa and Territorial councils in the Indian Ocean Islands of Madagascar, Mauritius and Reunion.
Several projects were initiated during his term, including housing projects; Al Sadiq in Tandamti at Kariakoo in Dar es Salaam and Al Qa'eem Residency in Arusha. Anwar bhai's vision to make AFED self-sufficient resulted in acquisition of a large property at a prime location on Julius Nyerere Road – and development of Umoja Commercial Complex Phase One consists of 20 Warehouses, first of its kind in AFED. AFED also acquired a 10 Warehouses complex in Mombasa, Kenya whose income supports the Tabligh activities in Africa.
A milestone achievement derived when Conseil Regional of Madagascar (CROI) after a lapse of about 7 years rejoined AFED in 2011. One more feather in the AFED's cap was when Reunion Association became a new member of AFED in 2013, thus opening a new chapter in the history of AFED. Reunion Island (UAKSIR) is located in the Indian Ocean, east of Madagascar and southwest of Mauritius. Anwar bhai strongly believed in building strong relationships with all Jamaats and Institutions under AFED, he maintained good relationships with other communities and faiths, building bridges of good understanding and cooperation with other sects and faiths, he would always encourage member Jamaats to do the same.
He also visited many Jamaats in Africa, including those in the Indian Ocean Islands of Madagascar, Mauritius and Reunion. During his tenure, AFED made great strides in establishing contacts with medical institutions in India for better and reasonable medical treatments for community members from Africa.
In the month of March 2015, civil war broke out in Yemen and attack from the neighboring countries destroying virtually entire infrastructure of this poor country, the situation was quite risky and the safety of our community members was a big concern. The World Federation along with AFED and other Regional Federations played crucial role in the evacuation of the stranded families from Aden, Sanaa, Hodayda and Mukalla. Once again, Hon. Sajjad bhai Rashid of Mombasa made two daring voyages to Aden to evacuate our community members to a temporary/transit accommodation in Djibouti.
From there some went to India, Pakistan, Iraq and Africa. A committee led by Br. Shan-e-Abbas Hassam, Secretary General of the World Federation coordinated the entire operations. Anwar bhai recalls, one of the most worrying situations experienced during his two terms was the Yemen situation concerning the safety and evacuation of the families who were uprooted from a country where they lived for over 100 years. Huge cost was involved, thanks to the generosity and magnanimity of our community members from Africa and other parts of the world who contributed generously towards the cost of evacuation, transit accommodation and settlement of the families.
2016 - 2019
1. Chairman – Alhaj Shabir bhai Najafi
2. Vice Chairman - Aunali Khalfan
3. Vice Chairman CROI - Navazaly Molou/ Sheikh Haniphe Akbaraly
4. Vice Chairman UAKSIR - Amine Nassor
5. Hon. Secretary - Hussein A. Karim
6. Hon. Treasurer - Mohammed Hemani
Supplementing on the foundation led by his predecessor Alhaj Shabir bhai's vision is covers areas such as housing, education, women empowerment, health and tabligh. For the current term, the focus is in housing schemes to help our community members to own a decent home under the Rent-to-Own and Home-to-Own Schemes. Starting with Al Asghary residency (18 flats and 3 shops) in Dar es Salaam city which was jointly developed by AFED, the World Federation, The SANITAS of UK, Alhaj Ahmed Daya and Alhaj Gulam Dewji (GD), the building is already completed and occupied. The 2nd housing project by the name of Amira Apartments (40 flats) in [[Dar es Salaam through the support of Alhaj Ahmed A. Daya of U.K. has also started and the work is progressing well.
AFED's strategy is to create housing scheme of "rent to own" based on the needs in the constituent Jamaats and also to continue with the commercial projects to support AFED's resources to enabling to have a strong base for income for its activities like tabligh, higher education loan schemes, housing scheme etc.
The 2nd Phase of Umoja commercial complex in Dar es Salaam, housing schemes in Nairobi, Dar es Salaam and Antananarivo in Madagascar are some examples of the ongoing projects of AFED.
A lot of emphases are put in closer working relationships and active involvements in community affairs at regional as well as global levels. Regular visits to the constituent Jamaats of AFED, Regional Federations and the World Federation, all working as one family for prosperity and progress for the broader community.
Prepared by: Murtaza R. Jivraj (Kerbala)
SECRETARIAT
AFRICA FEDERATION ARCHIVES SECTION
12th April 2019 / 6th Shabaan 1440 AH
Conferences & Council Meetings
Africa Federation 2nd Conference - 1949 (Mombasa)
Chairman Late Abdulhussein Noormohamed's Address
After about three and half years (3 ½) we are meeting for the 2nd Conference. I appreciate the Mombasa Jamaat's effort of hosting this conference with a warm welcome.The first time we met in Dar es Salaam in 1945, we established the provisional council to unite different Jamaats under one roof.In 1946 we once again met in Dar es Salaam to set the constitution and I can see the support, encouragement and enthusiasm from the Community.In that conference we established the Federation and the Council's central body, we laid a foundation for brotherhood among our Community members, we created East Africa's one community and continued the society's business and religious activities.I am here to inform you about the developments as well as the problems faced within this period. This will help us in our future plans.
The Central Council had introduced the following:-
1. The Census - Community population.
2. Birth and Marriage Certificates.
3. Higher education grant and scholarship (studying abroad)
4. Scholars for Tabligh.
5. Grant to acquire religious courses.
Other main programs which have not yet been followed up especially the "levy" and other despite of all the effort in 3 years, we have not been able to achieve it - the boarding house in Uganda could not be established like the one in Tanganyika.According to our census records we are able to give you the figures for the Jamaat and their strength under the Federation. However according to my understanding every year this report has to be updated so the Council should have the account of the increased population. Whilst introducing the birth and marriage certificate we faced a tough discussion against it although the community then realized its importance, after the introduction of 1947 new immigration bill. In future it will be necessary and it is my sincere request to the community to register all their children and acquire the marriage certificates.
For higher education from 1946 up to date we have given a total of 7 scholarships and they have been pursuing good courses. At the end of 1952, two students will Insha'Allah complete their MBBS degree and on return to Zanzibar they will start practicing, the community will realize its importance.As for the Tabligh project, Maulana Zaminhussein Saheb's travel report has been received by every Jamaat and by the grace of Almighty it has been a success, the required information is also available. Arusha's Aalim Maulana Sayyid Razahussein has submitted his report but due to the load of work it is not completed.
Furthermore we are giving a grant for Arusha's religious scholar's salary. We have also granted a student from Kilwa teaching in Arusha's Government's school and another from Arusha studying in Mwanza.A request from some Jamaats has been submitted to grant their resident scholars which will be discussed by the new Council's committee.
Despite of several reminders through circulars the Council has not yet received any request for higher education in religious courses, if there would be any, the Council would have definitely presented it. I don't find it very important to present all the communication of the Central Council's secretariat but whoever is interested to know about it the letters are in the file.
Comments: One will observe that Higher Education was give (since 1946) the same importance in the past by our Leaders, like what is presently the case, it is really amazing to see the far sightedness and the vision of our forefathers – May Allah (s.w.t.) grant them maghferat and rest their souls in the proximity of our fourteen infallibles – Masumeen (a.s.)
Translated by F. Ali
Extracted from "Rehbar" October 1949
Africa Federation – Archives Section
Past leaders of the Africa Federation and the Supreme Council Sessions in Mombasa and Dar es Salaam.
COUNCIL MEETING IN MOMBASA:

Late Al Hajj Mohammedali Meghjee (Chairman of Afed), Mulla Asgharali M. Jaffer (Hon. Secretary).
Late Al Hajj Karim and Late Al Hajj Mohammedali Shariff Jiwa.
Council meeting in Dar es Salaam:

Dar-es-Salaam Jamaat President Late Al Hajj Alibhai welcoming Late Mulla Asgharali, Chairman of the Africa Federation outside the Dar-Es-Salaam Mosque, looking on is Late Al Hajj Abbas Alloo and Late Hussein Jaffer Hirji.
From left: Maulana Sayed Saeed Akhtar Rizvi, Al Hajj Haiderali Khimji, Late Al Hajj Bashir Peera (Administrative Secretary of Afed ), Late Mulla Asgharali (Chairman of Afed), Late Al Hajj Alibhai (President of Dar-Es-Salaam Jamaat), Late Al Hajj Abudlrasul Lakha (Vice President of Afed) and Sayed Aqa Haider Saheb (resident Alim of Dar-es-Salaam Jamaat). Photograph taken during one of the Supreme Council Sessions which was held in the Gents Imambargha in Dar-Es-Salaam in 1977.
Africa Federation Conference 1976 - Dar es Salaam

Photographs courtesy of Alhaj Murtaza Jivraj (Kerbala)

SECRETARIAT
ARCHIVES SECTION OF THE AFRICA FEDERATION
7th May 2016 (29th Rajab 1437)
Resource: http://africafederation.org/oldafrica/publications/archives/1393-africa-federation-archives-down-the-memory-lane-afed-conference-1976
75th Supreme Council Meeting of AFED 2014
The Forum
This Session held on Friday 2nd May 2014 was attended by large number of Councillors and Invitees from several Jamaats of the Africa Federation and some from overseas. The Forum composed of presentation of three Papers, Question and Answer Session on the Papers presented followed by Workshops that came up with recommendations which were presented at the 75th Supreme Council Session on the following day.
Papers Presented
Vision to the Future - Creating Sustainable Development by Alhaj Murtaza Nasser from Dar-es-Salaam.
Preparing for our future generation - Volunteerism, Diversity and Inclusion by Alhaj Mujtaba Datoo from United States of America.
The Current Global Challenges & Religious Tensions by Alhaj Murtaza Jaffer from Arusha.
At the Workshop, participants had to critically examine and analyze various scenarios and come up with two top most challenges per paper. The participants were split into six groups with each group focusing on one challenge and to bring up two recommendations which were to be presented at the 75th Supreme Council Session. The recommendations from the groups were presented at the Supreme Council Session, and were deliberated by the Councillors; it was a step forward to start working decisively on them. Since some of the challenges were affecting the community globally, the Secretariat took up the matter with the World Federation who will work in partnership with the Regional Federations to ensure appropriate and swift action are taken on the recommendations, that are of a global nature, the rest will be for the Africa Federation.
Opening Night
The Formal Opening of the Supreme Council Session was held on Friday night with the recitation of verses from the Holy Qur'an by Br. Maisam Versi followed by opening address delivered by the Convenor of the Organizing Committee, Br. Farhan Yusuf who also introduced his team of volunteers comprised of youth of Dar es Salaam Jamaat. The President of Dar-es-Salaam Jamaat, Alhaj Shiraz Walji, then gave his welcome address which was followed by a Keynote address from the Chairman of the Africa Federation, Alhaj Anwarali Dharamsi, thereafter and the President of the World Federation Alhaj Dr. Asgarali Moledina addressed the august body. Alhaj Navazaly Molou, Chairman of Conseil Régional Des Khojas Shia Ithna-Asheri Jamates De L.Océan Indien (CROI) and Alhaj Amine Nassor Chairman of the Union Des Associations Khodjas Shia Isnashri De La Reunion (UAKSIR) delivered their addresses and a brief report of the activities carried out by their respective Territorial Councils in Madagascar and Reunion Islands.
Recognition of Outstanding Services
The Chairman, Alhaj Anwarali Dharamsi presented Murrabi Ebrahimbhai Kassam with the Chairman's Appreciation Award for his long, dedicated and selfless services to the Federation of KSI Jamaats of Africa. The presentation to the long serving AFED Trustee of Uganda raised deep emotions as Murrabi Ebrahimbhai expressed his gratitude for the recognition by the Africa Federation and thanked the august body for the honour. Similarly, Presidential Awards were presented to the three Forum Presenters in recognition of their outstanding and invaluable services, dedication and commitment to the development of Africa Federation. They are: Alhaj Murtaza Bashir Nasser, Alhaj Murtaza Hassan Ali M. Jaffer and Alhaj Mujtaba Hussein Datoo.
Council Session Agenda
The Session Agenda included the presentation and adoption of the Accounts, Minutes, Resolutions and the Board Reports for the year. The Terms of Reference for the renamed Economic and Housing Development Board were adopted by the Session. The Secretariat and the Boards presented reports for the year May 2013 – March 2014. Questions from the Councillors were responded by the presenters. Similarly, comments and recommendations were taken down.
Details of the reports were sent out electronically to the Councillors and each participant was provided with a folder containing the annual reports, as under:-
Secretariat and Economic Development – Aunali Khalfan
Archives Section - Hussein Datoo
Capacity Building Group (CBG) – Sameer Kermalli
Recommendations from the Forum – Kumail Manji
Audited Accounts, Budgets and Trust Board Report – Mohamed Hemani
Tabligh Board (AFTAB) – Seyed Hassan Naqvi
Women's Board – Sister Fatim Somji
Sports Council – Mahmood Somji
Education Board (EB) and MAMAS – Samir Habib
Central Health Board (CHB) – Farhan Yusuf
Central Bilal Board (CBB) – Mohsin A. Lalji
Regional Bilal Muslim Missions – Mujtaba Peera/Mumtazhussein Alloo/Inayat Alidina
Africa Youth Network (AYN) – Muntazir Meghji
Editorial Board – Shakeel Sheriff.
The Councillors also deliberated on the Resolutions presented by the Regional Federation to the World Federation for presentation at the World Federation Conference.
Courtesy: Afed Newswire
Sports Councils & Sports Festivals
Africa Federation Sports Council 2019 - 2022

The Chairman of the Africa Federation, Alhaj Shabir Najafi is pleased to appoint Alhaj Fazle Ali Kassam as the Chairman of the Africa Federation Sports Council for the term 2019 - 2022.
Brief Profile
Fazle Ali Kassam alias Fazal was born in Kigoma in 1962 and relocated to Dar es Salaam in 1993 in a bid to find greener pastures for him and his family and currently runs a successful stationery and logistics business.
Fazal is an avid sports fan and was the Treasurer of the famous Tanzania Football Team – Simba in the early 90s and managed to see them being the only Tanzanian team to have ever made it to the Confederation of African Football (CAF) Finals. Being an active sportsman, he has participated in numerous AFED Sports Festivals both as a participant and as an official.
Community Front
On the Community front, he has held various positions in the Sports fraternity some of which are Chairman of Union Sports Club (Dar es Salaam), Ithnasheri Union (IU), Chairman of the organizing committee of the Urafiki Sports Festival held in Dar es Salaam in 2011 and member of the Sports Council under the chairmanship of Alhaj Mahmood Somji.
Furthermore, he has served as a councillor of the Africa Federation and rendered his services in various community institutions in Dar es Salaam, such as Husayni Madressa, Juloos Committee, Mayyit committee, Solidarity day Ad-Hoc Committee among others.
Fazal joins the AFED team with wealth of experience in the field of sports and aims to bring the community together through sports whilst ensuring that there are equal sporting opportunities for both Brothers and Sisters.
The following have been appointed members of the Board
1. Shakeel Nazarali - Vice Chairman (Dar-es-Salaam)
2. Tasneem Hassam - Secretary (Dar-es-Salaam)
3. Hussein Sajan - Member (Arusha)
4. Imtiaz Abbas - Member (Dar-es-Salaam)
5. Cassim Dandjee - Member (Madagascar)
6. Zainab Karim - Member (Mombasa)
7. Azim Shivji - Member (Nairobi)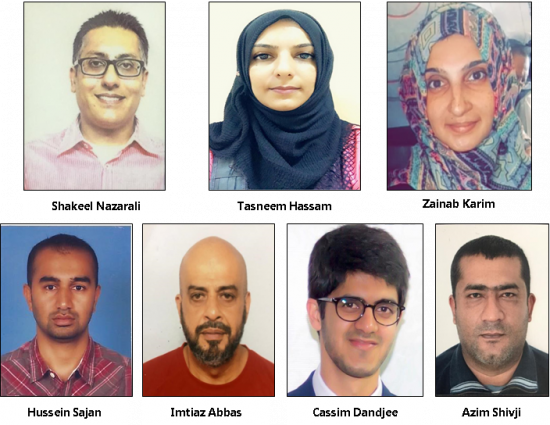 In line with the Africa Federation Chairman Shabir bhai Najafi's vision, the Sports Council shall work towards identifying sporting talents within members of the Community in Africa and see how to nurture these talents towards achieving expertise in the respective field and becoming professional sportspersons.
The AFED Secretariat extends its heartiest congratulations to Fazal bhai Kassam and his team on their appointments and wishes them every success in attaining the goals and objectives set out for the term 2019-2022.

Resource: https://gallery.mailchimp.com/5496132269473a782cfb7b798/files/72374fc0-6147-4a2a-b9a2-4d734229310c/CIRCULAR_Appointment_of_the_Sports_Council_2019_2022.pdf
Africa Federation Sports Festival - 1984 (Dar-es-Salaam)
Inaugration
The First Africa Federation Sports Festival was held in Dar es Salaam from 22nd to 26th December 1984 introduced during the tenure of Alhaj Mohamed bhai Dhirani's Chairmanship of the Africa Federation. Alhaj Gulamabbas Janmohamed was then the President of Dar es Salaam Jamaat. This inaugural AFED Sports Festival truly made a Dream Debut leaving cherished memories with all the participants, officials and organizers.
The Festival was organized under the auspices of Ithna-Asheri Union headed by Alhaj Hussein H. Peera and Union Sports Club Chairman was the late Alhaj Ibrahim A. Jivraj. The present Vice Chairman of Africa Federation, Alhaj Aunali Khalfan was a member of the Organizing Committee of this first AFED Sports Festival.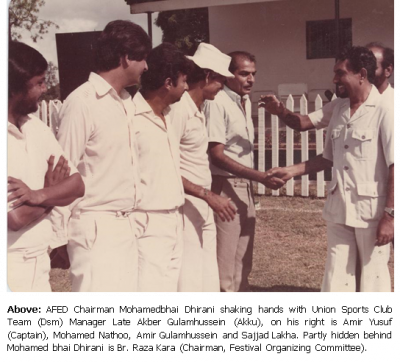 The holding of "All Africa Sports Festival is a milestone in this respect as it will gather sportsmen from all over Africa at one place. It will not only arouse greater interest in sports but will lead to strengthening the bonds between youths of different Jamaats.
(Extract of the Message of AFED Chairman Mohamed Dhirani – Sports Festival Souvenir Booklet)
The games of Cricket, Tennis, Volleyball and Squash were played, with participants from 11 Jamaats spread over four days of the Christmas Holidays.
(A) Winners
Cricket: Mombasa Jaffery Sports Club
Squash: Munir Daya – Dar-es-Salaam
Tennis: Murtaza Kassamali – Mombasa (Single)
Murtaza Kassamali and Mahmood Khatau – Mombasa (Doubles)
(B) Cricket Individual Awards:
Best Batsman: Mahmood Taki – Nairobi
Best Bowler: Sibtain Amirali – Mombasa
Best All-rounder: Munir Sheriff – Arusha
Best Fielder: Murtaza Virani – Dar-es-Salaam
(C) Volleyball Individual Awards
Best Player (Final): Abbas Rashid – Nairobi
Best Players Semi Final: Roshan Walji – Mwanza and Abbas Khimji – Tanga

The Festival ended with a Grand Closing Ceremony which was graced by various dignitaries with the presence of Hujjatul Islam Agha Mohamedali Lavasani, Ambassador of the Islamic Republic of Iran to Tanzania and presided by Alhaj Mohamed Dhirani who in his speech said that the Festival was unique as it was held on the occasion of celebration of the 1400th Birth Anniversary of Imam Hussain (A.S.).

Extracted from Federation Samachar Volume 21 No. 1 of April 1985 and the Souvenir Booklet of the Festival (December 1984)
A reflection of the past - Br. Bashir A. Tejani
Bashir bhai, a talented all-rounder, was among the top and elegant cricket players of Union Sports Club of Dsm for many years. Bashir bhai presently lives in Arusha and is an ardent Golfer, speaking to the AFED Archives Sectional Secretary, he had the following to say on the occasion of the AFED Furaha Sports Festival which is being held in Nairobi, Kenya from 22nd to 29th December, 2017.
"Nothing can be so exciting and satisfying than playing for the Community Club, I recall the good old memories of the glory of the Union Sports Club of Dar Es Salaam and the support by the Club, Jamaat, Community members and the sports enthusiasts who were truly captivated to the game of cricket in the 60s and up to 90s in Dar es Salaam and other cities like Mombasa, Nairobi and Arusha. Unfortunately, the game of Cricket has lost its popularity in these cities, in common with all the communities. I hope the Clubs will make efforts to revive the game cricket.
The Africa Federation Sports Festival is growing from strength to strength and infuses immense interest amongst the young sportsmen and sportswomen in our Community. Sports Festival such as Furaha instills wonderful and lasting memories, it also inculcates unity and friendship amongst the participants. This is a wonderful trend be continued to bring the youths of our community together on a common platform especially now that they are spread far and wide. During our era, we were playing cricket not as a team but as a family. If we could adopt the same spirit, with present talents in our youths, we shall have a bright future for our new generation. This should be an emphasis by our leaders when communicating to the youths during these Festivals. Wishing the AFED Furaha Sports Festival every success"
Down The Memory Lane
Below: Veteran and a fine cricket player Br. Mohamed Nathoo, captained National Tanzania team proudly receives "Sir Robert Menzes" trophy of Quadrangular Cricket Tournament at the Coast Gymkhana ground in Dar Es Salaam on 16th October 1984.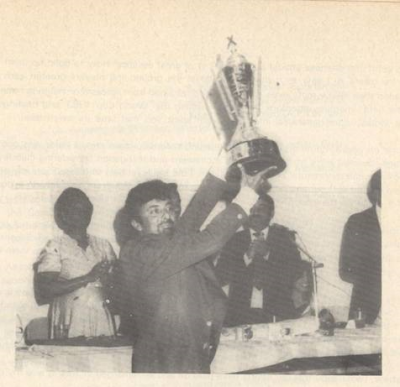 Secretariat
Africa Federation Archives Section
22nd December 2017 (3rd Rabi-ul-Aakhar 1439 AH)
Reference: https://gallery.mailchimp.com/5496132269473a782cfb7b798/files/9ed19ad8-5c54-4a85-bc1a-926ff8b07fa2/AFED_Archives_1st_Sports_Festival.01.pdf
Africa Federation - Solidarity Day
AFED SOLIDARITY DAY CHARITY WALK IN PERSPECTIVE
Arusha Jamaat
Sunday the 7th July 2013 was a cold day but the 49 participants, young and old braved the cold weather of Arusha, simply out of love and devotion towards the noble cause of participating in the AFED Solidarity Day Charity Walk, also this was the first of its kind in the history of the Arusha Jamaat, and it is always a privilege to be counted as the pioneers. The Walk took 1 hour 10 minutes and all were happy to have taken part and be recorded as the charter walkers of the event. After the walk it was found out that the walk was 4.1 km. Good amount of funds was collected during the walk towards the AFED Solidarity Day Fund, in addition to the other collections for the same project.

Above: 2nd Solidarity Day Charity Walk held in Arusha on 15th June 2014 with a turnout of 120 people
Above:for the 3rd consecutive year, Arusha Jamaat organized Solidarity Day Charity Walk on 6th June 2015. The turnout was about 127 people.
Dar es Salaam Jamaat

Above: Dar es Salaam Jamaat organized its first Solidarity Day Charity Walk on 31st May 2015 with a turnout of more than 250 people, great success and good collection of funds realized.

Similarly, Solidarity Day Charity Walk (above) was organized by DSM Jamaat on 28th May 2016 where by about 300 members participated. The closing ceremony was lively and joyous with raffle draws, awards and a cricket match was also organized by the Solidarity Day Team.
Below: The ladies section organized a chain of events from 10th May like bake sale, items sale, indoor games tournament, drama, mushaira, treasure hunt and a grand carnival.

Mombasa Jamaat
Below: Mombasa Jamaat in partnership with World Federation organized Solidarity Day Charity Walk during the 5th WF EXCO Meeting being held in Mombasa on 13th and 14th May 2016.

Below: The pioneers of the Solidarity Charity Walk - Arusha Jamaat once again organized the Walk for the 5th consecutive year on Sunday 14th May 2017. The theme for the Walk was Walk, Support and Donate, a great show of unity and fellowship.
Above: Solidarity Day Charity Walk organized by Dar-es-Salaam Jamaat in 2017 with a record participation by members of our community, elders, youth and children all joined the walk.
This year as well, the KSI Jamaat Dar es Salaam are organizing a Solidarity Day Charity Walk to celebrate the birth of our Imam Al Mahdi Al Hujjah (ATFS) on Saturday 5th May 2018. We urge all community members to show their solidarity and participate in large numbers.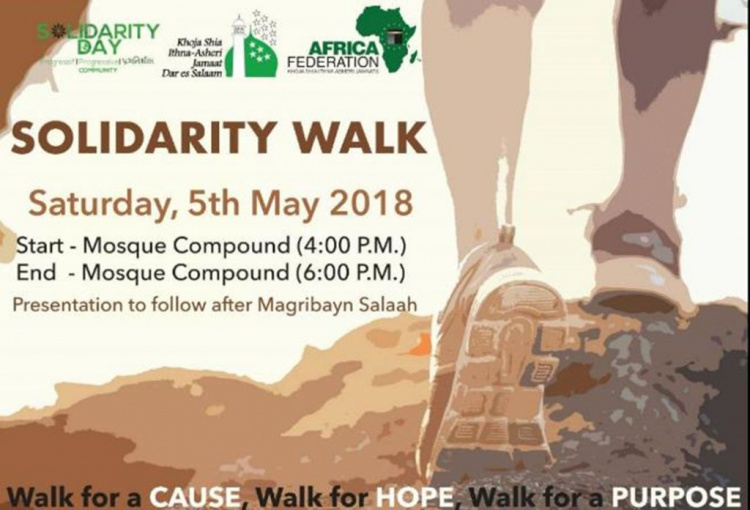 SECRETARIAT
AFRICA FEDERATION ARCHIVES SECTION
4th May 2018 (17th Shab'an 1439 AH)
Reference: http://africafederation.org/oldafrica/publications/archives/1796-afed-archives-afed-solidarity-day-charity-walk-in-perspective