Abdulla Khimji & Mohamed Abdulla Khimji of of Dar es Salaam
Marhum Haji Abdulla Khimji
Brief Profile
Haji Abdulla Khimji was born in Kera, Kutch, India and migrated to Africa at a young age. Our community in Pangani and Tanga area vividly remember the generosity and leadership of Haji Saheb. During the heydays of Pangani, he commanded deep respect with the German Government authorities.
He was a resident of Dar es Salaam for many years. Due to his public services and integrity, the Tanganyika British Governor, Sir Cameron appointed him as Asian community representative in the Legislative Assembly.
His Family
Marhum's wife Kulsumbai established Madressa and recited majalis in Kutchi. They had two sons Mohamed and Gulamali and seven daughters: Zainab Hussein Dharamsi, Maryam Gulamali Remtulla Manji, Shirin Gulamali Abdulrasul, Sakina M K Mithani, Fatma Janmohamed Dhirani, Zehra Akberali Mohamedtaki Kanji and Amina Gulamabbas Mohamedtaki Kanji.
Haji Abdulla Khimji passed away at Dar es Salaam in 1953.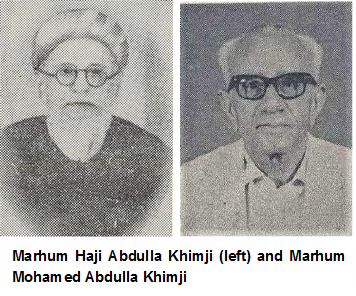 Marhum Alhaj Mohamed Abdulla Khimji
Brief Profile
Alhaj Mohamed Abdulla Khimji was the former Vice-Chairman of the Federation and among the principal architects and founders of the Federation. He devoted all his energies in the founding of this Central Organisation in Africa. Marhum Haji Saheb had distinguished himself as an able administrator and forceful speaker. He was at one time a Trustee of the Federation and a Councillor of the Supreme Council. Marhum was a man of exceptional experience with a unique history and only those who were close to him knew his affection, high regard and esteem he had for the community's development.
Business Skills
Marhum was a leading businessman of Dar es Salaam. He had a rice and flour milling company in Gerezani. After the nationalization of the mill, he established a printing company, Tanzania Printers Ltd. Marhum Haji Saheb took great interest in the field of tabligh. He was the first to donate towards the cost of publication of hugely popular Dinyat textbook of 1960s, Elements of Islamic Studies. The Gerezani Godown whose income is shared between the Council and the Dar es Salaam Jamaat is one of the many donations Haji Saheb had given to the Federation besides the Dodoma and the Kondoa properties. Murabbi Haji Mohamed Abdulla Khimji died at Dar es Salaam on Wednesday the 22nd October, 1975 at the age of 68.
Family
Marhum married Fatmabai with whom he had 2 sons and 3 daughters. After the death of Fatmabai, Marhum married Khairunbai with whom he had 3 sons and 6 daughters.
Let us remember and pray for the maghferat of these dedicated past leaders of our Community and all Marhumeen with Sura Fateha.
Source: AF Trade Directory, Federation Samachar (Dec 1975) and family

SECRETARIAT
AFRICA FEDERATION ARCHIVES SECTION
8th July 2017 (13th Shawwal 1438 AH)
Resource: http://africafederation.org/oldafrica/publications/archives/1672-africa-federation-archives-marhum-abdulla-khimji-and-marhum-mohamed-abdulla-khimji-of-dar-es-salaam