Mohamedali Janmohamed Kessani
Birth & Death
Birth Date: In The Year 1896
Death Date: June 23, 1957
Brief Profile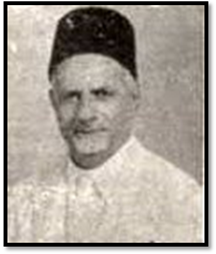 Marhum Haji Mohamedali Janmohamed Kessani was born in Mikindani, southern Tanganyika in 1896. His father Janmohamed Kessani was born in Mundra, Kutch and had lived for many years in Mikindani where he died. After the death of his father in 1900, Mohamedalibhai's relatives arranged for him to be sent to a boarding primary school in Mumbai. He completed Level 2 Gujarati primary education in 1902.
Business
A renowned businessman from Mogadishu, Fazalbhai Hasham, while in Mumbai, offered him a job and he travelled with him to Mogadishu in 1908. After working at Fazalbhai for 15 years, he started his own business. The continued growth in his trade led him to start import and export business. In 1940, he started export of hides and skins - the first such business by an Ithna-Asheri from Tanganyika.
Family
In 1918, he married the daughter of Fazalbhai Hasham and was blessed with five sons. During the First World War in 1914, he had to travel to Zanzibar for business purposes. Although travel during the war was very risky, but he undertook the journey nevertheless. In 1925, his father-in-law and former employer, Fazalbhai passed away. He arranged to take Marhum for burial in Karbala. He performed Hajj in 1937 and in 1951 he also went for Ziyarat of Maasumeen (AS). As his sons grew older, they joined their father in business.
Death
Mohamedalibhai passed away on 23rd June 1957. Marhum was of calm and composed in nature and was always ready for community service. He was President of Mogadishu Jamat from 1949 until his death. He is remembered for the invaluable services he rendered to the Jamat during his tenure.
Let us remember Marhum and all Marhumeens with Sura-e-Fateha

Source: AF Trade Directory 1960
Translated by F.Ali
Extracted from Community Directory 1964
Published in Africa Federation Archives Section
15th January 2016 (4th Rabi ul Aakhar 1437 AH)
Reference: https://gallery.mailchimp.com/5496132269473a782cfb7b798/files/AFED_Archives_Mohamedali_Janmohamed_Kessani_Mogadishu.pdf