Muhammad Dhirani
Death
Death Date: January 3, 2021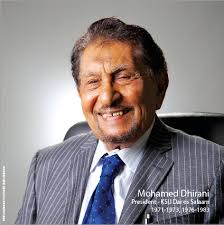 Inna Lillahi Wa Inna Ilayhi Rajioon With deep sorrow, our global khoja community has lost another iconic leader, Al Haj Murrabi Mohamed Gulamhussein Dhirani, who passed away in Dar es Salaam, Tanzania on Sunday, 3rd January 2021.
Brief Profile
Marhum Mohamed Gulamhussein was born and brought up in Tanga, in a family with a distinct religious background. He was the son of Marhum Gulamhussein and Marhuma Sakina and the brother of Zehra Akbar Hasham, Marhuma Rukia, Marhum Gulamhassan (Sheni), Marhum Ali Asgar, and Marhum Dr. Mushtaqhussein. Marhum Mohamedbhai, the eldest of six siblings, moved with his family to Dar es Salaam at a young age where he completed his academic education – both primary and secondary, and thereafter joined the Civil Service treasury under the British Colonial government, working with the Tanganyika government, and then under the Tanzania Government. As a Civil Servant, he developed systems that served as a benchmark during his time. He established his own business when his career as a Civil Servant ended and ran it until his retirement from work altogether.
Community Services
Marhum Mohamedbhai became the President of Dar es Salaam Jamaat, the largest Jamaat in Africa, in 1971 serving for a term of 8 years. In 1983, he became the Chairman of Africa Federation and served as the Chairman for a period of 12 years (1983 – 1989 and 1995 – 2001) as he led the community with his vast knowledge and experience. Alongside his position as a President, he also served as a Councillor of Africa Federation and a Councillor of the World Federation. With his passion for Tableegh, Marhum was instrumental in the formation of Bilal Muslim Mission, and also proposed the idea of forming a Central Bilal Board to coordinate the activities of Bilal Mission across Africa.
Leadership Skills
Marhum was one of those great leaders who showcased courage and conviction as he played an active role in shaping the future of the community at a time when many community members were facing political and economic uncertainties. He made his mark as an advisor, during the expulsion of Asians from Uganda in 1972 and the Somali Crisis in 1989. It was under his Chairmanship of the subcommittee formed by the Supreme Council, the MARRIAGE CONTRACT was drafted and adopted by the Africa Federation.
Marhum had a distinction of holding a leadership position in Africa for 20 years. With his plethora of knowledge and experience of the community, he was a senior most leader of our wider community, and a true loss for the global Khojas today. Last year, in an article published on Khojapedia, Marhum Mohamedbhai stated, "The opportunity of having been able to serve my community all this long is certainly a great achievement to my conviction to serve my people and I must admit that I cannot, by any stretch of imagination accredit this success due to my personal self but to Allah (swt) whose blessings facilitated smooth discharge of heavy duties and responsibilities entrusted upon me each time."
Achievements & Awards
In May 2014, The World Federation presented Marhum with a lifetime achievement award, for his wealth of experience in social, economic and constitutional matters of the community. He was seen participating at Regional Federation and World Federation meetings providing advice and benefit of his experiences. Until the end Marhum still continued to serve and advise with the same zeal as he always has. Marhum Mohamedbhai had deep love and affection for the community. He attended almost every meeting held by AFED and The World Federation. He was active till his last days – as an invitee, he marked his presence just a fortnight ago at the meeting of AFED Supreme Council on 18th December, 2020. A man of humble disposition, Marhum mingled easily with one and all, young and old, rich and poor, black and white, endearing himself as a man of vision and wisdom with the community's welfare at heart. The World Federation mourns his departure and shares the grief of the whole community at large.
The President of the World Federation Alhaj Safder Jaffer paying his tributes to Marhum said: "I had the honour of meeting Marhum Mohamedbhai a few weeks ago during my visit to Dar es Salaam. For the first time ever, I spent over an hour at his home and Marhum vividly narrated historical anecdotes with a profound memory. He recalled how communities united and enhanced rich discussions and strong bonding's during supreme council meetings. Marhum reiterated how important it was to engage with all segments of the community during such forums. He advised me to revive some of those practices during WF meetings. I will truly cherish those moments spent in his company".
Family
Marhum Mohamedbhai leaves behind four children: Fatim Khamis, Murtaza, Parvez, and Sukayna Baker. Marhum was also the Father In Law of: Marhum Mohamedraza Khamis, Kellie Dhirani, and Shabbir Master Baker. Marhum was the Grandfather of Massouma, Minhaal, Soleyla, Adam, Mohamedbaqir and Mazhar & Grandfather in law of Mohamedabbas Fazal, Sayyada Anis Rawji
We offer our deepest condolences to the entire Dhirani Family and to our community, on the loss of Marhum Mohamed Gulamhussein Dhirani and pray to Allah (swt) to grant them patience.
We request our readers to kindly recite Surah Al-Fatiha for the departed soul of the Marhum.
Reference: https://khojanews.org/dar-es-salaams-loss-is-a-global-khoja-community-loss/
His Message when he was Re-Elected as the President of Dar es Salaam Jamaat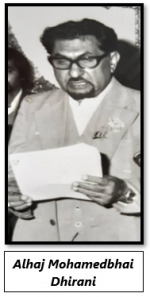 Dear Brothers-in-faith,
Salaamun Alaykum.
At the outset I take this opportunity to thank all members for electing me for the second successive term as the President of the Dar es Salaam Jamaat.
I am all too conscious of the support and confidence placed in me and my colleagues. I am equally well aware of the heavy responsibilities entrusted to us.
It goes without saying that I and my fellow members in the Managing Committee will do our utmost to serve you to the best of our abilities and within the resources at our disposal.
Evidently much progress was achieved in the last two years and we will be all out to match it again during these two years. Our goal is to improve in the performance still further.
The prestigious projects, i.e., the construction of Madressa complex, the block of Alawi flats and the formation of Shabbar flats, are all on our priority list and will be completed with minimum of delay.
These projects are a result of the cooperation, assistance and guidance by various members of the Community. It is our firm belief that given the same environment, we shall progress still further and further.
Dar es Salaam Jamaat boasts as one of the leading Jamaats in Africa. It has a very clean record of unity, discipline and cooperation. In fact, it will not be egoistic to state that our Jamaat is a model to be emulated.
Let no one therefore spoil this image. Let grievances be settled logically and democratically. Let the available administrative machinery be exhausted before succumbing to harmful actions. Above all let us unite in brotherhood and become partners in progress.
Let us pray for the prosperity of our community and by adhering faithfully to our religious obligations, hope for a better world hereafter.
Wassalamun-Alaykum.
Your brother-in-faith,
MOHAMED G.M. DHIRANI
We pray to Allah (SWT) to grant the Marhum maghferat, and place him amongst the blessed ones in the vicinity of Chahardah Ma'sumeen ('a) where he continuously receives mercy and grace of Almighty, The Exalted. Ameen.
Sura-Al-Fateha is requested for him and all the Marhumeen.
Source: Shia Ithna'Asheri Jamaat, Dar es Salaam News Bulletin. No. 1/79 Eid-E-Ghadeer Issue 18th Zilhajj 1399 A.H. / 9th November 1979
Article prepared by: Murtaza Jivraj (Kerbala)
SECRETARIAT
AFRICA FEDERATION ARCHIVES SECTION
19th February 2021 / 6th Rajab 1442 A.H
Reference: https://mcusercontent.com/5496132269473a782cfb7b798/files/98850a48-1eb5-4c5e-9a2a-050fe4243373/AFED_Archives_Bulletin_Msg_by_Mohammed_Dhirani_1_.pdf