Mohamed Rafiq Somji
Birth & Death
Birth Date: In Year 1934
Death Date: October 7, 1989
Brief Profile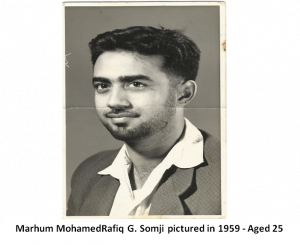 7th October, 2014 marked 25 years since the passing away of Marhum Mohamed Rafiq Gulamali Somji, A father, a friend, a community servant - no matter how one knew him, Marhum Mohamed Rafiq was a true "Rafiq" to young and old alike. Born in Zanzibar, raised in Dar-es-Salaam, and having studied in India, Marhum Mohamed Rafiq received a breadth of exposure in his travels from a young age. His passion for serving the community was ignited when he was appointed as the Administrative Secretary of the Federation of KSI Jamaats of Africa at the youthful age of 24, under the mentorship of Marhum Ebrahim Husein Sheriff Dewji in 1959. Marhum Mohamed Rafiq's witty nature and natural ability to connect with people from different walks of life enabled him to establish good rapport with those that he sought to serve.
Community Service
Marhum Mohamed Rafiq's tenure with the community spanned most of his adult life. He was part of the Editorial Board of the Federation Samachar, and also served as the Secretary of the Dar es Salaam Jamaat. He was an active Secretary of Bilal Muslim Mission for more than 20 years under the patronage of Marhum Seyed Saeed Akhtar Rizvi. He served as Administrative Secretary for the Supreme Council under two former Chairmen: Marhum Ebrahim Hussein Sheriff Dewji and Marhum Mohamedali Meghji during which he often travelled on behalf of the Chairman to various jamaats. At the time of his death in 1989, Marhum was serving as the Vice Chairman of Africa Federation under the leadership of Marhum Habib Mulji, who considered Marhum Mohamed Rafiq a great adviser and friend.
Marhum MohamedRafiq dealt with community matters with the utmost care and presence of mind, especially during periods of conflict, which he resolved with grace. His keen interest in the well being of the community never seemed to diminish through the years, not even during the final months of his life when he was in poor health.
Sportsmanship Skills
Marhum MohamedRafiq was an all rounder sportsman; among which tennis, table tennis, and cricket were his favorite. He also had an unusual love for horse riding, being a horse owner and a riding teacher. He was a loving family man and many of his generation will tell you the stories of their friendship with Marhum Mohamed Rafiq. He was most known for his jovial personality, which is something that is still endeared by those who were close to him.
Death
His death on October 7, 1989 was a huge loss to the community. 25 years on, he is dearly missed by his family, friends, and colleagues. Marhum's humbleness, selflessness, and farsightedness – provide a model, if not a glimpse into what made Marhum Mohamed Rafiq Somji such amiable personality within the community.
Please recite a Sura-e-Fatiha for Marhum MohamedRafiq and all the Marhumeens.
Obituary & Tributes
Below are excerpts of tributes that were written by prominent members of the community in memory of Marhum Mohamed Rafiq on his passing away. These tributes were printed in a special issue of The Federation Samachar of November 1989.
Tribute by Former Chairmain, Africa Federation
"Marhum's services to the community need no enumeration. Suffice it to say that be it the Supreme Council or the Dar es Salaam Jamaat, Bilal Muslim Mission or Youth Movements, all had the benefit of his services and vision. One could perhaps say that service to the community was a treasured infatuation for Marhum Rafiq bhai." - Marhum Habib J. Mulji – Former Chairman, Africa Federation
Tribute by Former President, Africa Federation
"With his amiable and cheerful disposition, his outbursts of hilarity and apt wit, MohamedRafiq endeared himself to all. The elderly like him for his mature judgments, the young folks respected and loved him for his dedication and modesty. As a good conversationalist, he was a good listener, able to enrapture his audience with his wit, humour and captivating anecdotes." - Marhum Mulla Asgherali M.M. Jaffer – Former President, World Federation
Tribute by Former Chairman, Africa Federation
"He nurtured a spark of virtue into a flame of wisdom. For posterity he leaves behind a legacy of tolerance, of sobriety, and of morality." - Marhum Abdulrasul Ahmed Lakha – Former Chairman, Africa Federation
Tribute by Former Chairman, Dar es Salaam Jamaat
"Marhum MohamedRafiq's ability to asses and solve any enigmas, to diffuse tension whenever this arose, to advise conscientiously whenever required, to offer support whenever this was needed, to encourage the discouraged and raise laughter in a desperate situation, makes me wonder if there was or would ever be a person like him." - Mohamed G.M. Dhirani – Former Chairman, Dar es Salaam Jamaat
Tribute by A Good Friend
"He spared no one in his light hearted jokes which made you burst into laughter even when you were alone and reminisced. His hearty laugh, cheerful disposition, quick wit, the ability to give sound advice, ever-readiness to discuss any subject concerning political, religious and social matters, made him a welcome person in any circle within and outside the community. In fact, his friendship and company in formal as well as informal gatherings was very much sought." - Raza Kara, A good friend
Tribute by Founder & Chief Missionary, Bilal Muslim Mission
"He was a sincere leader and dedicated worker; had an analyzing mind which helped him in reaching at well-balanced decisions. His smiling face inspired confidence in all those who came into his contact." - Marhum Seyed Saeed Akhtar Rizvi – Founder & Chief Missionary, Bilal Muslim Mission
Vice Chariman of Africa Federation (1989)
"He had a gifted knack of diffusing an emotionally charged atmosphere around a heated debate by an interpose of a nice joke, appropriate for the subject under debate, and send the committee into a roaring laughter led in volume by no other than he himself. The debate then would resume on a lower tone conducive to a climate of consensus." - Mohamed A. Khalfan, Successor to Marhum Rafiq Somji as Vice Chairman of Africa Federation in 1989.
"Oh My Friend Rafiq…"
If I ever were to drown in the tide of time.
O my friend Rafiq, our friendship will always be sublime
To forget it and you, I never would.
Our memoirs my valued treasure, I'll cherish for good.
Pretty low I find every worldly thing.
Compared to our life-long friendship.
It stands mighty high, from anything one may think.
Oh my friend, so proud am I of our companionship.
When in my dreams you appear, past memories unfold.
Your words of wisdom have been like those of gold.
I find pleasure to relate them to whoever I can.
O Rafiq, will I ever find a friend like you again?
If I could go back in time, to relive the good old days,
Find you my friend, alive on earth once again.
We would surely live as great pals again.
And show the world, the model of true friendship again.
A poem by Mohamed Suleman – Dubai, 2014

Issued by the Archives Section
The Federation of Khoja Shia Ithna-Asheri Jamaat of Africa
Dar es Salaam, Tanzania
13th October 2014
Resource: http://africafederation.org/oldafrica/publications/archives/1029-africa-federation-archives-a-tribute-to-marhum-mohamedrafiq-somji