Juma Haji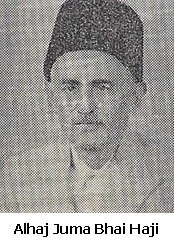 Birth & Death
Birth Date: In The Year 1890
Death Date: In The Year 1977
Brief Profile
Murrabbi Haji Juma Bhai Haji's simple living and dressing style would deceive anyone into believing that he is owner and director of one of the major business entity in Tanganyika, called Messrs Juma Haji & Co Ltd. Murrabbi Juma Bhai Haji was born in Lalpur, Kathiawad, India in 1890. He married Jena Bai, Mohammed son of Ebrahim Haji was his adopted son.
Life Journey
After completing primary education, he travelled to Dar es Salaam at the age of 18 and worked in a clothing shop of his uncle. In 1910, he started his own business selling clothes. In 1921, he opened branches at Kindu and Albertsville in Congo. His business grew very fast owning several rice mills, sisal plantation and cotton ginneries. Haji Juma bhai has recorded a notable impact in public service.
Community Service
He was the Honorary Secretary of Dar es Salaam Jamaat in 1930. He worked as Jamaat Trustee from 1938 to 1956. He was the first President of newly created Tanganyika Education Council in 1953 and held the post until after the completion of construction of Boarding House in 1957. He is now the trustee of the properties of Educational Council. He also held the position of Vice-President of Indian Chamber of Commerce for two years.
Haji Juma bhai has a record and legacy of generosity in various fields. One of his several contributions is the donation of a dispensary building in Dar es Salaam in memory of his brother, now called Ebrahim Haji Charitable Dispensary. He also gave a huge donation of Shs 42,000 to the Supreme Council for the construction of a Hall, now called Ebrahim Haji Ithna-Asheri Assembly Hall in memory of his brother. He also donated a residential plot to Dar es Salaam Jamaat located at Maweni St, Upanga. In 2013, the Jamaat built a 12 storey residential apartment building called Juma Haji Residency on the donated plot.
Settlement in Karachi
Juma bhai Haji left Dar es Salaam for Karachi after the sisal estate that the family had developed and the rental buildings that had been constructed were nationalized by the Government of Tanzania in early 1970s. He laid the foundation stone of Mehfil e Murtaza in Karachi in 1976. He passed away in Karachi in 1977, and he is buried there. (As recorded in 1960 AFED Directory/Family source)
SECRETARIAT
ARCHIVES SECTION OF THE AFRICA FEDERATION
19th August 2016 (15th Zilkaad 1437 AH)
Resource: https://gallery.mailchimp.com/5496132269473a782cfb7b798/files/AFED_Archives_Bulletin_Marhum_Juma_Haji_Ebrahim_Haji_A_Philanthropists_and_A_Visionary_Edited_.pdf