Ahmed Daya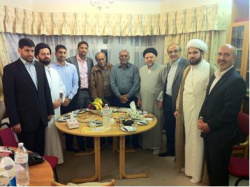 Achievements & Awards
He was awarded a life time achievement award from WF. Shabbar Dhalla made the following introduction of Ahmed Daya: Wishing everyone a joyous Kushali Mubarak and wishing the families of the the wedding parties Mubaraki. First of all, I would like to thank Hujjat Jamaat for accommodating this presentation during tonight's programme.
At the recently concluded World Federation Tri Annual conference in Dar Salaam, a number of distinguished individuals were awarded citations for their services to the community. Alhamdulliah, from Hujjat Jamaat, we had two such individuals and we wanted to recognise one such individual tonight.The Community wanted to present an award in recognition of this Individual's dedication in trying to alleviate the needs of the poor and needy and those livelihoods were lost during the various natural disasters. His energy, enthusiasm and extraordinary efforts have made difference to many lives across the khoja as as well as the Shia world.
Brief Profile
Ahmed Bhai Daya was born in Tanzania and moved to the UK in 1966. Ahmed Bhai is a chartered accountant by profession and continue to work for himself till today. Ahmed Bhai is married to Nargis Aunty Daya, who is very well known in the ladies section and has been chair lady a number of times at Hujjat. He has been blessed with 3 sons.
Community Services
Ahmed Bhai is amongst the longest serving Office Bearers of the World Federation. He has served as Honorary Treasurer under four Presidents, namely Marhum Haider Haji, Marhum Mulla Saheb, Dr Hasnain Walji and then Dr Ahmad Hassam. He is well known for being the longest serving Office Bearer of the World Federation but of more interestingly, he was the treasurer of London Jamaat from 1979 to 1981.
Ahmed Bhai's unflinching commitment, be it in Office or not, he has been instrumental in raising millions of pounds for many of the projects of the world Federation. He continues to do so and this year, like previous years has been part of the the Ramadhan Releif Fund team, where the World Federation on your behalf, and behalf of the Khoja community disbursed $1.6 Million to the poor and needy of the shia world. This is a telling testimony of the confidence of the donor community he enjoys. This trust has been earned by his decades of service with integrity, passion and diligence as a custodian of community finances.
On behalf of The World Federation, it give me great pleasure to invite the President of CoEJ, Dr Husein Jiwa and former president of The World Federation, Dr Hasnain Walji to honour Ahmed Bhai with a Golden Pagri for his illustrious and distinguished services to our community. A number of people have previous asked about the history of the Golden Pagri and I am reliably informed that in the early days, the giving of a golden Pargri was seen as sign of nobility, respect and honour for the recipient and it is that khoja tradition that we are for re enacting.