Habib Pyarali Virani
Birth & Death
Birthdate: November 13, 1937
Deathdate: In the Year 1994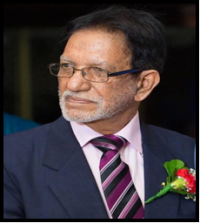 Brief Profile
Alhaj Habib Pyarali Virani was born on 13th November 1937 in Kera, District of Kutch, State of Gujarat, India. In 1938 he migrated to Africa as an infant of 6 months. This was the time when our ancestors were venturing into Africa - also called the Dark Continent - to build a bright and prosperous future for their families. His first destination was Songea in southwestern Tanzania. He lived his childhood in Songea without much event as there were limited facilities available. After migrating to Lindi in the early 50s, his progress in life began. With social and religious facilities at hand in Lindi, he began to grow in the development of his life by participating in studies and socio-religious activities. With a dynamic Jamaat of our Community in those years, Lindi produced many individuals who achieved success in different fields, now spread all over the globe. He participated actively in community events and connected himself in many social events. This period gave him an opportunity of acquiring religious as well as secular knowledge.
Life Journey
After completing his Senior Cambridge education in 1958 at the Indian Public School, he shifted to Mtwara to join the business of his uncle and lived there for 10 years. This opened up an immense opportunity for him to learn the practical side of life and business acumen. Although Mtwara/Mikindani had a small Jamaat, all activities and yearly religious functions were observed like any other Jamaat. In the early 60s, he was selected as a Councillor to represent Mtwara/Mikindani Jamaat at the Africa Federation meeting which was held in Dar es Salaam at the Boarding House under the Chairmanship of Alhaj Marhum Ebrahim Hussein Sheriff. He was greatly humbled when the then President of Dar es Salaam Jamaat, Murrabi Alhaj Nurmohamed Nasser came personally to receive him at the airport.
He got married in 1966 to his cousin Ashraf, the daughter of his paternal uncle, Mohamed Remtulla Virani. He is blessed with three children, his eldest son is Imran and two daughters, Ismat and Ishrat.
He moved to Dar es Salaam in early '70s and entered into a partnership business with his relative and friend, Yusuf Ahmed Murji who also migrated to Dar es Salaam at the same time from Newala. He formed the Company called Tanzania General Services Ltd which with the grace of Allah (s.w.t.) is running well to the present time.
Sadly, Yusuf Bhai passed away in 1994 but his children gave him a strong helping hand and with their joint efforts, they have kept the Company going through thick and thin. The Company became more stable with the youthful efforts of Aliraza, the second son of his late Partner and during this time, he got the opportunity of venturing in communal activity.
Community Service
During the term of Alhaj Mohamed bhai Dhirani as a Chairman of Africa Federation (1986-1989), an idea of establishing a communal Archive was conceived. It was his great fortune that Mohamed bhai entrusted him the responsibility of establishing it with the prescribed guidelines. As soon as the Archive was fairly functional, he was greatly honoured by Marhum Alhaj Habib bhai Mulji who was then newly elected Chairman of Africa Federation (1989-1992) to accept the position of Hon. Secretary of Africa Federation. This opened for him an opportunity of travelling with Habib bhai to almost all Jamaats under Africa Federation and this gave him an insight into the methodical system of management of our Community in Africa. These were rare moments for him to meet some dedicated and selfless leaders of our Community who instilled in him the great sense of care and love for the wellbeing of our community members. Under Habib bhai Mulji, a very passionate, forthright and a committed Chairman, he and his subordinates learnt from his vast experience the art of handling communal crisis and the virtue of giving priority to the requirements of the Community over themselves. He continued serving as the Vice-Chairman during the second term of Habib bhai Mulji (1992- 1995). His association with Africa Federation did not end here as he was elected as the Trustee of the Africa Federation during the tenure of Alhaj Mohamed bhai Dhirani who was re-elected as Chairman of Africa Federation for the period 1995-1998 and again for 1998- 2001. This gave him great knowledge of the Trust properties of our Jamaats and the system under which it was serving the housing requirements of our needy Community members in the Jamaats. A few years after completing his involvement with AFED, he was appointed in 1994 as Chairman of the Central Board of Education (CBE) of Dar es Salaam Jamaat by the newly elected President, Alhaj Marhum Asgar bhai Bharwani. He had the honour of serving this position for eight years (1996-2004).
He was fortunate to lead the CBE Board which comprised of young and energetic professional from different fields who with their dedication and expertise created new rules and regulations to run all the schools of Dar-es-Salaam Jamaat jointly under one umbrella of the Central Board of Education with an appropriate system of administration and finance. The discipline in its functions enabled the Central Board of Education to be the first institution of the Dar-es-Salaam Jamaat not only to be self-sufficient but also to generate a huge financial surplus by the end of their term in 2004. The efforts of this team who gave selfless services earned the Al Muntazir Schools a great recognition to be amongst the renowned schools in Dar-es-Salaam
In 2012, Jaffery Initiatives (DSM) Ltd (JIDA) a private entity was created to serve the financial needs of low-income earners within the Community. The Board of Directors consisted of Alhaj Mohamed bhai Khalfan, Alhaj Gulamabbas bhai Bhimani, Alhaj Munir bhai Daya and Alhaj Murtaza bhai Nasser. Sister Fatma Murtaza Nasser served effectively as the first Administrative Secretary and financial controller. She was succeeded by her sisters Maryam and Kulsum who gave the great benefit of their talent to JIDA LTD. Habib bhai was appointed as first Chairman of JIDA and continues to serve the post. This institution provides loans in a very simple and swift manner and the dignity of the borrower is maintained with strict confidentiality. JIDA came to the rescue of many members at their most critical time of need.
Alhamdullilah I have been able to do whatever little I could, not through my wisdom or ability but only with the grace of Allah, the forbearance of my wife and family members and with the patience and cooperation of Aliraza Murji who stood beside me like a son.
- Habib P. Virani
PHOTOGRAPHS FROM VARIOUS EVENTS

We wish Habib bhai and his family long and healthy life, to continue with the noble services he provides to the Community. We pray to Allah (s.w.t) to grant him more strength and abilities to impart his knowledge and experience to the new generation of leadership in various sectors of Jamaats and the Federation.
Let us remember with Sura-e-Fateha all the Marhumeen who have served our Institutions.

Article prepared by Murtaza Jivraj (Kerbala)
Source: Habib bhai Pyarali Virani - Dar es Salaam
SECRETARIAT
Archives Section of the Federation of KSI Jamaats of Africa
3rd January 2020 (7th Jamadi-ul-Awwal 1441)
Resource: https://gallery.mailchimp.com/5496132269473a782cfb7b798/files/d3bda655-88ab-4055-a8a0-1f0bcdd64175/Archives_Bulletin_Habibbhai_Virani.pdf