Sultanbhai Gulamhussein Abdalla Datoo
Birth & Death
Birth Date: January 23, 1923
Death Date: January 5, 2019
Brief Profile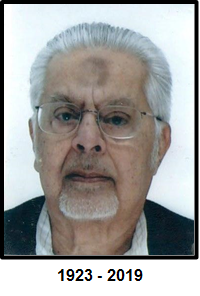 Sultanbhai was one of the sixteen children of Gulamhusein Abdulla Datoo. They were nine brothers and seven sisters. Sultanbhai was born in Mombasa, Kenya on 23rd January 1923. He completed his education at Alidina Visram School in Mombasa, Kenya. In his youth, he was an active member in sports and his favorite sports was tennis. After finishing school Sultanbhai joined his father's business in Mombasa. Later on, he was transferred to Datoo's company in Nairobi, Kenya which was being run by his uncle Rajabalibhai Datoo. Datoos had specialized in quality glassware crockery business.
Life Journey
In 1947 he married Marziabai H. K Jaffer of Kampala, Uganda and was blessed with three sons, Shujaat, Riaz and Mehmood. In 1948 Sultanbhai moved to Kampala, Uganda to set up Datoo's Glassware mart on one of the busiest area on Kampala Road. Sultanbhai was very hard working and ambitious businessman. He was the principal agent for Agipgas in Kampala. Also he was very active in social services. He was an active member of Lions Club of Kampala. He was also member of Uganda Motor Club which included Marshalling in the East African Safari Rally and Uganda Rally.
Community Services
Sultanbhai took keen interest in Community Service since his young age. In the year 1951 at the age of 28 years he was elected as President of Kampala Jamaat. In the year 1971 at the age of 48 years he was again elected as President of Kampala Jamaat. During his Chairmanship in 1972 the dictator of Uganda Idi Amin announced that all Asians should leave Uganda within three months. There was state of fear and confusion in the Community. Sultanbhai as President started counseling the members of the Community. He started advising the Community members to leave the country at the earliest and also guided them in selecting the country of settlement in Europe. Through his contacts with some European Embassies he could manage the Visa for the members on one-way air ticket. He dedicated his entire time in this exercise. He even organized ticket money for those who could not afford. Somehow this information leaked out and he was arrested and taken to military headquarters for questioning. When he was asked why he is advising the Community members to leave Uganda he spontaneously replied that it would be to their advantage when the Asians leave the Country and leave all their properties and the locals will become rich. They were very impressed and released him on the condition that he should even persuade more Ugandan Asian citizens to leave.
Death
Sultanbhai settled in London and led a peaceful life. He peacefully passed way in London United Kingdom on 5th January 2019 eighteen days before his 96th birthday. Sultanbhai was a dedicated member. The Community lost a long serving Community member.
Please remember Alhaj Sultanbhai Gulamhussein Abdalla Datoo and all the Marhumeens with Sura-e-Fateha for their maghferat.

Source: Riaz Sultan Datoo of London United Kingdom. Article by Murtaza Jivraj (Kerbala)
SECRETARIAT
ARCHIVES SECTION OF THE AFRICA FEDERATION
17th January 2020 (21st Jamadi ul Awwal 1441 AH)
Resource:https://gallery.mailchimp.com/5496132269473a782cfb7b798/files/d2527ef9-97c5-4a7c-a3bd-80c38def7aa3/ALHAJ_SULTAN_GULAMHUSSEIN_ABDALLA_DATOO.pdf