Shabir Najafi
Alhaj Shabir Najafi Elected Chairman of the Africa Federation for the term 2016 - 2019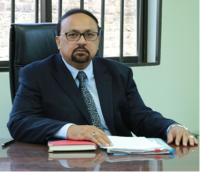 The Africa Federation Electoral Commissioner, Alhaj Gulamabbas Khaku has declared Alhaj Shabir Najafi elected Chairman of The Federation of Khoja Shia Ithna-Asheri Jamaats of Africa for the term 2016 – 2019. Shabir bhai was the only candidate for the post. Shabir bhai has been involved in the Community services for many years, having held several key positions. He is presently the Vice Chairman of the Africa Federation from mainland Africa, the post he has occupied since April 2010. Shabir bhai has also served as Vice Chairman of Kampala Jamaat in 1993 - 1995 and as President of the Jamaat in 1995 - 1997 and again from 2004 - 2006. He was the World Federation Nominated Councillor from 2007 – 2009 and was elected as an Executive Councillor of the World Federation in 2009 - to date. Shabir bhai was a member of the Africa Federation CRC from 2007 to 2008, and has also been an elected Councillor of the Africa Federation from 2002 to 2010.
Alhaj Anwarali Dharamsi, the incumbent Chairman of Africa Federation, in his message expressed his satisfaction over the process of electing the Chairman of Africa Federation and thanked Alhaj Gulamabbas Khaku for the prudence, professionalism and efficiency in the role he performed as the Electoral Commissioner of the Africa Federation. In his message to Shabir bhai Najafi, Alhaj Anwarali Dharamsi conveyed his congratulations and wished him success in steering the Institution to greater heights for the benefit of our larger Community in Africa. He complimented Shabir Bhai for his dedication to the Institutions that he has served for past several years. Alhaj Anwarali expressed his thanks for the support and cooperation accorded by Shabir bhai during his two terms over 6 years in the office as his Vice Chairman.
Shabir bhai Najafi was nominated for the post of Chairman of Africa Federation for the term 2016-2019 by the following Jamaats:
Zanzibar Hujjat – Tanzania
Zanzibar Kuwwat – Tanzania
In accordance with the Constitution of the Africa Federation Article No. 27 a (i) the official handover of the post of the Chairman shall be performed at the 26th Triennial Conference on 29th April 2016, in Dar es Salaam. On behalf of the Chairman Alhaj Anwar Dharamsi, my fellow colleagues and members of the Constituent Jamaats in Africa, I congratulate Alhaj Shabir bhai on his election and wish him success in serving the Community.
We pray to Allah (SWT) by His grace and mercy to grant him tawfeeqat, inspiration and good health – Ameen.
Aunali Khalfan
Hon Secretary
Secretariat
Africa Federation Circular dated 5th February 2016
Reference: https://gallery.mailchimp.com/5496132269473a782cfb7b798/files/AFED_Circular_Shabir_Najafi_Elected.pdf