Nurmohamed Manekia - Kilwa Jamat in Perspective
Nurmohamed Manekia – Kilwa Jamat in Perspective
Brief Profile
Nurmohamed Mulji Manji Ukka Manekia was born in Mahuva, Kathiawar, India. His grandfather Manji Ukka Manekia was a man of piety. Nurmohamed and his uncle Shamji Manji used to go to their neighbour Majnamia Saheb of Kodinar for training in Namaz, Majlis and Salam. In 1860 (Savant 1917), he travelled to nearby town of Ghogha for a trade fair. From there he took the sea voyage to Zanzibar in 1864 (Savant 1921). In Zanzibar he was employed by Hassan Gulamhussein of Bhavnagar. The business was called Hassan Thawer & Co and belonged to Thawer Mulani of Bhavnagar. They used to have majlis at this premises every Thursday and Hassanbhai would recite Rozatush Shohada in his characteristic manner and style.
Kilwa
Nurmohamed then joined Mohamed Walji whose pious nature and strong faith impressed upon him and led him to have a strong faith too. In 1883 (Savant 1940), he opened a shop in Kilwa with the help of Lakha Kanji, Sachedina Pirani (Sachoo Peera) and Aliya Jumani. At the Kilwa Jamatkhana, there was no limit on duration of majlis and matam. They also used to recite Salawat on 14 masumeen and Ziyarat at the Jamatkhana. The majlis session would take 2-3 hours. Most of the members were from Kutch and there were a few from Jamnagar and one from Junagadh. In matters of faith, Nurmohamed was influenced by Mohamed Walji Harji of Zanzibar. Although he participated in rituals at the Jamatkhana like Majlis and Dua, he also prayed Namaz at home. He finally converted to "Subhaniyya" (Ithna-asheri). Even after his conversion he offered to increase his contribution to Jamatkhana.
Split in Jamaat
There was an argument about conducting majlis at home, the Jamat having been against it. The Jamat was asked to get an opinion from Zanzibar Jamat. Kilwa Jamat was accused of refusing to follow the bigger Zanzibar Jamat. In Zanzibar, Haji Peera Walli, Nasser Lilani, Versi Advani and Lakha Kanji requested the Waras to write a letter giving permission for majlis. After involvement of some other prominent people in Zanzibar, the letter by Waras, but without signature of Mukhi, was sent to Kilwa Jamat. There arose division in Kilwa Jamat with some in favour and some against having majlis at home. About 40 people converted and became Subhaniyya (Ithnaasheri).
Around 1899 (Savant 1956), there were 40 Ismaili families and 22 Ithna-asheri families in Kilwa. Members used to go to both Jamatkhana and Imambara.
Meeting with Aga Khan III
An important incident in the history of our community is the meeting between H H the Aga Khan III Sir Sultan Muhammed Shah and Sheriff Nurmohamed, Suleman Walji] and Suleman Bhimji abroad his ship during Aga Khan's visit to Kilwa in 1905. During this 24-hour visit, the Aga Khan visited Kilwa Jamatkhana and met government officials. The rituals of presenting shawl, paghramni and kangwa were carried out. He spent 6 hours on land.
Community Magazines
The most common community magazines during that period were Rahenajat, Rafeeq and Baghe Najaat and Community news were sent to these magazines and to different Jamats including Mumbai, Zanzibar, Mombasa, Bhavanagar, Mahuva, Jamnagar, Dar es Salaam, Bagamoyo and Lindi. Sheriff Nurmohamed has reported that his uncle Hassanali Mulji was a very good Gujarati poetry writer.
Kilwa Imambagrah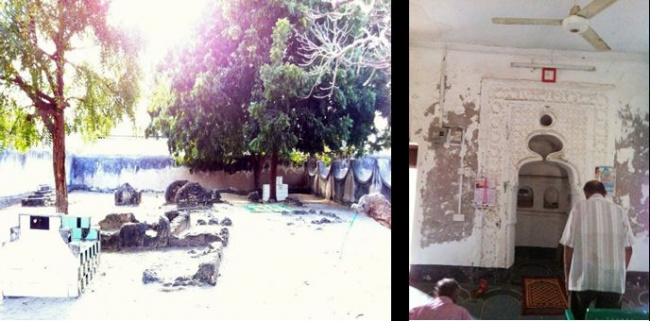 The foundation stone for the Kilwa Imambara was laid in 1899 (Savant 1956). A drive started for contributions to construct Imambara. The Kilwa Imambara was constructed at cost of 7500 rupees. Three main contributors were Nurmohamed Mulji, Alidina Dhalla and Esmail Bhalloo. Four mutwallis (trustees) were appointed including Nurmohamed Mulji. After the passing away of two of the mutwallis, Saleh Noora and Khakoo Chandoo, and two others namely Esmail Bhalloo and Alidina Dhalla were appointed. It was also agreed, that after the passing away of Nurmohamed, his son Sheriff would take over as Mutwalli.
In 1900 (Savant 1957), land was obtained behind the Imambara for graveyard. By 1914, there were 25 Ithnaasheri and 35 Ismaili families. By then, the community had a big portion of land comprising of gardens, a mosque, a large courtyard (sahan), Hawz (water fountain), a two storey Imambara and a guest house (musafarkhana). The Imambara had two rooms, one for a needy family and one for the care-taker. There is also a Madressa. In order to cover expenses of the Mosque and Imambara, there was a farm and income derived from the farm was used for the expenses. The total cost of construction was about Rupees 18,000 to 20,000. Apart from Rs 1,000 from outside sources, the rest has been raised locally. At that moment the Jamat was financially independent. The cost of Madressah was borne by members at the rate of 2 Anna per household and the salary of Muallim was Rs. 50 per month.
Letter to Adalji Dhanji Kaba
The above history of Kilwa has been extracted from a letter written by Sheriff N M Manekia on behalf of his father Nurmohamed to Adalji Dhanji Kaba, Amreli of Kathiawar, India dated Kilwa, 3rd April 1914. This letter is printed in the book "Kilwa na Sawal Jawab", second edition published in 1920 by Adalji Dhanji Kaba. At the end of the letter, Nurmohamed requests that relevant points from the letter should be relayed to the son of Sheth Mohamedali of Bhavnagar (Magistrate) who was the first person who had requested for a history of Kilwa.
Families in Kilwa
Standing L-R: Driver Sadiki & Rajabu, Bandali Bhimji, u, u, u, Mohamedali J Visram, Gulamali Bhimji,Tailor Mohamed Juma.
Sitting: Hassan Merali, Asian postmaster holding Akber K Bhimji, Malaika A M Chatoo, Kermali Dhanji, Merali Mawji holding his daughter Fatma (w/o Abdulhussein Somji (Bata), Kassamali Habib, Nanji Kara w Yusuf, Mulla Yusuf holding two daughters. Standing near pillar in turkish cap is a servant. Near feet of Kermali Dhanji is nephew Raza Jaffer Somji. Last two rows: Kassamali Bhimji Nayani, Servant Nassoro holding child, Laila J Somji (w/o Rajabali Merali D Bharwani), Zainab M Mawji (w/o Sultanali Mulla Yusufali) Rubab Merali Mawji (w/o Muhammad Mulla Yusufali), Rubab J Somji (w/o Mohamedali Rajpar), Zehra Mulla Yusufali (w/o Abdulrasul Siwji Somji), Kulsum M Mawji (w/o Mohamedali Fazal Bhimji), Maryam Bhojani (w/o Gulamali K Dhanji), Gulammohamed J Bhojani holding son Abbas
Sitting front row: Roshan Kassamali Bhimji, Gulamabbas M Mawji, Mohamed Hussein J Somji, Mohanedjaffer Kara. (Caption by Mohamedjaffer Kara)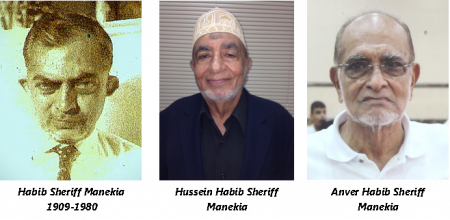 The families which had settled in Kilwa include Haji Nanji Kara, Nurmohamed Manekia, Jaffer Somji, Siwji Somji, Kermali Dhanji, Mulla Yusufali Abdullah, Bandali Bhimji, Bachubhai Meghji, Ramzanbhai Hasham, Ahmed Walji, Gulammohamed Jivraj Bhojani. Kassamali Bhimji, Hassanali Dharsee, Kassamali Chagan, Hussein Dewji, Merali Mawji, Jaffer Aladin, Suleman Walji and Abdulla Damji.
Nurmohamed Manekia, his brothers Gangji and Esmail and his son Sheriff and many of their descendants are buried in Kilwa. His brother Hassanali is buried in Muhoro near Kilwa.
Between 1930 and 1960 the population of Khoja Ithna-asheris reached about 150 - 200. Masjid, Imambara, Guest House and Kabrastan was about a mile from the town. Members of the community used to go to mosque daily by walking or by rickshaw. During the month of Muharram, those who were staying in small villages such as Njinjo, Miteja, Muhoro, Mbawara and other places used to come to Kilwa to take part in Azadari. About 4 bohora families attended majlis too. Majlis was recited by Zakire Husain Marhum Haji Habib Sheriff Manekia, Marhum Haji Gulamabbas Merali Mawji and Marhum Haji Pyarali Hassanali Rahim of Zanzibar. Before 1930, Mulla Yusufali Abdullah (father of Mulla Muhammad, Sultanali, Akberali and Zehrabai Abdulrsul Siwji Somji) used to recite majlis. The first President of Jamat was Nanji Kara and the last in Kilwa were Haji Gulamali Kermali Dhanji and Haji Anverali Manekia. The last family to leave Kilwa was Husseinali Manekia who moved out in Sept 1971. Husseinali (Motabha) is the son of Marhum Habib Sheriff Manekia. Marhum Habib, a prominent trader and Zakire Imam Hussain A.S., was born in Kilwa in 1909 and passed away in Dar es Salaam in 1980. His other children are Alhaj Anverali Manekia, Shirinbai Aunali Mohamedhussein Khalfan (of NY, USA), Marhum Amirali Manekia and Marhuma Zainab Fazelhussein Fazal.
The properties in Kilwa (Kivinje) are under the care of Africa Federation being managed by Bilal Muslim Mission of Tanzania. The families of Gulamabbas Hussein Dewji, Kermali Dhanji, Habib Sheriff Manekia, Gulamabbas Hassanali Dharsee and Jaffer Aladin continue to support the Mosque and Madressah in Kilwa. There is a plan to carry out major renovations of the Kilwa Mosque, Imambara and Madressah in the near future.
Let us all remember in our duas the Marhumeens who were also the early pioneers and who sacrificed a lot to bring about the change in Kilwa and elsewhere, please recite Sura-e-Fateha for all the Marhumeens.
Secretariat
Africa Federation Archives Section
29th April 2016 (21st Rajab 1437 AH)
Reference: https://gallery.mailchimp.com/5496132269473a782cfb7b798/files/Nurmohamed_Manekia_Brief_history_of_Kilwa_Final.pdf