Merali Mawji
Birth & Death
Birth Date: In The Year 1888
Death Date: February 28, 1960
Brief Profile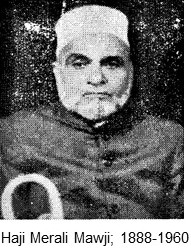 Haji Merali Mawji was born in Khandna, India in 1888. At the age of 12 he left his parents to vie for better prospects by sailing to Kilwa where he worked at Esmail Bhalloo. In 1906, he went to India to get married and on his return went to Njinjo, a village near Kilwa where he opened a small shop. In 1909 he moved to Kilwa. In 1923 he went to Iraq and Iran for Ziyarat. In 1946 he went for Hajj. In 1948 he closed his business in Kilwa and moved to Monduli where he continued the business. He has rendered invaluable services to Kilwa Jamat. He was also trustee of Arusha Jamat. Alhaj Merali Mawji died on 28 February 1960 in Mumbai, while on a Ziyarat trip.
Family
Marhum had a total of two sons and seven daughters. They are: Gulamali and Marhumeen Gulamabbas, Sikina Kassamali Hemraj, Zainab Sultan Yusufali, Rubab Muhammad Yusufali, Fatma Abdulhussein Somji, Kulsum Mohamedali Fazal Bhimji, Sughra Habib Jadavji Hemani and Zehra Mohamed Haji Jaffer Dhanji.
Let us remember and pray for the maghferat of Marhum Merali bhai Mawji and Marhumeens of his family and to all Marhumeens with Sura Fateha.

Source: KSIJ Trade Directory 1960, Family
Secretariat
Africa Federation Archives Section
6th October 2017 (15th Muharram 1439 AH)
Reference: http://africafederation.org/oldafrica/publications/archives/1718-africa-federation-archives-marhum-merali-mawji