Siwjibhai Somji
Birth & Death
Birth Date: December 21, 1882
Death Date: December 03, 1963
Brief Profile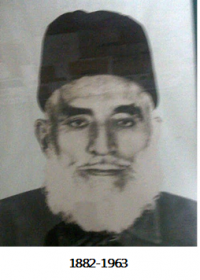 Siwjibhai Somji was born on 21st December 1882 in India. At the age of 18, he travelled from India to Zanzibar in a dhow. He joined in employment of Gulamhussein Somji Lilani in Zanzibar at a salary of 100 rupees a year. After one year he joined at Remtulla Allarakhia Tejani for 4 months. Siwjibhai left this job and travelled to Kilwa by ship named 'Governor". He then travelled from Kilwa to Songea on foot taking with him tents, laborers and food. He used to walk 6 hours every day. It took them 24 days to reach Songea – a distance of 320 miles. He started working at his brother Jaffer Somji's shop in Songea. After a year he went back to India for marriage.
Life Journey
In 1905, the African population carried out a major revolt called "Maji Maji Rebellion" against the German rulers. The revolt continued for 3 months and subsided when the Mayor Mr. Johannes brought German army to quell the rebellion. In 1906 Jaffer Somji moved from Songea to Kilwa where he opened a shop. In 1909 Jafferbhai went to India for marriage. While in India he sent his parents for Ziyarat. After one year he returned to Kilwa with his wife and within two years decided to go for Hajj. Due to the World War, Jafferbhai Somji could not return to Kilwa from Hajj until 1917. In 1917, Siwjibhai went to Dar es Salaam and opened a business. In 1922 Jafferbhai went to India for marriage of his daughter and he died in India in 1923. Siwjibhai then called back the family of his brother Jaffer from India.
Siwji Somji, Rawji Somji, Esmail Rawji and Fazel Rawji opened a partnership business in the name of Jaffer Somji & Co in Lindi and the business was operational up to 1934 when they split. Thereafter, Siwji Somji and Hassanali Jaffer Somji ran a joint business called Somji Store up to 1957. Thereafter they became independent.
Incident of Ship Breaking
Siwjibhai recalled an interesting incident in 1934. He had gone to Mbwera (Rufiji) from where he loaded a ship with dried coconuts destined for Dar es Salaam. Due to a fierce storm the ship ran aground and broke into pieces. They were not very far from the coast. People tried to cling to the wooden planks to avoid drowning. A small boat on the ship was used to transport some to the land, but it capsized due to stormy waves leading to drowning of an Arab lady. Siwjibhai, two Arabs and the ship captain decided to use one of the rafts to go ashore. Siwjibhai saw the raft could not take the weight of all four of them, He decided to jump into the sea and swim to the shore. His three colleagues finally made it to the shore.
Death & Family
Siwjibhai spent his retirement at Misimbo Sisal Estate at Kibiti, 90 miles from Dar es Salaam. He passed away at his house on the Estate on 3rd December 1963 and was buried in Dar es Salaam. He left behind three sons; Abdulrasul, Amirali and Hussein and four daughters Rehmat Jaffer Alladin, Nargis Satchu G Abdulrasul, Shireen Ladhu Walli and Fatma Rashid (all have passed away).
Let us remember Marhum Haji Siwji Somji and all the Marhumeen who devoted their time, resources in the service of the religion of Islam, the Madh'ab of Ahlulbayt (AS) and the community at large with Sura-e-Fateha for the maghferat of their souls – Ameen.

Source: Trade Directory 1960
SECRETARIAT
ARCHIVES SECTION OF THE AFRICA FEDERATION
7th April 2017 (9th Rajab 1438 AH)
Reference: http://africafederation.org/oldafrica/publications/archives/1620-africa-federation-archives-the-adventurous-footmark-of-haji-siwji-somji