Ali Mohammed Jaffer Sheriff
Birth & Death
Birth Date: In March 1912
Death Date: December 14, 1998 / 24 Sha'ban, 1419
Murrabbi Haji Ali Mohammed Jaffer Sheriff
"A great Leader who persuaded us into action"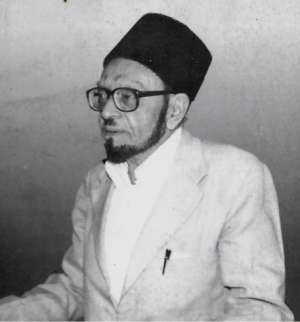 (1912 - 1998)
Brief Profile
Many people live and die unknown. Fortunate are the ones who leave their mark forever before they depart this temporary world. Such people work hard not for themselves but for others, who have ideas and struggle to achieve them without caring for their personal comfort or safety are the ones who are successful. Marhum Haji Alibhai Mohamed Jaffer was such a person.
Marhum Haji Alibhai Mohammed Jaffer fondly known as "Ali Chacha" hailed from the distinguished family of Haji Dewjibhai Jamal who were amongst the pioneers in the spread of the Shia Ithna-Asheri Madh'ab. History bears witness to the brilliant record of religious services of his successors, Haji Sheriff Dewji, Haji Ja'far Dewji, Haji Mohamed Jaffer Sheriff, Haji Hussein Sheriff, Haji Ahmed Hussein Sheriff and Marhum Haji Alibhai, among others.
Life Journey
Marhum Haji Ali Mohamed Jaffer was born in Zanzibar (Tanzania) in March 1912. Later he migrated to Kenya and then to Tanzania and finally settled in Mombasa (Kenya). He studied at Alidina Visram High School and upon completion of his secondary education, joined his father – Mulla Mohamed Jaffer Sheriff in the family business.
Marhum had a charismatic personality which endeared him to all, young and old alike. He was a man of God, pious, hardworking and completely devoted to the spread of Islam from a very young age. He was also a gifted linguistic and orator, fluent in Gujarati, Kutchii, Urdu, Punjabi, Kiswahili, English, Farsi and Arabic and used his talent to translate Arabic and Farsi speeches of visiting Ulemas into Gujarati and Kiswahili as well as recite majalises in Gujarati.
With zeal of Tabligh, enthusiasm for community upliftment lighting his path from generations prior, Marhum's dossier in providing communal services began at a very tender age when he became a member of Faize Huseini (a Welfare Organization) in Mombasa. In 1942, when the movement to have our own school started, he was elected as Secretary of the Committee to establish the School. After establishment of the School, he became member of the Education Board.
Marhum Haji Ali Mohamed Jaffer served various institutions of the community in position of responsibility with high level of integrity. Perhaps it was for such individual, that the phrase "being an institution within an Institution" was coined. His vast portfolio of accomplishments just to mention a few included being President of The Ithna-Asheri Sports Club and when the Ithna-Asheri Young Men's Union was formed in 1945, he was elected its first President. Thereafter, he served as President of The Khoja Shia Ithna Asheri Kuwwatul Islam (Bostani) Jamaat several times. After the formation of The Federation of Khoja Shia Ithna Asheri Jamaats of Africa, he served as its Hon. Treasurer and Vice President.
His philanthropic undertakings knew no boundaries and stretched to the Kenyan Government Public Sector during World War II in 1940 – 1945, where he served in the Asian Police Reserve. He was also appointed by the Kenyan Government as a member of the Asian Education Advisory Council and served as member of the Mombasa Muslim Association from 1945 to 1948.
Marhum Haji Ali was a man of versatile talents. Together with Marhum Hussein Allarakhia Rahim, he translated Dua-e-Kumail with its commentary in English. The impressive office-building of Bilal Muslim Mission and the twelve flats for members of our Community on it, were built as a result of his untiring efforts. For years, he served as a member of Mombasa Jamaat's Matrimonial Committee. Haji Ali was a co-author (with Marhum Al-Haj Hussein A. Rahim) of "Guidance from Qur'an" and "Uongozi wa Tabia Njema".
His Legacy
His greatest legacy which stands testimony till to-date is the establishment of the Bilal Muslim Mission of Kenya and Tanzania in collaboration with Allamah Seyyid Saeed Akhtar Rizvi. Spreading the Madh'ab of Ahlulbayt (AS) to the indigenous people was first floated at the Africa Federation Triennial Conference of December 1964 in Tanga. Marhum Haji Ali was cogent in countering opposition and awakening the conscience of the Khoja Community. He was the driving force behind the establishment and management of Bilal Muslim Mission; an establishment that was close to his heart for much of his life. He dedicated 34 years of service till the end of his days; tirelessly conveying the message of Ahlulbayt (AS) to the Africans ensuring not only religious knowledge reached them but also secular education by establishing schools in their regions.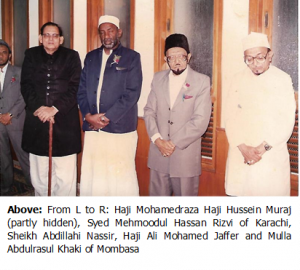 Death
Marhum departed this world for his eternal abode on 24 Sha'ban, 1419/14 December, 1998 in Mombasa but his spirit and ideals shall remain the lighthouse for the African Shia converts. We bow down to the Will of Almighty Allah, and pray that may He in His Infinite Mercy and bi-haqqi Chahardah Masumeen (A.S.) accept his services and reward him amply and place him amongst his Chosen Ones.
"Today, Bilal Muslim Mission is almost free of our bias and prejudice, and we pride ourselves on the inclusion of the indigenous people within the fold of our faith .." - Mulla Asgherali M. M. Jaffer – President of the World Federation of Khoja Shia Ithnashery Muslim Communities. (Obituary message in The Light Magazine Vol.33 No.2)
Family
Marhum left behind wife Sakina daughter of Abdulla Hameer, 5 sons and 4 daughters namely Hassan, Hussein, Muhsin, Abbas, Ahmed, Nargis M M Jaffer, Zainab Hussein Jafferali, Marzia Mohamed Hemani and Zehra Husseinali Kassam. Marhum Alibhai M Jaffer had only one sister Zehrabai who was married to Mulla Muhammad Jaffer (father of Marhum Mulla Asgharali M M Jaffer).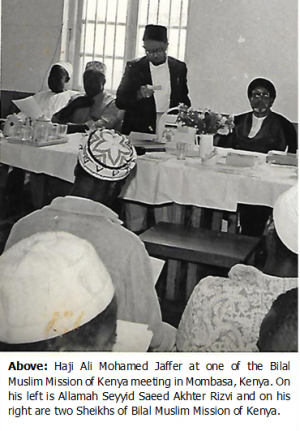 Let us remember Marhum Allamah Seyyid Saeed Akher Rizvi, Marhum Haji Ali Mohamed Jaffer, Marhum Fidahussein Abdullah Hameer, Marhum Hussein Allarakhia Rahim, Marhum Mulla Asgherali M. M. Jaffer and all the Marhumeen who served in one way or the other in spreading the Madh'ab of Ahlulbayt (AS) and for their dedication in other spheres of religious, social and humanitarian services to humankind, Ameen. – Please recite Sura-e-Fateha for the maghferat of their departed souls.

Article source: The Light Magazine Vol.33 No.2 April 1999/ Zilhajj 1419.
SECRETARIAT
ARCHIVES SECTION OF THE AFRICA FEDERATION
11th October 2019 (12th Safar 1441 A.H.)
Reference: https://gallery.mailchimp.com/5496132269473a782cfb7b798/files/3a917b2b-de42-48f2-8f68-2e1cece43907/Edited_End_of_an_Era_Haji_Ali_Mohamed_Jaffer_Sheriff_Dewji_Oct_2019_updated.pdf