MohamedJaffer Sheriff Dewji
Birth & Death
Birth Date: In The Year 1889
Death Date: In The Year 1960
Brief Profile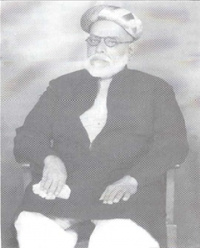 Dewji Jamal, the grandfather of Alhaj Mulla Mohamedjaffer Sheriff Dewji, was a leader of the Khoja community who openly disassociated himself from Aga Khan I as a result of which the Khoja Shia Ithna Asheri community came into being in Kutchh, Kathiawad, Mumbai and Karachi.
Sheriff Dewji, the son of Dewji Jamal, gave full backing to his father in this movement. He had three sons: Mohamedjaffer Sheriff Dewji, Husein Sheriff Dewji and Mohamedali Sheriff Dewji – who were residing in Zanzibar. In 1922, when Madrassa-tul-Waizeen was established in Lucknow, India, and Preachers were being sent to Africa, these brothers undertook to look after the allocation, accommodation, programs and welfare of these preachers.
Community Service
On his own volition, Haji Mohameadjaffer learnt the languages of Urdu, Farsi and Arabic (later on English also). Taking into consideration the welfare of the community, several times he traveled at his own expense throughout East Africa and visited Madagascar also. He recited Majalis in Gujarati – albeit reciting Masaeb in Urdu. His lectures were thus very effective and were very well grasped especially by the ladies and children. The process of reformation was however not restricted by him to delivering lectures only. Taking into consideration the needs and requirements of the Khoja Shia Ithna Asheri community, he wrote and published 26 books in Gujarati of which 4 were in the form of Textbooks namely: 'Sham-e-Hidayat' and 'Diniyat parts 1, 2 and 3' - which by the year 1976 were in use in almost all the Gujarati Madrassahs In addition to the above, publictions entitled: 'Al-Musawat', 'Tohfah-e-Rizviyyah', 'Tohfah-e-Jafferiyah, 'Rooyat-e-Hilal', 'Al-Mahasin' and 'Imam-e-Zamana' are noteworthy. The book 'Imam-e-Zamana' has been translated into Urdu and published by Al-Jawad Book Depot, Banaras, India. Other important books written and published by him are: 'Shaheed-e-Islam', Yadgar-e-Husein', Dalil-ul-Zaireen', 'Najasat-ul-Mushrikeen', 'Rooh (Aatma)' and 'Kamli – Waale'.
Mulla Mohamedjaffer was born in 1889 in Zanzibar and died over there in 1960. He resided in Mombasa, Kenya, for quite some time where he carried out his business. Whilst in Mombasa, he established Husayni Night School, also known as Madrasah-tul-Faiz-e-Husayni (now known as Husayni Madrassah). In December 1959, the writer happened to meet Mulla Mohamedjaffer for few hours on board the ship 'State of Bombay' on way from Mombasa to Zanzibar. View of the fact that he had read my articles published in 'Al-Jawad' magazine, he recognized me the moment I introduced my name to him and he greeted me with great warmth and respect. Thereafter we remained in touch via correspondence till his expiry a few months thereafter.
Family
Haji Saheb left behind two notable children – a daughter who was the mother of Alhaj [ http://khojapedia.com/wiki/index.php?title=Mulla_Asgar_(Asghar_Ali_M.M_Jaffer) Mulla Asgharali M. M. Jaffer] and a son Haji Ali Mohammed Jaffer Sheriff who was my close friend and an ardent supporter of Bilal Muslim Mission of Tanzania, and, when he migrated to Mombasa, Kenya, he served Bilal Muslim Mission of Kenya with utmost dedication.

Narrative by Maulana Syed Saeed Akhter Rizvi
Reference: E-Book of 12 Personalities
The World Federation of KSIMC
SENIORS ADVISORY BOARD
February 2006 / Muharram 1427