Dewji Jamal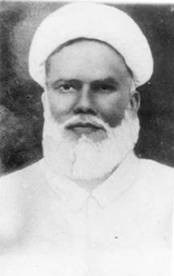 Birth
Birth Date: In The Year 1820
Brief Profile
Dewji Jamal, the grandfather of Alhaj Mulla Mohamedjaffer Sheriff Dewji, was a leader of the Khoja community who openly disassociated himself from Aga khan I as a result of which the Khoja Shia Ithna Asheri community came into being in Kutchh, Kathiawad, Mumbai and Karachi. Haji Dewji Jamal was born in Bhavnagar, Gujarat in 1820 in a rich mercantile family.
Life Journey
He shifted his business to Bombay in 1850 and invested in properties and sailing dhows in Bombay and eventually moved to Zanzibar. He first visited Zanzibar in 1860. Dewji Jamal was an Ismaili and is known to pray namaz, keep Rozas and conduct majlis of Imam Hussain (as) in Muharram. He however also believed that Imam Ali (a.s) was an incarnation of Allah (SWT). In one of his visits to Karbala, he met a high ranking Mujtahid who explained to him that this belief in Incarnation was incorrect. Dewji Jamal understood that there were many such misconceptions and wrong beliefs and practices within the Ismaili community. He requested that a learned scholar be sent to India to guide the Ismaili community of India. Upon his request, Mulla Kader Hussein was sent to India to educate the Ismaili Khojas of India with the true belief. This paved the way for the introduction of IthnaAsheri beliefs among the Ismaili community. Haji Dewji Jamal is therefore considered to be one of the founding fathers of the Khoja Shia IthnaAsheri community. In 1870 Dewji Jamal established a branch of his company in Lamu, the chief port of Kenya. This is the first report of a Khoja in Kenya. Haji Dewji Jamal was one of the founders of the Khoja Shia Ithna-Asheri Community in Zanzibar in 1881.
Family
Haji Dewji was blessed with 6 sons:
1. Sherrif Dewji (died in 1913 at Kadhmain in Iraq) 2. Janmohammed Dewji (died in 1922 in Bombay)
3. Peerbhai Dewji (Died in 1920 in Bombay)
4. Nazarali Dewji (Died in 1930 in Bombay - buried in Karbala)
5. Jaffer Dewji (Died in 1934 at Bombay)
6. Nasser Dewji (died in 1901 while returning from Mecca and believed to be buried at sea)
They built and contributed a lot towards building Mosques, Imambargahs, Cemeteries, Endowment Properties in India as well as at many places in East Africa notable among them being the Grand Mosque on the seashore of Lamu, Haideri Mosque and Imambada at Mombasa and Zanzibar.

Reference: https://ksimarhumeen.tribalpages.com/tribe/browse?view=0&rand=712314194&pid=2317&userid=ksimarhumeen#moreinfo_