Mulla Hussein Allarakhia Rahim - Zanzibar
Birth & Death
Birth Date: In The Year 1900
Death Date: In The Year 1979
Brief Profile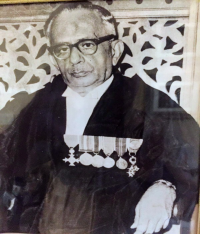 Alhaj Mulla Hussein Allarakhia Rahim was born in Zanzibar in 1900. He was a famous and well-known personality in Zanzibar Island. He was President of the Kuwwat ul Islam Jamaat (Juni Misit) of Zanzibar for many years. He served many other institutions in Zanzibar including as President of the Faize Ithna-Asheri which provided various services to the community. After the Second World War he introduced the Ithna-Asheri Volunteer Corps with Alhaj Ebrahim Hussein Sheriff as its Chairman, Ali Ebrahim Jivraj as Secretary and Abbas Tejani as Treasurer.
Love of Ahlul Bayt (AS)
Marhum was a popular Zakir-e-Imam Hussain renowned for his Urdu majalis. Community members specially looked forward for his majalis recited on 9th, 10th and 11th night of Muharram during Julus at Mehfile Abbas and Mehfile Shahe Khurasan (famously known as Kiwanjani). He regularly spoke at Hussein Day programs in Zanzibar, Mombasa and Tanga.
He held an immense love for Ahlul Bayt (AS) and was a fervent defender of Azadari. During one of the Ashura Night Julus (Procession), there was a danger of Julus being attacked. While Mulla Saheb was reciting majlis at the Imambara in Kiponda, the Police Commissioner Colonel A M Bell came to advise him to cancel the Julus. After the majlis he went home and changed into Public Prosecutor Police Uniform and led the Julus. The attackers fled on seeing this. When the Julus reached Mehfile Abbas, he wore his black Sherwani on top of his uniform and recited his scheduled majlis.
Achievements & Awards
Mulla Hussain Rahim started his career in Zanzibar in the service of British Government as Public Prosecutor and was a Crown Counsel on various occasions. He was Registrar of the High Court and held the position of Resident Magistrate (First Class). He was the first member of the Asian community to hold such senior judicial position. He was responsible for editing Zanzibar Law Reports. He was instrumental in drafting and adoption of Muslim Laws and Acts in the Judiciary. He was awarded MBE by the British Government due to his exemplary services. He was also decorated with Coronation Medal and Order of the Brilliant Star. Marhum was Chairman of the Zanzibar Broadcasting Corporation.
Marhum contributed articles in various magazines, among them Samachar (a Zanzibar weekly), Salsabil (monthly) and The Light Magazine published by Bilal Muslim Mission. He authored an English commentary on Dua Kumayl and co-authored Guidance from the Qur'an He was one of the architects of the Africa Federation and drafted its first constitution. He was given the honour to open the first conference of the World Federation in London in 1976.
Death
Marhum passed away in London in 1979 at the age of 79 and was buried at Brookwood Cemetery. His wife was Rehmatbai Bandali. They had four sons: Anwerali, Mohamed Raza, Mohammed Baqir, Mohammed Sadiq and four daughters Zehra Hussein Jessa, Fatma Hussein Kermalli, Zakia Hussein Jiwa and Sakina Hussein Rahim.
We pray to Allah (SWT) by His grace and mercy to grant Marhum Mulla Hussain Allarakhia Rahim high status amongst His chosen ones, and shower His blessings and maghferat upon him and all the past Religious Scholars, Zakirs, Zakiras, Volunteers and all those who have served at various times in various Jamaats in one way or the other. Please recite Sura-e-Fateha for all Marhumeen.

Source: Federation Samachar 1963 and Marhum's Family
SECRETARIAT
AFRICA FEDERATION ARCHIVES SECTION
25th August 2017 (2nd Zilhajj 1438 AH)
Resource: http://africafederation.org/oldafrica/publications/archives/1687-africa-federation-archives-alhaj-mulla-hussein-allarakhia-rahim-of-zanzibar