Rashid Nathani
Birth & Death
Birth Date: In the Year 1875
Death Date: In the Year 1936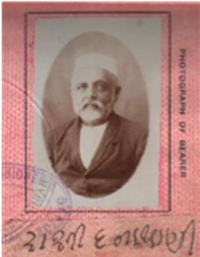 Brief Profile
Among the early Indian migrants to settle in Zanzibar was one Natha Gangjee a Khoja Ismaili, reputed as a devout follower of the Aga Khan. In 1860 Natha Gangjee left Jamnagar in India to settle in Zanzibar. According to the registration records of the British Consulate in Zanzibar, Natha came with three dependents, his wife, one sister and a child. Rashid, the second child of Natha was born in Zanzibar in 1875. In 1888, he accompanied his aunt (Natha's sister) to go to Mumbai for the "deedar" (Ziyarat) of the 'Mola Bapa' i.e. the Aga Khan. It will be recalled that Aqa Ali Shah, Aga Khan II passed away in Pune, India in 1885 and his remains were later transferred for permanent burial in Najaf. Young Aga Khan III Sir Sultan Mohamed Shah had since succeeded his father.
Extract of Natha Gangjee's registration at British Consulate in Zanzibar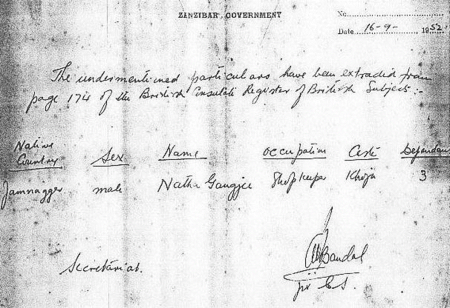 Life Journey
After staying in Mumbai for a couple of months, when Rashid returned to Zanzibar with his aunt, one day he declared to his parents that he had since adopted the Shia Ithna-Asheri faith. His father, Natha Gangjee was furious and disowned Rashid as a result. Just over 13 years, young Rashid was ejected from the family house. He had nowhere to go and with no money, young Rashid struggled to eke out a bare existence by collecting and selling old newspapers and cartons. It is not known who offered him shelter and how he managed to survive. Despite the odds, Rashid did not renounce his newly adopted faith to return to his family.
Mystery surrounds as to what made a thirteen year old to renounce his faith after a short stay in Mumbai and what made him acquire such resolve to go against his parents in adopting what then was considered a 'dissenters' faith' by the larger Khoja community. It will be recalled that from 1862 onwards there was growing dissent in the once united Khoja community. Until then, members of the Khoja community had leanings towards a variety of mixed faiths known as Satpanthi, Nizari Ismaili, Sunni or Shia Ithna-Asheri. The combination of all faiths often overlapped with each other but they continued to operate as one united Khoja community performing their religious and social activities from a common community Centre, known as the Jamat Khana.
Life History with Mulla Qadir Hussein Saheb
To many, the Aga Khan was viewed as the Nizari Ismaili Imam, while other Khoja viewed him as a 'Pir'. The first dissenting group to separate from the united Khoja community was the Sunni group that branched out in 1860's to form their distinct 'Bar Bhai' or Khoja Sunni Jamaat. A decade later, in 1870's, another Khoja group branched out to form their distinct Khoja Shia Ithna-Asheri Jamaat.
Research carried out by the author (grandson of Rashid Nathani) who visited India in 2004 to trace any documentary evidences that could throw some light on what Rashid Natha Gangjee did in Mumbai during his short visit in 1888 that made him renounce his ancestral faith soon after his return to Zanzibar has elicited no written evidence. Talking to elders in Zanzibar and in Mumbai, the author has drawn conclusion that the most likely possibility is the influence of Mulla Qadir Husein who ran his Madrassah in the Dongri and Palagali area of Mumbai that was otherwise also known as the Khoja Mohalla.
Mulla Qadir Husein first came to Mumbai from Madras at a young age of around 20 years to set up a Madrassah in the Khoja Mohalla teaching Qur'an to children. After a few years in Mumbai, he returned to Madras and then went on to Karbala, Iraq, to pursue higher Islamic studies. In 1873, Mulla Qadir Husein Saheb returned to Mumbai with Dewji Jamal to once again set up a Madrassah. He stayed in Mumbai until 1900 before returning to Karbala where he passed away in 1902 and lies buried in an unmarked grave within the courtyard (Sahan) of the Shrine of Imam Hussein (AS). The Khoja Shia Ithna-Asheri community owes an eternal debt of gratitude to Mulla Qadir Husein Saheb for his crucial role in the evolution of the newly emerging Khoja Shia Ithna-Asheri community.
In Mumbai, the central Ismaili Jamat Khana, known as the Darkhana, the Khoja Sunni Mosque and the Khoja Shia Ithna- Mosque are all located in the same area, at short distances from each other. It is a known fact that since Mulla Qadir Husein Saheb ran his Madrassah in the vicinity of these centers, every night, after the conclusion of Jamat Khana daily evening prayer programs, those Khoja who were curious and were attracted by Mulla Qadir Husein Saheb would quietly converge at his Madrassah for the traditional Majlis of Imam Hussein (AS). Majlis of Imam Husein (AS) was the core attracting feature for the adults. Mulla Qadir Husein Saheb often turned these Majlis sessions into a form of discussion forum to operate as adult classes teaching basic rudiments of the Islamic faith. These Majlis sessions attracted many from the wide spectrum of the Khoja community and proved to be instrumental in the growth of the Khoja Shia Ithna-Asheri community in India. It is believed that young Rashid Natha Gangjee, driven by curiosity, would attend these sessions along with his local friends. There are interesting accounts of several individuals like Killu Khataw, Haji Gulamali Haji Esmail and several other individuals who frequented the Madrassah of Mulla Qader Husein Saheb to become resolute in adopting and promoting the Shia Ithna-Asheri faith.
Progressive Days Of Zanzibar
Struggling to survive in Zanzibar, young Rashid soon learned the art of stitching and set himself up as a tailor. He later gained fame as a tailor and had the distinction being the favorite Tailor in Zanzibar to stitch the "Juba" – the long Arab outer garment - for the Sultan of Zanzibar. Gradually as his business progressed, he set up a shop in the name of his first son Mohamedali to be known as M. R. Nathani & Co. selling sewing machines and accessories. He also sold patent medicine. Among the medicaments that he marketed was one tonic pill known as "Hubbul Hayat" (love of life) pill and digestive pills. He also sold plaster (band-aid).
In 1920 after he made some money and managed to save 500 to 700 Rupees, he decided to go for Hajj. He was accompanied by his sons Mohamedraza, Mohamed Jaffer and Sultan and also his son in law, MohamedJaffer Sheriff Dewji and other family members. A group of around 60 Hujjaj sailed out from Zanzibar in a ship called S.S. "Rona". There were 60 Hujjaj from Zanzibar and Mombasa as the vessel made first call at Mogadishu and then Aden. From Aden the group embarked another vessel called S.S. "Neel" to the port of Yanbu. From Yanbu the means of travel to Madina was by Camels. These were the dying days of the Ottoman Empire and Sharif Husein ruled over Arabia. There was uprising against the Sharif Husein regime and the Bedouin tribes would attack and loot Hajj Caravans until a safe passage was negotiated. Because of the prevailing skirmishes between the forces of Sharif Husein and the local Bedouin tribes, they had to stay in Yanbu for seven days. When peace was restored and the Caravan leaders were able to negotiate safe passage with the Bedouin bandits on the way, a large Caravan of Camels with Hujjaj from different parts of the world set to move from Yanbu to Madina. The journey from Yanbu to Madina took about 22 days. Because of the desert heat, the Caravan would march at night and make camps at day time at what was termed as "Manzil". Summer desert temperature would soar to 130F. For the present day Hujjaj travelling by jet planes and living in air-conditioned and luxury hotels, it may be difficult to visualize what such a journey would have been like.
Family History
Rashid Natha's first wife was Sherbanu Walli Jamal. He had three children from this wife: Mohamedali, Fatma and Kulsum. Fatma was married to MohamedJaffer Sheriff Dewji. Rashid Natha also adopted two children of Mulla Jaffer of Pangani whose wife was the cousin of Sherbanubai Walli Jamal. The names of the two adopted children were Mulla Mohamed Jaffar (father of Marhum Mulla Asgher) and Sherbanu (mother of Marhum Abbas Alidina of Karachi)
After the death of his first wife, Rashid married Zainab Remtulla Nasser. They had seven sons and one daughter by this marriage, they were: Abdulhusein, Husein, Mohamed Raza, (Maalim Raza), Mohamedjaffer (Malim Miya), Yusuf (Mulla Yusuf), Sultan and Akber. The only daughter was named Sakina who married Abdulrasul Alarakhia Dewji. After the death of his second wife, he married Fatmabai Kanji, sister of Husein Nazerali (Tabora). Mohamedali, the eldest son of Rashid died on board a ship while returning from Ziyarat and was buried at sea between Basra and Bombay. Rashid's son Abdulhusein (Abdulu) partnered with his two brothers Mohamed Raza (Maalim Raza) and Mohamed Jaffer (Maalim Miya) to establish a company known as M. Takim & Company. Abdulu was also among the early Indians from Zanzibar to travel to London.
In late 20s or early 30s, Rashid Natha sent his grandson Hassanali Mohamedali Rashid Nathani (H M Rashid) together with Mulla Mohamed Jaffer to study in Lucknow. These two were joined by Mulla Hassanali Rashid of Mombasa. After a few years of study, on their return Mulla Mohamed Jaffer stopped in Mombasa where he got married to the daughter of Mohamed Jaffer Shariff Dewji. These were the parents of Mulla Asgher M M Jaffer and his siblings. Rashid Natha went for Ziyarat to Iraq and Iran in 1926.Haji Dawood Haji Nasser of Mumbai has recorded in his Safarnama that he met with 'Zanzibarwalla Rashid Natha and his sons in the garden of Duzdaab (Zahedan) on the same day as they were returning from Mashad'. Again in 1930 Rashid Natha went for one more Ziyarat to Iraq and Iran.
Death
Rashid Natha passed away in Zanzibar in 1936. His children have been known for their active roles in community work, as Zakireen for reciting Majlis, as Madrassah teachers and also in several branches of the local Jamaat activities.
Let us remember and pray for the maghferat of Mulla Qadir Husein Saheb, Marhum Alhaj Rashid Nathani, and all the past leaders, Maalims, Volunteers of our Community for their dedication and selfless services and for all the Marhumeen with Sura Fateha. May Allah (SWT) grant them heavenly abode in the vicinity of Ahlulbayt (A.S.) – Ameen.

Article By: Abdulhusein Akbar (Grandson of Rashid Nathani Takim - London UK)
SECRETARIAT
ARCHIVES SECTION OF THE AFRICA FEDERATION
27th September 2019 (27th Muharram 1441 A.H.)
Reference: https://gallery.mailchimp.com/5496132269473a782cfb7b798/files/e3f947f1-d1ca-4b86-8395-c072c903ef52/AFED_Archives_Bulletin_RASHID_NATHA_Final_edited_I_Sept_2019_.pdf