Dawood Nasser Haji Mowjee from Aden - Yemen
Birth & Death
Birth Date: March 12, 1889
Death Date: In The Year 1975
Narration By Roshanali Haji Dawood Nasser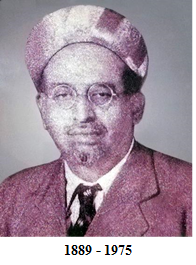 This is the story of how my father Dawood Nasser Haji Mowjee who was born on 12th March 1889 in Mukalla in Quaiti State which was in Eastern Aden British Protectorate (now Yemen) was brought to Mandvi Port in India by dhow. My dearest grandmother Sakinabai died at Mukalla on 25th March 1889 when my father was about 13 days old. My grandfather Haji Nasser Haji Mowjee was very much saddened by her death and the fact that he now had to leave Mukalla forever. As there was no steam-ship service in those days, my grandfather decided to leave with my father by a small sailing boat (dhow) of about 200 tons' capacity which was sailing for Mandvi Port in India.
The main problem arose as to who would feed my father as there was no condensed milk or other modern alternatives in those days. So my grandfather approached His Highness the Sultan of Mukalla to provide a wet nurse from a good family if possible to nurse my father on board the sailing boat. The Sultan arranged for such a nurse on the condition that she should be sent back immediately via Aden by ship and thence to Mukalla by boat to which my grandfather agreed. A question arose that in case the wet nurse became sick due to rolling of the sea what would become of my father's condition. So, as an alternative, my grandfather purchased a she-goat and hay for the journey. If the wind and sea are favourable, the journey usually takes about 12 to 14 days to reach Kutch Mandvi in India. After bidding goodbye to the people of Mukalla who were very friendly to my grandfather, the journey began. When the dhow entered into the high seas they found themselves lonely with sky above and hundreds of miles of sea on all sides. For three days the weather was very pleasant. On the fourth day the sea became rough with winds increasing in velocity every hour. Due to strong winds the sailing boat began to toss. The night passed in great anxiety as the boat had now entered into heavy storm.
On the following day darkness prevailed and a severe storm surged and the Nakhuda (captain) said that he had never experienced such a storm. The boat was rolling heavily on both sides and everyone lost hope of surviving as the boat was likely to sink. It occurred to the Nakhuda that the wooden mast of the boat which was about 3 feet in diameter and 40 feet high should be cut down. He at once ordered the sailors and my grandfather to cut down the mast with axes as soon as possible. He separated the cloth of the sail from the boat and within an hour the mast was cut down. The Nakhuda warned that the cut mast should be thrown as far as possible otherwise it would strike and make a hole in the boat and damage the boat. The mast was thrown out skillfully. The boat was then at the mercy of the waves but the chances of turning upside down was reduced to the minimum. Gradually the sea became calm as days went by. In three days the sea was calm like a big pond. During the stormy days the wet nurse was semi-conscious and could not nurse my father sufficiently. At that time the she-goat came to my father's rescue and he was sucking milk directly from the she-goat.
The Nakhuda said that the boat would reach Kutch Mandvi in 22 days instead of 13 days. He found that the quantity of drinking water on the boat was very short so he ordered rationing and everybody was allowed three cups including himself. Before his departure, my grandfather had managed to send a letter to Aden and which would then be sent by steamer to my great grandfather Haji Mowji Jivraj and grandmother at Mundra so that they could receive them at Kutch Mandvi Port in time. Consequently, both my great-grandparents reached Kutch Mandvi from Mundra, a journey of about 40 miles by bullock-cart to receive my father and grandfather. On reaching Mandvi, they were informed by the boat owners that there was great storm in the Arabian sea with the result that 2 to 3 hundred boats had sunk and since the previous week not a single boat had arrived at the port otherwise the average arrival was 1 to 5 boats daily and consequently the dock was also at a standstill. On hearing this my great grandparents had tears in their eyes and waited for two more days but on finding that the hope was fading away they returned to Mundra (home town 40 miles away) with a heavy heart. On their arrival at Mundra every family member ran to welcome them but on finding that the guests had not arrived and seeing my great grandparents weeping their joy turned to sorrow. Each day seemed like a year to them and many elderly people advised them not to despair and keep hope and faith in Allah (swt) the Great. At last, on the 24th day my father and grandfather arrived safe and sound at Kutch Mandvi. My grandfather learnt with deep regret that his parents had come to receive them and had gone back with tears in their eyes.
My grandfather bade goodbye and thanked the Nakhuda and sailors for their perseverance, courage and courtesy. They then hired a bullock-cart from the port of Mandvi and departed for Mundra. When they reached at our house suddenly it was like an Eid day (Jubilation) for them and people from the surrounding towns and villages and fields were continuously coming to greet and congratulate my grandfather and grandparents. Marhum Dawood Haji Nasser passed away in 1975 and is buried in Najaf-e-Ashra'f, Iraq.
Let us remember Marhum Dawood Nasser Haji Mowjee, Marhum Roshanali Haji Dawood Nasser and all the Marhumeen who have passed away and who have served our community at different times with great commitment and dedication. Please recite Sura-e-Fateha for the maghferat of the departed souls – Ameen.

Source: Late Roshanali Haji Dawood Nasser of Mumbai, India.
SECRETARIAT
ARCHIVES SECTION OF THE AFRICA FEDERATION
31st March 2017 (2nd Rajab 1438 AH)
Resource: http://africafederation.org/oldafrica/publications/archives/1617-africa-federation-archives-an-account-of-the-brave-journey-of-late-dawood-nasser-haji-mowjee-from-aden-in-yemen-to-kutch-in-india