Mulla Gulamhussein Peera (Jomba)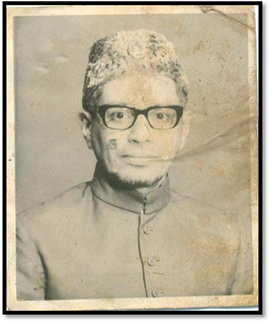 Birth & Death
Birth Date: August 28, 1923
Death Date: October 26, 1985
Brief Profile
Late Mulla Gulamhussein devoted his entire life for Tabligh activities in the community. He started as a teacher of the Ithna-Asheri Madressah in Zanzibar famously known as School Faize and at a very young age, he took keen interest in Zakiri. He then moved to Arusha in February 1965 where he continued to provide religious services with great zeal and sincerity.
He took great interest in reading newspapers and following local politics. He was also interested in Cricket and used to visit the sports ground to watch matches and encourage youngsters. He was the chief accountant with Sheriff Dewji & Sons Ltd. in Arusha for many years. He was very particular in accounts especially cash where he would insist on accuracy to the last cent.
Community Services
He was Zakir-e-Hussein in Zanzibar and then Arusha where he used to recite majalises, nikaahs. He spoke English, Kiswahili, Gujarati and Urdu fluently. He was one of the few first Khojas of East Africa to lead Namaze Jamaat and his outstanding Zakiri made him popular in East Africa and Madagascar. He also used to give Haaj Masaels whenever called upon; he was liked for his humble and affable nature. For about 20 years in the absence of the Resident Aalim in Arusha, he would stand in for various religious activities. He also was the head of Madressa in Arusha for a number of years.
Marhum Mulla Gulamhussein served as Africa Federation councilor in Arusha and also served the Arusha Jamaat as a managing committee member for several years. In recognition of his well merited services and dedication to the cause of the religion of Islam and selfless services towards the Madháb of Ahlulbayt (AS) and to the community, Mulla Gulamhussein was bestowed with Hussein Medal by the Federation of Khoja Shia Ithna-Asheri Jamaats of Africa.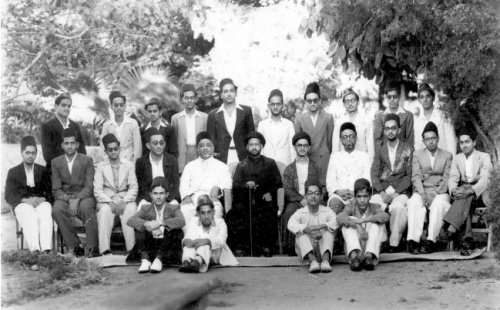 In the photograph are seen Teachers and Students of the Ithna-Asheri Night School (School Faize) – Zanzibar that spread religious studies through the entire Khoja Shia world from the tiny island of Zanzibar. It produced students, many of who have been actively involved in the setting up and running of our present madressahs worldwide.
The above photo shows teachers and Special Class students. The photograph was taken on the eve of departure of Maulana Seyyid Jabir Hassan for Ziarat on 7th November 1952.
Sitting on the ground Left to Right: Jaffer Boga, Yusuf Alidina, Abdulhusein Nathani and Gulamabbas Kara.
Sitting from Left to Rigt: Gulamhusein Peera, Abbas Tejani, Mohamedhusein Tejani, Maalim Mohammed Jivraj, Maalim Raza Nathani, Seyyid Jabir Hassan, Agha Mehdi Shushtari, Maalim Mohamedjaffer Nathani (Maalim Miya), Mohamedhusein Lalji, Maalim Najaf Tejani and Akber Thawer.
Standing from Left to Right: Baker Nathani, Ahmed Bhaloo, Jaffer Tejani, Mohamedali Juma, Gulamhussein Saleh Allarakhia (Golo Saleh), Maalim Ahmed Issa, Mohamed Khalfan, Mohamedhusein Kermali, Baker Tejani and Yusuf Sheriff Dewji.
His Death
Mulla Gulamhussein Peera passed way on 26th October 1985 whilst on a visit to Mombasa; he was buried in Mombasa Jamaat Kabrastan. In early 1986 on Thursday, 15th night of Shabán, when there was heavy rain in Mombasa, his grave opened up. People observed that his kafan and face was quite fresh, after six months of burial. This was also reported in one article of the Federation Samachar.
Let us remember and recite Sura-e-Fateha for the Ithale-thawab of Marhum Mulla Gulamhussein and for all Marhumeens, May Allah (SWT) grant them maghferat and place their souls amongst His chosen ones.

Article: Aunali Khalfan
Hon. Secretary Africa Federation
Reference: https://gallery.mailchimp.com/5496132269473a782cfb7b798/files/AFED_Archives_Publication_MULLA_GULAMHUSSEIN_PEERA_OF_ARUSHA.pdf