Mbale Jamaat - Uganda
Community History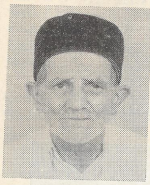 Laljibhai Rawji (75) of Mbale narrates the history of our community at Mbale, Uganda. He recalls the arrival at Mbale of entrepreneur Waljibhai Bhanji in 1906. At that time, there were 16 Indian shops including the famous Allidina Visram. Houses were made of mud and iron sheets. On arrival, Waljibhai applied to the District Commissioner Perryman for a plot to construct a house. Upon approval a mud house was built and this was used to start a wholesale business. Waljibhai used to trade with Mombasa in crop produce. Remtullabhai Rawji was his manager. In 1919, they jointly opened a cotton ginnery at Budaka, a town near Mbale. In 1922, he constructed buildings and warehouses at Ladoto (22 miles from Mbale) and appointed Br. Lalji Rawji as manager.
Dedication of Iranian Brother Mohamed Baqir
There were 4-5 Ithna-asheri shops at Mbale. There also lived an Iranian called Mohamed baqir who was a hunter and a trader in ivory. He also dealt with crop produce. He built two rooms in the compound of his mud house to be used as Imambara where majlis would be held. As our population in Mbale and surrounding areas kept on increasing this facility became inadequate. The DC was requested to provide plot for Imambara. Two plots were provided and as a result of cooperation from members, an Imambara was built in 1925. Br Mohamedbaqir passed away the same year. In 1926, a building was constructed next to Imambara to give out on rent so that Imambara expenses would be met from the new building.
Br Mohamed baqir was very pious and religious person. He had a strong faith and had created great interest in religion among our brothers. He liked to help others. An influenza epidemic had resulted in many deaths and the populace were very worried. Br Mohamed baqir arranged for free medical treatment and provided help in other areas too. Other brothers who served the Jamaat with great zeal were Br Alimohamed Nanji, Vasanji Gangji and Remtulla Rawji. In 1906, DC Perryman gave the community a plot for the cemetery. Our community was passionate in commemorating Azadari. In 1926, a public procession was planned for Ashura night. However the DC was not in favour for fear of riots.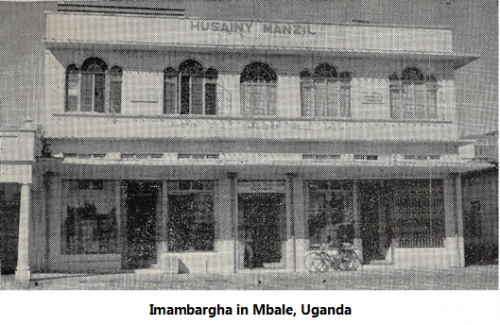 Incident of 1914
Laljibhai vividly recalls an incident in 1914. Laljibhai was travelling from Jinja to Mbale in a cart. The cart was being pulled by four men. Two wild buffaloes suddenly appeared and the four men ran away leaving Laljibhai alone. Fortunately at the same time some wild animals were howling in the nearby valley. Their noise terrified the buffaloes who went away. Laljibhai started pushing the cart by himself and the four men re-appeared and they continued the journey. The other prominent method of transport during this period was 'machera" where people would be carried by others in a litter. The DCs used this method of transport to move from one place to another. Mbale was very much an undeveloped area, surrounded by forest on all sides. The wild animals would come to Mbale in the evening to roam around and hunting for prey. In 1919, there was armyworm infestation and as a result the farms were totally destroyed leading to a famine.
Incident of 1915
Br Mohamedali Remtulla Rawji (50) speaking from his hospital bed related an incident in 1915 at Masaba Hill near the town's water supply point. Some tribesmen had come to attack the towns people at night. Mr. Mangal was the DC at the time. The inspector was an Ithnaasheri, Br. Hassanali Manji. They did not have any junior officers (askari). The DC called Remtulla Rawji and Mohamedbaqir who owned a shotgun. The four of them were able to repel the attack by the tribesmen.
Jamaat Expansion
In 1956, our community decided to collect donations for a new Imambara. Br Alimohamed Nanji, Mohamedali Hansraj, Abdulrasul Vasanji Gangji and Rajabali Khimji went around in East Africa collecting funds. They collected Shs 155,000. The Imambara was ready in 1957 and the opening ceremony was conducted by President of Africa Federation, Alhaj Abdulhussein H Noormohammed.
Let us remember with Sura-e-Fateha for all the Marhumeens of Mbale, Uganda for their sacrifices and dedication to form the Jamaat under very difficult circumstances, May Allah (SWT) grant them maghferat, Ameen.

Prepared by: Alhaj Mustafa Pirmohamed (Orlando)
Source: AF Trade Directory (1960)
SECRETARIAT
ARCHIVES SECTION OF THE AFRICA FEDERATION
24th February 2017 (26thJamadiulAwwal 1438 AH)
Resource: http://africafederation.org/oldafrica/publications/archives/1584-africa-federation-archives-marhum-lalji-bhai-rawji-of-mbale-uganda