Walji Bhanji
Birth & Death
Birth Date: In The Year 1869
Death Date: In The Year 1932
Life Journey
Walji Bhanji, Khakoo Bhanji and Karim Bhanji lived in Mundra, India. After the death of his brother Khaku, Walji married Khaku's widow Kesarbai. Walji, his wife and his step-son and nephew Suleman Khaku left Malia, India for Mombasa in 1898. Walji was 30 years old while Suleman was 9. After arriving at Mombasa, they stayed at Ladhabhai Kanji. In 1897, Walji's brother Karim Bhanji had travelled to Zanzibar where he worked at Alidina Kanji. At Mombasa, Walji started a small shop selling tobacco, match boxes and other small items. In 1899, a railway line started being built from Kilindini to Nairobi. Walji was the first Khoja Shia Ithna Asheri to move to Nairobi in 1900. He started a small shop in a tent in Nairobi. In 1902, he started a shop in Nakuru and later on opened three branches in Uganda. Business in Uganda flourished very well. When he was in Nairobi the railway line had not reached Nairobi and goods from Mombasa had to be offloaded at Makundi from where they used to be carried by donkeys to Nairobi.
Business Journey
In 1909, Walji Bhanji started ivory trade. His branch in Jinja dealt entirely with cloths and they soon became leading cloth business in that area. The entire cloth business was controlled by Walji Bhanji and prices declared by their firm were considered as the genuine current prices. Walji Bhanji gradually owned several branches in Kenya and Uganda. Due to lack of family supervision it was becoming difficult to have control over its business. The recession following the 1918 World War made things more difficult. The concern of Walji Bhanji was ability to withstand these difficulties and remain in business until 1932. Many community members had worked at this company until its closure in 1932. After its closure, Br Suleman Khaku opened a new company in the name of Valimohamed Walji Bhanji which is currently active in Mombasa with a branch in Zanzibar (as at 1960). The company has made strong inroads in ivory trade for which it is famous.
Family
Family Tree of Walji Bhanji Family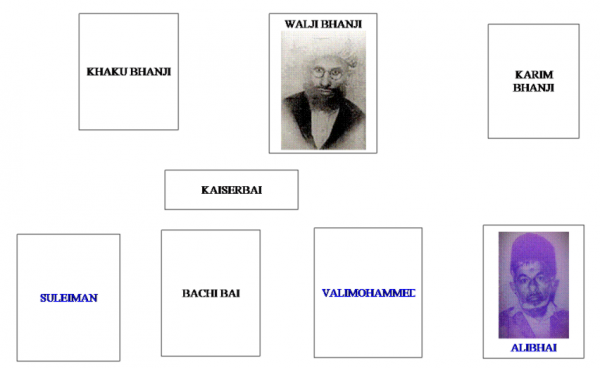 When Walji Bhanji arrived in Mombasa, there were 20 families of our community. Majlis were held at the house of Haji Jaffer Dewji. Walji Bhanji passed away in Mombasa in 1932. His son Valimohamed passed away in Zanzibar in 1938. Br. Suleman Khaku passed away in Mombasa in 1961.
May we request our esteemed readers to remember the Marhumeens mentioned here above and all the Marhumeens with Sura-e-Fateha for the maghferat of their souls, Ameen.
Source: KSI AF Trade Directory 1960
http://www.waljibhanji.com/ (Murtaza Hassanali Alibhai Walji Bhanji)
SECRETARIAT
ARCHIVES SECTION OF THE AFRICA FEDERATION
26th November 2016 (25th Safar 1438 AH)
Resource: http://africafederation.org/oldafrica/publications/archives/1542--africa-federation-archives-walji-bhanji