Allidina Visram
Birth & Death
Birth Date: In The Year 1851
Death Date: June 30, 1916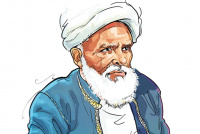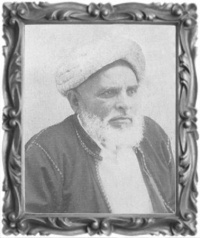 Brief Profile
Born in Kera, Kutch, India in 1851, Allidina Visram migrated to Zanzibar in a dhow at a tender age of 12 years.On arrival at the coast, he was employed as a shop assistant to Sewa Haji Paroo, a fellow Indian. But Visram was not contented with being employed, so he decided to venture out on his own.He started organising Arab trade caravans coming into the interior from the coast in search of goods.Having organised trade caravans for two years, Visram ventured into dealing in cloves, wax, and honey from the interior, exchanging them with cloth, salt, grains.
King of Ivory
He later specialised in ivory trade, traversing as far as the Belgian Cong, now DR Congo. Visram became so famous that he was nicknamed the 'king of ivory'. While trading in ivory, he secured a contract to provide packed food to the Europeans game hunters looking for ivory and other game trophies.According to the book The Rise and Fall of Philanthropy in East Africa by Robert Gregory, Visram made a windfall when the Uganda railway project was started."He was the sole supplier of food to the Indian workers on the railway line and he opened many stores along the line. He won the trust of their British engineers that they gave him the contract to pay their Indian workers and at the same time providing funds to the British constructors in Kenya," the book says.
Establishment in Uganda
Visram established himself in Uganda as early as 1901 and by 1904 he had branched into agriculture. Within a few years, he owned seven large plantations of sugarcane and rubber with experimental plots of fruits, flowers, tea and cotton. He employed more than 3,000 workers on his projects.It was in 1910 that he opened his first ginnery and exported the ginned cotton to India. He made sure his cotton exporting business went well. He owned a number of sailing crafts which transported the cotton from Entebbe to Kisumu where he had a transportation hub, before it was put on rail to Mombasa.As his business empire in Uganda grew, Visram brought in many workers of the Isimalia faith and among the first people he brought was Rashid Khamis in 1905. Khamis became his deputy manage and also brought in more Islamia Indians to work first as employees and later as agents.
Homage & Tributes
Visram, according to the Gregory's book, was not all about amassing wealth for himself, he was a philanthropist and ecumenical in his giving."He contributed substantial funds to the construction of Namirembe Cathedral, the Red Cross and the Church Mission Hospital in Kampala [Mengo Hospital]," the book says.Visram was credited by the Commissioner of Uganda, Sir Fredrick Jackson, for his role in developing plantation agriculture, something indigenous Ugandans were not ready to embrace at the time.Commissioner Fredrick wrote: "I am doing all I can to induce the people to cultivate sugarcane and simsim (sesame). An Indian trader named Allidina Visram is already prepared to buy as much as the natives like to cultivate and that should assist in the circulation of the rupee if the people can only be induced to cultivate."
Later as governor, he described Allidina as "a charming old gentleman, respected by everyone in the country, high and low, White or Black".Dr Cyril Ehrlich wrote in The Uganda Economy, 1903-1945: "Perhaps the most important individual in the early history in East Africa, Allidina Visram was responsible for laying the firm foundation not only of trade in Uganda but of such industries as cotton, sugar, rubber, tea and various other agricultural products as well as of shipping across Lake Victoria." He goes on to describe him as the uncrowned king of Uganda, extended his activities on the mainland from Mombasa to the lower reaches of the Nile.
Allidina Visram Street - Kampala
In 1903, Visram established his shop in Kampala which became the centre of trade in the developing capital of Kampala, on what came to be known as Allidina Visram Street.It was where he built the first duka in Kampala and he was referred to as the grandfather of Dukawalah's in Uganda. The street was in 1972 renamed Bokassa Street by Idi Amin in honour of the visiting Jean Badel Bokassa, the emperor of Central African Republic.On that occasion, Amin said: "Bokassa is my friend. That is why I have named Allidina Visram Street after him. Why have a British-Asian in the middle of Kampala?" But the name was later changed by Obote in memory of the slain head of the Anglican Church, Archbishop Janani Luwum.
Writing in the Uganda Journal of 1954, W. E. Hoyle, one of the few British to settle in Kampala by 1902, says Visram was the lifeline of many European residents in Buganda when it came to supplies and cash whenever it was needed."To Europeans the most important store was that of Allidina Visram, existence almost depended upon his store, for his firm not only supplied the necessities of life but in the absence of any bank it provided ready money," Hoyle wrote.
Pioneering Banking
Visram is the pioneer of modern day banking not only in Uganda, but in the entire East African region. From his base at the East coast he received cheques from the railway construction company and paid out money from one of his many stores in the interior. The cheques were charged between 3 to 5 per cent as commission.From Uganda, Europeans would give him cheques that were cashed in Nairobi or Mombasa, where the National Bank of India had already been established. It's from his transactions that this bank felt the need to open a branch in Uganda.
History of Banking
Before the banking system and the shilling came into being, the rupee was the legal tender in the entire East African British territory which included Kenya and Tanganyika. However, with start of the construction of the Uganda railway in 1896, even the rupees became scarce in the region. Their scarcity led to the use of the cowrie shells whose equivalent value to a rupee was 1:200.
Hoyle, the first manager of the Uganda Company, while writing about his early days in Kampala says: "The Baganda were extraordinary at counting shells, usually strung in hundreds, using byayi (banana fibre) for threading.It was amusing having paid a porter anything from thousand to five thousand shells, to see him sit down to count them…Usually, however, the Baganda were pretty accurate when threading strings of one hundred." By 1905, the protectorate authorities had introduced the use of florin but their half cents were subject to corrosion and this was also discarded a year later.In 1906, the rupee became the standard coin in Uganda and the entire East African territory that was under the British control.One reason to explain why the rupee is the way the banking system was introduced in the region, the first banking system was introduced by Indians traders, who acted as a medium of currency transfer and exchange.
In Uganda's case, it's Allidina Visram who was the medium of currency exchange and transfer. According to the Saben's commercial directory and handbook of Uganda, the rupee was the currency of the protectorate until 1920 when the Florin was introduced which later gave way to the shilling in 1922. The new currency was used in Uganda, Kenya, Tanganyika, Zanzibar, British Somaliland (Somalia), and Aden (Djibouti).Like in the rest of the region, Uganda's currency distribution and management was taken care of by the East African currency board which had centres in the whole protectorate. In Uganda, the main centre was in Jinja with branches in Mbale and Kampala, but operating within the premises of the National and Grindlys banks, all from India.
Reference: http://www.monitor.co.ug/News/Insight/Allidina-Visram--The-grandfather-of-trade-in-Uganda/-/688338/2638754/-/aic2jmz/-/index.html
Book on Allidina Visram
http://books.google.co.tz/books/about/Allidina_Visram.html?id=C8WbNAEACAAJ&redir_esc=y
Obituaries & Tributes
In Memorium on 100th Death Annivesary - Sponsored by Anil N Abdulla, Nairobi
Affectionately remembered by descendants of thousands who started their career in East Africa in the service of "Seth" Allidina Visram.
Announcement sponsored by Anil N Abdulla,Nairobi - [email protected]
Dr Cyril Ehrich in "Uganda Economy 1903-1945"
Prior to the advent of the railways, carried on a prosperous caravan trade from Bagamoyo into the interior going as far as the eastern parts of the Congo. Established his headquarters in Mombasa in the 1890's, and thereafter gradually opened a chain of shops along major stations as the railway construction progressed, and thereafter proceeded to Uganda and beyond. Participated in the first meeting of the then Nairobi Municipal Council in or around 1901. Opened first shop at Kampala in 1903 in a street which in later years was named "Allidina Visram Street". Owned seven large plantations in Uganda, and pioneered the cultivation of cotton, sugar cane, rubber and other produce. Established he first cotton ginnery at Entebbe in 1910 for processing cotton for export. Owned several dhows and a steamer on Lake Victoria for transporting Ugandan exports via Kisumu on to Mombasa. Opened a chain of some 70 shops spread across East Africa, and employed some 4000 persons in his various enterprises. Gave substantial donations for the construction of Namirembe Cathedral and also Mengo Hospital at Kampala. In his lifetime gave away rupees 8 million (an enormous sum in those days) to various charitable projects. "Perhaps the most important individual in the early history of East Africa, Allidina Visram, was responsible for laying a firm foundation not only of trade in Uganda but of such industries as cotton, sugar, rubber and tea and various other agricultural products we well as shipping across Lake Victoria to Kisumu".
By Dr. E Boedeker
"One of the most important shops in the Indian Bazaar (Nairobi) belonged to Allidina Visram. He was a charming personality and was extremely popular with everybody. His shop was an absolute boon in the old days where one could buy all sorts of groceries at very reasonable prices" "The early history of Nairobi Township.
Seth Nanji Kalidas Mehta in "Dream — Half Expressed"
"To me he was like a brilliant star that once shone with full brilliance of the heavens but suddenly disappeared in the dark, leaving behind a dazzling trail".
Sir Frederick Jackson, one-time Governor of pre-independence Uganda
"Where, I ask, could you meet, In India or out of it, a more charming little old gentleman than Allidina Visram of Uganda, respected by everyone in the Country, high or low, black or white?"
Allidina Visram - Profile
Pioneer Businessman, banker, plantation owner and philanthropist Born at Kera, Kutch, India in 1851 Arrived in East Africa - Zanzibar - in 1863 (Aged 12) Passed away at Kampala, Uganda, on 30th June, 1916