Vasanji Gangji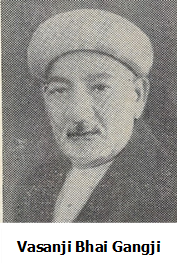 Life Journey
In 1892, at the age of 17, Vasanji Gangji decided to travel from Mombasa to Kampala on foot. After reaching Kampala he joined in the employment of Allidina Visram, a famous businessman of the time. He worked at Alidina Visram for 14 years after which he opened his own shop at Mbale in 1906. At that time there were four shops at Mbale including Alimohamed Nanji and Remtulla Rawji. All houses were made from clay and stones. In 1907 he went back to India where he stayed for six months.
He had a branch shop at Kumi, 35 miles from Mbale. Once while carrying Shs. 10,000 cash he travelled from Kumi to Mbale by Rickshaw with two men pulling the cart. On the way, he was attacked by bandits. Fortunately, Vasanji had a shotgun with which he was able to repel the bandits. The rickshaw pullers were terrified and refused to continue the journey and abandoned him. Vasanji climbed a tree where he spent a whole night. Next day he was able to negotiate with two other people to pull the cart and take him to town.
Establishment of a School
In 1931, Vasanji bhai was looking for a school to admit his children. He was not able to get admission to an Ismaili school in town. Vasanji bhai and two other people Ebrahim Ladha and Remtulla Rawji decided to raise Shs. 300 per month for the education of the children. Br Mohamedali Jamal provided his premises to be used as a school and they were able to hire a teacher for the school. The school gained fame and members of other communities also sought admission. Leaders from the Hindu community proposed that additional funds be collected together with a grant from the government to expand the school. In 1933, the foundation stone was laid for the new school and a regular school was started. With time, the school underwent further development and finally studies reached upto Grade 6 level.
Community Service
Br Lalji Rawji of Mbale recalls that during those early days our community badly needed a place to be used as Imambarah. An Iranian by the name of Mohamed baqir who was a hunter and an ivory trader provided two rooms of his house to be used as such. In the 1920s, an influenza epidemic had resulted in many deaths and the local population was very worried. Br Mohamed baqir arranged for free medical treatment and provided help in other areas too. Discussing the epidemic, Br Mohamed Manek of Jinja recalls that an Ismaili brother, Rashid Khamis, his wife and his daughter got this infectious disease. When Rashid's wife died no one was ready to give Ghusl to the lady. Mohamed Manek's wife Fatmabai and an African lady gave the Ghusl. On the second day, Rashid passed away and Mohamed gave him Ghusl and handed over the body to the Ismaili community. On the third day, the daughter passed away and Fatmabai carried out the Ghusl rituals. Tragically, three members of the same family died in three days, one after the other.
In 1925, the first Imambara was built and next to it was a building whose rental income helped to run the Imambara. In 1956, our community decided to collect donations for a new Imambara. Br Alimohamed Nanji, Mohamedali Hansraj, Abdulrasul Vasanji Gangji and Rajabali Khimji went around in East Africa collecting funds. They collected Shs. 155,000. The Imambara was ready in 1957 and the opening ceremony was conducted by President of Africa Federation, Alhaj Abdulhussein H Noormohammed.
A reflection on the courage, commitment, wisdom and sacrifices of the elders of our community in the early years of the settlement in several parts of Africa and the Indian Ocean Islands, with their meagre resources and financial capabilities, their priority was always to strengthen unity amongst the community and providing places of worship (Mosques) and Azadari (Imambarghas). We salute them and feel proud that we had such dedicated community elders whose legacy and the footprints are still visible and continues in several parts of Africa and beyond the borders of Africa.
Let us remember all the past leaders and elders of our community with Sura-e-Fateha for the departed souls, may Allah (swt) grant them maghferat, Ameen.

Source: AFED Trade Directory - 1960
Prepared by: Mustafa Pirmohamed
SECRETARIAT
ARCHIVES SECTION OF THE AFRICA FEDERATION
15th May 2020 (21st Mahe Ramadhan 1441 A.H.)
Resource:https://mcusercontent.com/5496132269473a782cfb7b798/files/382c096f-da73-4db9-b15b-c28365fda05e/AFED_Archives_Bulletin_Vasanji_Gangji_Mbale_Revised.pdf