Kassim Habib Kassam Manji
Birth
Birth Date: August 7, 1937
Brief Profile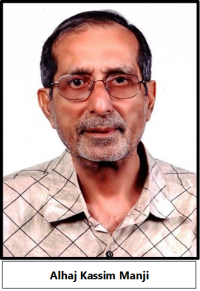 The foundation of a community is made up of selfless individuals who have quietly committed their lives to serving the society in various capacities. One such committed and devoted individual is Alhaj Kassimbhai Manji. Kassimbhai Manji was born on 7th August 1937 in Tanga, Tanzania to Habib Kassam Manji and Zainab bai Hasham Manji. He was one amongst 7 sisters and 4 brothers. He completed his education at Karimjee Secondary School in Tanga.
Life Journey
Kassimbhai recalls attending the AFED meeting as a youth of 18 years with his father in Kampala in 1955 under the Chairmanship of Alhaj Abdulhussein Nurmohamed of Mombasa, this event inspired and helped develop more interest and involvement in community affairs. Being a proactive youth at his time, Kassim bhai was a volunteer at the mosque in Tanga. He also served as the President of Tanga Badminton Association and as Secretary of various sports bodies and activity clubs including Ithna-Asheri Sports, Volleyball Association and Muslim Gymkhana. He was also a member of RSPCA (The Royal Society for the Prevention of Cruelty to Animals) and Red Cross.
Kassimbhai's father Marhum Habib Kassam Manji was kind hearted and generous, contributing actively towards the construction of the Boarding House in Dar es Salaam. Furthermore, he was the main donor towards the rebuilding of the Imambara in Tanga - the Opening Ceremony of which was performed by Alhaj Dawoodbhai Nasser of Karachi, and Alhaj Nazerali Rattansey of Tanga, in 1952. Marhum Habibbhai Kassam Manji during his tenure in Tanga in 1950s and early 1960s also played an instrumental role in the Land swap at Kabrastan (they had plots in Tanga Street No. 8 and exchanged and received plots in Kabrastan to accommodate more graves). He assisted in the extension of the local mosque in Tanga which was originally built by Jaffer Khimji. He donated two houses in Tanga as Laila bai Trust for the benefit of widows, orphans and the underprivileged. He also provided a building for Mehfile Zainab in Nazimabad 2 in Karachi, Pakistan, repaired the Pangani Mosque and supported the Tanga Muslim School.
After schooling Kassim bhai took an active role in the various family businesses which included H. K. Manji Ltd, Tanganyika Timbers including Mtibwa and Msowero Saw Mills, Timber Concession including Pandeni and Tanga Saw Mills and Mkulumuzi Stone Quarries. The other ventures included East African Navigators Ltd and Tracparts Ltd with branches in Mombasa and Dar es Salaam, Avon Remoulding Services based in Nairobi, Habib Industries based in Zanzibar and Kimativi Sisal Estate based in Lindi. He was also involved in various additional companies including Afrimetals, Njiainne Sisal Estate, Paper Tube factory and Coir factory. Furthermore, he was a Director at Mwambao Shipping Company (which the government nationalized - formerly known as E.A Navigators) and renamed it Mwambao Shipping.
Kassim bhai passionately recalls his first Hajj in 1962 with Habib bhai Walji at the age of 25. In 1964, Kassim bhai married Batul Habib Nasser Rattansey of Dar es Salaam and they are blessed with 3 sons: Sarfaraz Manji, Dr. Hamid Manji and Hassanain Manji. Between 1967 to 1974, Kassim bhai was a member of the Dar es Salaam Labour Reconciliation Board representing employers, appointed by the Minister of Labour in Tanzania. He was the founder member and the first President of the Medical Board from 1970 – 1974 where Ebrahim Haji Hospital was revived with the blessings of Alhaj Mohamed Dhirani who was then the President of Dar es Salaam Jamaat. Kassimbhai was elected as the President of Ithna-Asheri Union from 1973 – 1974 and during his term with the support of Marhum Alhaj Abbas Jaffer Alloo and others the Nursery School was moved, due to lack of space, to Boarding House. The Ithna-Asheri Union Volunteer Corps (IUVC) was formed in Dar es Salaam with Br. Murtaza Dewji as its first Chairman, he was also Chairman of the Nyaz Committee in 1973-74.
Community Services
In October 1974 he emigrated to Canada due to Nationalization Policies of the Tanzanian Government. In Toronto he became the Executive Committee member in 1976, started Sunday Madrasah in Islington, West Toronto in 1976 and was the Principal of the Madrasah till 1978 when he emigrated to the UK. He also volunteered at Kennedy Hall, Toronto. From 1985 – 1990, with the encouragement from Alhaj Mustafa Chandoo, he became the Founder Member and First President of the Ithna-Asheri Union - Stanmore, London – which over time evolved into what is now known as "Stanmore Jafferys". Furthermore, he was also an Executive Member of KSIMC of London from 1985 – 1990, and the Vice President of KSIMC of London from 1989 -1990 under Marhum Asger Virani. Furthermore, Kassimbhai served as a Secretary of WABIL Economic League formed by Syed Mehdi Al-Hakim (martyred in Sudan) under the Chairmanship of Alhaj Mustafa Gokal and later as Executive Member of the World Ahlulbayt League (WABIL) from 1990-2000 under Syed Mohammed Mussawi. He was also the Executive Member of Inter-Faith International (Non-Governmental Organization) based in Geneva supported by the United Nations.
Kassimbhai became the First Elected President of CoEJ (The Council of European Jamaats) for the tenure 1990 - 1993 and with the help of Marhum Murtaza Lakha and Dr. Anver Dhanji, he prepared the constitution of CoEJ which was unanimously approved in the Gloucester meeting. Kassimbhai had the opportunity to visit all Jamaats in Europe including Portugal, France and Switzerland. Under the guidance of Alhaj Moiz Bhai, he jointly with Bashirbhai Hiridjee, laid the foundation stone of Mehfile Zainab in North Paris and in cooperation with Nooralibhai and Rasool bhai Bhamani, he played a significant role in raising funds for Leeds mosque. He served as the President of KSIMC Stanmore for two terms from 2003 to 2007. He was also the Executive Committee member of the World Federation nominated by WF Chairman Marhum Mulla Asghar.
Retirement Life
Currently, having reached the age of 85, he is retired from the day to day running of the family businesses but still provides guidance and support to the family, as well as supports and plays an active role in various charitable causes. He lives primarily in the UAE and travels to the UK, Canada and East Africa from time to time. He is grateful to all the members of the Jamaat, especially Marhum Hassanali Virji, Marhum Abbas Tejani, Marhum Akbar Panjwani, Marhum Ali Alidina - and not forgetting Alhaj Anver Merali Alibhai, Alhaj Asgar Manji, Alhaj Shabbir Mamdani, Dr. Anver Dhanji, Zainab bai Jaffer, Sukainabai Nurmohamed and all others who have played immense roles in his achievements.
In August 2022, Alhaj Kassimbhai on his visit to Dar es Salaam paid a courtesy call to Africa Federation Archives Section which is located on the 3rd floor of AFED Tower in Dar es Salaam. He was received by the Vice Chairman of AFED, Alhaj Aunali Khalfan and members of the Archives Section of AFED. It was a great opportunity to meet and learn from Murabbi Kassimbhai about his great services to the community and humanity at large.
We pray to Allah (SWT) in His Mercy to bless Alhaj Kassimbhai with longevity and good health and increase in his tawfeeqaat so that he may continue to serve the community and humanity at large in the way of Allah (SWT). Ameen.
A request for Sura-e-Fatiha for the late family members of Habib Kassam Manji and all the Marhumeen. May Allah (SWT) grant them maghferat and reward them amply for their various contributions towards development of the community and well-being of the members and the society at large, Al Fateha.

SECRETARIAT
ARCHIVES SECTION OF THE AFRICA FEDERATION
Article prepared by: AFED Archives Secretariat/Inputs by Alhaj Kassim Bhai Manji.
Date: 26th May 2023 (6th Zilkaad 1444 A.H.)
Resources: https://mcusercontent.com/5496132269473a782cfb7b798/files/52335363-2179-1e1b-3d0a-feb55cdd9ed8/Archives_Bulletin_Alhaj_Kassim_Manji.pdf