Habib Kassam Manji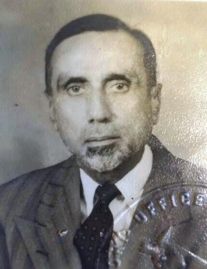 Birth & Death
Birth Date: In The Year 1902
Death Date: January 25, 1991
Brief Profile
In the early 1900s, our community in Tanga consisted of four main businessmen. Br Mohamed Tharoo was the foremost among them. He had the agency for selling of tea, sugar and tobacco. He was also a leading textile trader. Br Jaffer Khimji was also a leading businessman dealing in textiles. Br Nazarali Rattansi was a top Khanga merchant and his "Oswal" brand Khanga was famous. Br Juma Ebrahim was a farm owner. The land for the first Mosque & Imambara in Tanga was donated by Br Jaffer Khimji and Br Nasser Virjee. The Imambara was constructed using corrugated iron sheets and the mosque was constructed and donated in 1925 by Br Jaffer Khimji.
Habib bhai Kassam Manji whose photograph appears here above was born in Zanzibar in 1902. He moved to Tanga at the age of 24. At Tanga, he joined in the employment of TOM as a broker and later started his own business. In 1936, he went to Haj with his father. He handed over his cycle business to a resident of Tanga to manage during his absence. Similarly, he handed jewellery to another person for safe-keeping. On his return from Haj, he lost both. So he rejoined TOM as a supervisor in their timber yard at the port. This was the start of his adventure
The Business Empire
He went to Zanzibar during the Second World War (1939-1945) and then returned to Tanga in a dhow accompanied with his family. He concentrated on the timber business and formed a company (with five other directors) called "Timber Concessions Limited" owning sawmills in Pandeni (near Muheza) and at Mkumbara (now a cocoa farm). He later purchased a warehouse and timber yard called "Tanga Timber Sales" located on the airport road. He also acquired Mtibwa - Msowero under the name of Tanganyika Timbers Ltd. Most of the business was local and some product was exported to South Africa (soft timber) and Japan (hard timber like iroko and black wood). Some would also be shipped to Kenya and Europe. He also started a company called - Habib Kassam Manji (Tanga) Limited which dealt with items used by the timber industry and sisal estates. They had agents in Moshi, Arusha and Lushoto and in agreement with D T Dobie, took over their tyres sales Division in Dar es Salaam.
Later on, he went into stone quarry business with Dr Abbasi called Mkulumuzi Quarries near Amboni (five miles from Tanga). In 1949 he purchased a schooner named "Al Hassanain" and later renamed it "Mkoani" (after a town in Pemba). Later he formed a company called "East African Navigators Ltd" - the first such shipping company in East Africa owned by the locals. The company expanded and owned Sea Gull and Sea Horse (both purchased from Tanganyika Railways) Other schooners purchased included Sukarimawe (from Italy), Diolinda (later named Almasi and purchased from Seychelles) and Maymoon. He also built a ship "Twiga" at Dar es Salaam. He also built a "dockyard" in Dar es Salaam (presently Birth No 5 and 6 in Dar es Salaam). The ships would ply between the coastal towns of Mombasa, Tanga, Pemba, Zanzibar, Lindi and Mtwara, carrying passengers and local produce. The ships also carried aviation fuel from Mombasa to Dar es Salaam for UN army stationed in (Belgian) Congo.
In partnership with his brother Ibrahim and a local businessman M D Kermalli in Zanzibar, he started Habib Industries Ltd which imported rice paddy from the mainland, cleaned and resold locally. The company also installed a modern factory to make coconut oil for export to soap manufacturers in Aden. He also started Habib Properties Ltd and started investing in properties and later built his residence in Raskazone in Tanga. In 1956 he opened an office at the old Harbour and timber yard behind Coca Cola factory in Mombasa and started transporting timber for local sales.
Acheivements & Awards
Tanga Town Council appointed him as a councillor and soon he became Chairman of the Finance Committee, Hospital Committee and Governor of Education Board. He also became a trustee of Tanga Muslim School built by the Karimjee Jivanjee family. He also donated funds for the boarding house in Dar es Salaam and Hindu temple in Tanga
Community Service
Later in cooperation with Pangani Jamaat, Br Mohamed Jaffer Peera and Br Hidayat Hassanali Hasham Dhalla, he repaired the whole Imambargha. The opening was done by Marhum Mohamedali Sheriff Jiwa - then Vice President of Africa Federation. With Sheralibhai Abdulla Kassam Manji, he organised and installed benches at Dar es Salaam Cemetery and water pump at the mosque.
Business Expansion
In 1960 he purchased Kimativi Sisal Estate in Naitivi, Lindi from the Karimjee Group, where besides sisal 15,000 cashew nut trees were planted. This was later sold and in 1963 he purchased Njianne Sisal Estate - 50 miles south of Dar es Salaam. In 1970, He purchased 50 per cent of Afrimetals (a company manufacturing office and school furniture) and also started a coir factory in Bagamoyo in partnership with a local person. He also formed Tanganyika Cone Factory - producing paper cones for the textile industry. At the same time, a new company called Tracparts Ltd was formed in Tanga, in cooperation with an Italian company Berco - selling parts for Caterpillar tractors.
Tanga Imambargah
In 1943, Marhum S S Allarakhia, as per his will, allocated Shs 12,000 for the construction of a new Imambargha for Tanga. As the population continued to grow, Habibbhai motivated the members for the construction of the Imambargha. As a result of his initiative, Br Hassanali Nasser Virji donated Sh 10,000. The total collection thus reached Shs 22,000. Although the funds collected was not enough for the construction of the Imambargha, Habib Bhai went ahead with the project and offered to donate the remaining 80% of the cost of the Imambargha. The opening ceremony was performed jointly in 1952 by Marhum Haji Dawood Nasser of Karachi and Marhum Nazerali Rattansi.
Tanga Cemetery
In 1960, there arose the need to have a cemetery for the community. Until then the Marhumeen was buried at the farm of an Ibadhi Sheikh, Alhaj Umar Istambuli. One of our members Habibbhai Sheriff had very good relations with the Sheikh and as a result of his efforts; Sheikh Umar donated a piece of land measuring 25 ft x 25 ft. The Jamaat also purchased two other pieces each of 25 ft x 25 ft from the Sheikh considerably extending the size of our cemetery. Br Suleman Khimji then built a shed (banda) at this plot. Adjacent to our cemetery, there was a 75 x 75 ft plot. Habib Bhai offered the owner of the plot his four plots on 8th Street adjoining the Jamia Mosque in exchange for the said plot. As a result, our cemetery was further extended. Br Gulamhusein Datoo constructed water well at the cemetery and also donated two buildings on 14th Street to Jamaat so that the rental income of Sh 500 per month would help cover Jamaat expenses. Br Kermali Mohamed Tharoo also donated two buildings whose monthly rental income, Shs 125 and Shs 150, would cover majlis and Imambargha expenses. Br Jaffer Khimji donated a building to be used as Musafarkhana. Habib Bhai also donated two buildings located on 14th Street - under Lailabai Trust for education.
The Visionary
Habibbhai was considered a very courageous and far-sighted leader. He was both a public servant and a servant of the community. His generosity was well known. He had been hosting all Aalims visiting Tanga and, as President, represented Tanga Jamaat in Africa Federation Conferences and Supreme Council Sessions. In 1978 he donated the factory owned by his family in Nazimabad, Karachi, which is now known as Mehfil e Zainab.
Family
Habib Bhai moved to Dar es Salaam in 1965 where he passed away on 25th January 1991 at the age of 89. He wife Zainab bai had passed away in Karachi in 1972. He left behind four sons and seven daughters.

Secretariat
AFRICA FEDERATION ARCHIVES SECTION
3rd March 2017 (4th Jamadil Aakhar 1438)
Reference: https://gallery.mailchimp.com/5496132269473a782cfb7b798/files/388105b7-d32d-4321-a9c1-fb7a1698a8c3/AFEDArchivesNewsBulletin_TangaJamaatandHabibKassamManji_doc.pdf