Mehfil-e-Shahe Khorasan (Kiwanjani) & Mehfil-e-Zainab(a.s) - Zanzibar
Brief History
The Khoja Ithna Asheris in Zanzibar had their mosque (Kuwwat) in Kiponda area in stone town by 1881 but the Imambargha was yet to be built. Prior to the building of the mosque, they prayed namaaz, recited majlis and served niyaaz at the old school Fez (hence the consent of the Marja Syed Abdul Hassan Isfahani had to be sought before the building was transformed into school in 1928). Therefore, initially the majlises must have been held at the old School Fez building. It is sad that today this old building is in a state of dilapidation. It is a historic building and needs preservation. However, around that time a zealous azadar Mulla Abdullah Saleh Sachedina searched for a bigger place where a large number could congregate to hear majlis. A mehfil was found on an open ground at Sokomuhogo and it came to be known as Kiwanjani (kiwanja means an open space or piece of land in Kiswahili). They built temporary shelters over this ground and reserved separate place for the ladies to take part in the majlis. The majalises were regularly performed under the leadership of Abdulla Saleh. The Persians and Bahrainis also participated in the majlis and matam. The Khojas emulated the Persian way of doing matam and probably since then the commencement of the fervent 'saf matam' in Zanzibar followed by other East African towns (unlike matam in the Subcontinent).
After the departure of Mulla Abdalla Saleh, the mehfil was run by his brother-in-law, Mohamed Jaffer Khakhi (Mammu Jafu), who continued to hold majalises and then shifted the mehfil to another place at Changa Bazaar. Eventually in 1926 it was moved to its present place at Kiponda. Later Mehfile Shahe Khorasan (known after the name of the Eighth Apostolic Imam of the Shias) was amalgamated with this mehfil retaining to the present day its original name "KIWANJANI". Also extensive repairs and improvements were made to provide better facilities and more seating accommodation.
Mehfil-e-Shahe Khorasan (Kiwanjani)
Many old timer Zanzibaris would remember that night in 1960 when an impressive and grand opening ceremony of 'zareeh' of Imam Reza (AS) was performed at Kiwanjani. The 'zareeh' was brought from India and inaugurated in the presence of hundreds of devotees who availed themselves of the opportunity of admiring the beautiful workmanship of the 'zareeh' which stands on the left side of the pulpit. To the right side of the pulpit stands another 'zareeh' of Imam Husain (AS). The mehfil was beautifully decorated for the occasion. After the preaching by Dr. Zakir Hussain Farooqi (PhD. in Urdu language) who was specially flown from Dar es Salaam to Zanzibar and after the recitation of 'maulood', a sumptuous feast was provided. In the month of Ramadhan 'darsa' would be held at Kiwanjani under the direction of Habib Rashid Jetha and 'istekhan' (black tea) served in shapely small sized cups. Besides, throughout Ramadhan Kiwanjani hosted iftaar served to the community and invitees. Also, the Eid e Zahra ladies 'khushali' at Kiwanjani was a time of great rejoicing.
Today only few Ithna Asheris remain in Zanzibar but Kiwanjani still abides by its legacy and old traditions. It still observes the 17th Safar as day of Imam Reza (AS)'s 'wafat' as in the past unlike the other East African Jamaats. It is funded by J. M. Jaffer family, and Jafferbhai Karmali Hasham entrusted to look after it.
Mehfil-e-Bibi Zainab (s.a)
Another place of reverence in Zanzibar was Mehfil-e-Bibi Zainab (SA). At first it was located at Maalim Ibrahim Kassam's residence in Malindi (above Mulla Raza Panju's perfumery shop in the neighbourhood of the Agha residents) and run by his mother, another ardent azadar Mulla Bai Safia (with Persian links). Later it was shifted to a far end corner of Malindi (opposite Agha Syed Mir's residence, along 'Safari Lodge' hotel) where it was run by her daughter, Bai Nuru (Mrs. Nurubai Mohamed Jaffer Sheriff Dewji). The mehfil was a stopover for the day time julus with the devotees carrying Bibi's 'Alam'. The 'Alam' was symbolic of the 'kafela' in the aftermath of the Karbala tragedy. The julus would come to a halt with the typical Maalim Mohamed Jivraj's 'Zainab meri behna, dukhiya'a meri behna …' rendition before the devotees stepped into saf matam.
The mehfil held evening majlises for ladies, (hectic during the 'Ashre Zainabia/Chehlum' phase). The majlises were mostly recited by Fatubai Mulla (Mrs. Fatma Bai Ukera/another daughter of Mulla Bai Safia) whose proficiency in recitation was highly acclaimed. The mehfil was also famous for its Khoja cuisine cooked by Chef Haji Gulla Dawood (himself a Lawaty, migrants to Muscat from Medina) who also provided service to the Imambara kitchen. Haji Gulla was regarded as the finest chef and it is said that even the Sultan sought his services during feast at the palace. The Khoja cuisine of 'kalio' and 'khichro' (favourite delicacies of both Ismailis & Ithna Asheris in those days) were his specialty. After Haji Gulla the kitchen was allotted to Mohamed Walji (Biremi) who excelled equally at these preparations.
'Kalio' is actually 'aab gosh' (watery meat curry). In today's time its delicacy has faded considering the spicy 'masalas' from Pakistan that go into it. Infact what we say 'khichro' is termed 'haleem' (rich in meat) by the Indians and Pakistanis. In the early days in India 'daal like stuff' was served as 'nyaz' on the Ashura day and dubbed 'khichro', and rightly so for Ashura impels solemn observance and calls for the intake of simple food.
While the talk is on Mehfil E Bibi Zainab what comes to mind is going there to collect diniyat books (part 1, 2 and 3) from Mulla MohamedJaffer Sheriff Dewji who resided there. The presentation of part 2 & 3 was subject to correctly answering the questions he would put before the students. He was highly knowledgeable (having written a number of books on religion) but a humble and down to earth sort of a man. Today Mehfil E Bibi Zainab is no more a sacred place. Its days of splendor are gone. It bears a forlorn look and its memory haunting.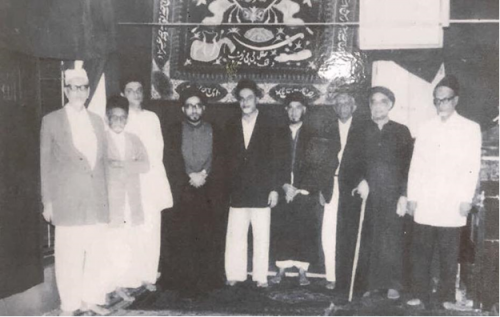 The above photograph was taken at Mehfil-e-Bibi Zainab (A.S.) in Zanzibar in the year 1967, here are seen members of both, Hujjat and Kuwwatul Islam Jamaats of Zanzibar with the visiting Aalim, Seyed Raza Aka.
Standing left to right: Mulla Ahmedbhai Datoo, Alhaj Karimbhai Allarakhia, Alhaj Razabhai Nasserali Fazal, Seyed Raza Aka, Alhaj Hashnubhai Sumar, Seyed Ali-Akber, Mulla Husseinbhai Allarakhia Rahim, Seyed Raza Kashani,Alhaj H.D. Kermalli.

Source of article: "My Zanzibar Recollections" by Abdulrazak Sheriff Fazal.
Photos courtesy: Murtaza Jivraj (Kerbala)
SECRETARIAT
ARCHIVES SECTION OF AFRICA FEDERATION
30th August 2019 (28th Zilhajj 1440 AH)
Reference https://gallery.mailchimp.com/5496132269473a782cfb7b798/files/f4c7d1ab-a2e5-496a-a1fb-a1ecafd3c83e/AFED_Archives_Bulletin_Mehfil_e_Shahe_Khurasan_Kiwanjani_Mehfile_Bibi_Zainab_in_Zanzibar.pdf