Mulla Hassan Ali Redha Nathani
Birth & Death
Birth Date: In the Year 1947
Death Date: June 4, 2022
Obituary & Tribute
Obituary by Africa Federation
It is with deep sadness that the Africa Federation Secretariat received the news of the demise of Alhaj Mulla Hassan Ali Redha Nathani who passed away in Dubai, U.A.E on Saturday 4th June and was buried there on Sunday 5th June 2022.
Brief Profile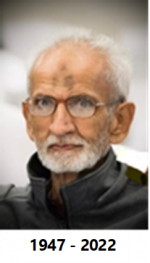 Marhum was the son of Marhum Mulla Alireza Nathani and Marhuma Muliyani Zahra bai Nathani, both lived in Zanzibar, Dar es Salaam, and later in Dubai. They dedicated their services in the Azadari of Seyyedu Shohada, Aba Abdillahil Hussain ('a).
Community Services
Marhum Mulla Hassan had many special qualities that all can resonate with; a regular attendee at all programs and a lover of Ahlulbayt ('a) with a firm belief in holding Majalis Aza, Azadari, Shabe dari especially arranging youths to serve Sabil throughout Ashura night at different venues, distributing Niyaaz and always ahead in Kafan Dafan rituals. He served the Dubai Managing Committee in various roles and especially played an active role in the Tabut Committee. Marhum also led our community for visitation to esteemed locals' homes for Quran Khani during Mahe Ramadhan. In the early days, he used to manage the Qabrastaan ensuring Majalises were held and Nyaz distribution. He then became a regular at reciting Majalis in Qabrastaan as well as reciting Majalises at the Imambargah in the past few years.
Marhum Hassan Nathani was one of the founder members of IUVC (Ithna-Asheri Union Volunteers Corp) in Dar es Salaam in the year 1971/1972. Amongst the founder members was also Alhaj Aunali Khalfan, the current Vice Chairman of Africa Federation. Aunali bhai narrates that Marhum Hassan Nathani was a dedicated and devoted volunteer, he would be the last person to eat nyaz after seeing that all the people have been served with nyaz and the volunteers too. He would serve Sabil in the Imambargha upto the end, during those days people would seat in rows facing each other and between two people one thali of Nyaz was provided, it was not self-service like these days.
Amongst notable volunteers at the time were also late Alhaj Murtaza Lakha, late Akber Mussa G. Dhalla, Late Murtaza P. Dewji, Late Mulla Muslim Mohamed Jivraj, Late Gulamhussein Saleh Allarakhia (Golo Saleh), Late Mohamed Panju (Kiboshta), Late Mohamed Bachu (Shobot), Late Mukhi Mohamed Kassam, Late Mukhi Mohamedjaffer Alidina, Late Mukhi Hussein Dhanji (Katoto) Late Murtaza Jivraj (Kerbala), Late Bashir Nanji (Bapa), Late Ahmed Juma (Kakayi), Late Akber Kermalli Jessa (Kamadia). Others were Ebrahim Nathoo, Munis Bhalloo, Sultan Kassamali Hasham, Muhsin Nathani, Aliraza Bhanji – May Allah (SWT) grant them long life and good health to continue with the noble services, Aameen.
Family
We convey our heartfelt condolences to Marhum's children, Sr. Nargis and Sr. Aliya, his siblings Sr. Batul Hameer, Sr. Raziya Majid, Sr. Munira Asghar, Sr. Fakhera Meghji, Sr. Shakira Jagani, Sr. Tahera Nathani, Sr. Sukayna Nathani, Sr. Masuma Chagani, Sr. Rubab Ali M. M. Jaffer, Sr. Zainab Nasser, and Sr. Saadia Moledina and all family members.
We pray to Allah (SWT) to grant Marhum maghferat and place his soul amongst the blessed ones in the vicinity of the Chahardah Ma'sumeen (AS), and who continuously receive the mercy and grace of Allah (SWT), and give his family solace and strength to bear this great loss, Ameen.
Sura-Al-Fateha is requested for Marhum Mulla Hassan and all the Volunteers who have served our community at various times and in various capacities and who are no longer with us in this transient world and all the Marhumeen.

SECRETARIAT
ARCHIVES SECTION - AFRICA FEDERATION
CIRCULAR NO: JMT/191/22
Date: June 15, 2022
Resource: https://mcusercontent.com/5496132269473a782cfb7b798/files/2df615f8-29ab-8cc0-297f-8c3f2f2cee5b/Obituary_Marhum_Mulla_Hassan_Nathani.pdf