Murtaza Ramzanali Jivraj (Murtaza Kerbala)
Birth & Death
Birth Date: March 3, 1946
Death Date: April 2, 2021
Obituary & Tributes
Obituary by Africa Federation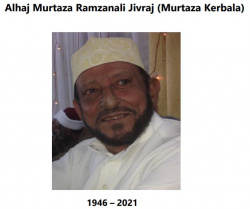 The Africa Federation (AFED) Secretariat received with deep sorrow and sadness the news of the sudden death of the Head of the AFED Archives Section Alhaj Murtaza Ramzanali Jivraj (fondly known as Murtaza Kerbala) which occurred at his home in Dar-es-Salaam on Friday 2nd April 2021.
Life Journey
Murtaza bhai was born in Ujiji, Kigoma on 3rd March 1946 and was the fourth child of his parents Ramzanali bhai and Mariam bai Jivraj who were blessed with twelve children. Late Murtaza bhai completed his primary education in Kigoma before moving to Dar-es-Salaam in 1964 to pursue his secondary school. On completion of his education, he joined the Ministry of Statistics Department of Census in 1967 and in 1971 moved to Mwanza where he started his own business of Vehicle Spares Parts and Hardware. He then moved back to Dar-es-Salaam in 1975 where he and his brothers successfully established Photography outlet which over the years expanded to include Geo-Mirco and Photo Equipment Companies. Many members of the community will recall Murtaza bhai presence at all community occasions handling the videography of the functions.
Community Services
He began his Community services at a young age in Kigoma by serving as a volunteer of the Jamaat and then served in the Jamaat Committee before being appointed as the Joint Secretary of Kigoma Jamaat in 1967. He played a major role in starting the Ashura Night Julus for the first time in Kigoma in 1969, a tradition which continues to-date by the Bilal Muslim Mission as most of our Community members have left Kigoma for settling in Dar es Salaam and other places. During his few years while in Mwanza, he served as a volunteer and was a Committee Member of Jaffery Sports Club.
In Dar-es-Salaam he joined the Ithna-Asheri Union Volunteer Corps (IUVC) in 1975 which offered services in various sectors of the Jamaat and also Ithna-Asheri Union and Union Sports Club. He was actively involved in various programs of the IUVC, which include the Rufiji Flood Victims Aid Program, Ashura night Julus organizing ad-hoc committee, Bagamoyo annual majlis, Hussain Day and Milad-un-Nabii (SAWW) programs in Dar es Salaam.
He served as the Principal of Husayni Madressa Boys' Section from 1983 – 1986 and was also the Chairman of Bilal Muslim Mission of Tanzania from 2004 – 2007.
Tenure as AFED Archives Section
Murtaza bhai joined the AFED Archives Section as a member in 2007 and was appointed as its head in 2016 a position he held until the time of his death. He had a great interest in the history of our community; he also has a big personal collection of wide-ranging photographs of different Jamaats, Mosques, Imambarghas, people and glimpses of various occasions, which he has been collecting and preserving for many years.He had a vision to establish a library and gallery at the upcoming new AFED offices being constructed in Dar-es-Salaam and had presented the full plan of it at the 82nd Supreme Council Session held in December 2020.
Awards & Achievements
Marhum Murtaza Kerbala was bestowed the Abbasi Medal by Africa Federation Chairman Alhaj Shabir Najafi at the 82nd Supreme Council Session held in Dar-es-Salaam in December 2020, in recognition of his honorary and selfless services to the Community, Society and Humanity at large,
Tribute by Chairman of AFED
Extract of the Condolence Message from the Chairman of Africa Federation
"The news of Murtaza bhai's sudden death has been received with profound shock in many parts of the world as evident from the huge number of messages we are receiving following of his death.
Marhum possessed an amiable, fascinating and inspiring personality, whose presence at any gathering would enliven the occasion by his immense recollection of history of the Community and his sense of humour he was gifted.
His sad departure from this world has robbed the Community of a person who had the history of the Community on his finger tips and his zeal and passion of sharing the information with the Community was unmatched.
On behalf of my colleagues and myself, I am writing this letter to express our grief and deep sympathies to your mother, both of you, your sisters and all members of the family on this bereavement, which has fallen upon you".
- Shabir Najafi
Tribute by Vice Chairman of AFED
Extract from the Tribute by AFED Vice Chairman during the Funeral of Marhum Murtaza bhai on Friday 2nd April 2021at the KSIJ Cemetery, Dar es Salaam.
"The news of his death this morning was quite shocking, until last night he was communicating with his family members in Dar-es-Salaam and also with his brother in-law in the U.K.
Lately, Murtaza bhai was actively involved in the preparation for the Africa Federation Talk Show Program titled "Panjo Uganda" – a program by the Archives Section in collaboration with the Media Section of Africa Federation which is planned during this holy month of Ramadhan, it is almost similar like "Unguja Yetu" program. Sadly, he won't be here to participate in this Program for which he was so keen. This was his dream project and therefore we shall dedicate "Panjo Uganda" Program in memory of Marhum Murtaza Bhai.
Marhum until his death was the Head of the Africa Federation Archives Section and a Delegate of AFED from Dar es Salaam Jamaat, was a regular attendee of the Supreme Council Sessions and Conferences of AFED. He served for the cause of Islam till his last breath, his love for Ahlulbayt (AS) and Azadari of Imam Hussain (AS) shall remain enshrined with his legacy.
Marhum had vast knowledge of the history of our Community his passion to collect old photographs and books of the history of our community made him quite popular within and outside our Community as a person who would respond instantaneously to enquiries because of his knowledge and record keeping.
Today we bid farewell to this great personality, a volunteer and a close friend whose immense contributions in the field of external Tabligh, PR with various Islamic and other Institutions, Islamic Scholars and his Community Services will be missed by all, and particularly by Africa Federation".
- Aunali Khalfan
Tribute by Mustafa bhai Pirmohamed
The news of the death of our colleague and head of Africa Federation Archives Section, Alhaj Murtaza R. Jivraj - Murtaza Kerbala came with great shock.
Working with him in the Archives Section has helped me a lot in getting insight into some historical events in our community. A day before he died, he sent me a flyer of Panjo Uganda. Usually he would call soon after sending any such information and elaborate on it. He did not and I regret not to have called him immediately to discuss about it. I had observed that in recent months his calls had become more frequent either giving information or looking for information. He was a reservoir of community history. Whenever I would send him a message with an enquiry he would prefer to call back and elaborate. The discussion would be pleasantly long.
A week before his death he asked me to send him a list of Marhumeen buried in Dar es Salaam from the Marhumeen project. I asked him if he wanted a list which I prepared every January or an updated one. He asked for an updated one. The list had 3199 names. Sadly his name was next in the list - 3200.
During every visit to Dar, I dutifully visited Murtazabhai at his office at Geo-Micro along Mosque Street. He would show me his most recent collections and I would take a few pictures of selected collections. He would relate some old stories which would interest me and we would mutually share information.
Some of the things about our community which I learned a lot from Murtaza bhai were: finer details of the operations of the Boarding House in early 60s, the Foundation Fund trip of Africa Federation Chairman, Marhum Haji Ebrahim Sheriff Dewji and his team all over East Africa, the history of Kigoma and Bukoba Jamaats and history of his ancestors in India. We tried to publish them in the weekly Archives Bulletins.
I came to know Murtaza bhai in the mid-70s mainly as the Juloos person, taking care of the PA system and keenly involved in the organization of Juloos. He was also seen recording majalis and other events with his video-recorder with the dedication one would envy. His dedication to volunteering for the community was exceptional.
His death has robbed the community of one of its most dedicated and hard-working volunteers. His services started at a very young age and covered many areas - Juloos, Volunteer Corp, Media, Daawah, Tabligh and Archives of community history, among others. We will surely miss him a lot. May Allah reward Marhum Murtaza bhai amply for his efforts, grant him a high status in Jannah and give sabr to his family. Ameen.
Tribute from Admin Secretary of Archives Section
"You carve your name on hearts, not tombstones. A legacy is etched into the minds of others and the stories they share about you."
It has just been 5 months that I had the opportunity of closely working with Marhum and within this short time Murtaza Uncle was instrumental in providing me with knowledgeable advice and support. He had a wealth of knowledge and a deep passion for preserving the history of the community and passing on to the coming generations.
His famous lines were always, "A community that forgets its past has no future and those who failed to learn from history are doomed to report it."
It was an honor to work with him and we shall continue to uphold his passion that was so dear to him. He will surely be missed immensely and we pray to the Almighty Allah (s.w.t) to elevate his status amongst His Pure and Chosen ones. Ameen.
- Zaheera Alishan Raza
Message from Member of Archives Section
Marhum Murtaza Uncle joined the Archives Section in 2016 and I have had the privilege of working with him since then. He continually inspired me to do my best and helped me strive for my goals. I found guidance, mentorship and kindness - everything in one person. His work spoke for itself – he was indeed a man who believed in action rather than words.
Murtaza Uncle helped me shape my knowledge and interest in our community history and heritage to which I shall remain indebted to him. Inshallah, we shall continue following in his vision and spread the awareness of history to the community at large and pray to the Almighty to grant him a lofty station with the Maasumeen (a.s).
- Arifa bai Somji
Archives Section in particular will miss his visits every Saturday and his humorous demeanor which made him a special person.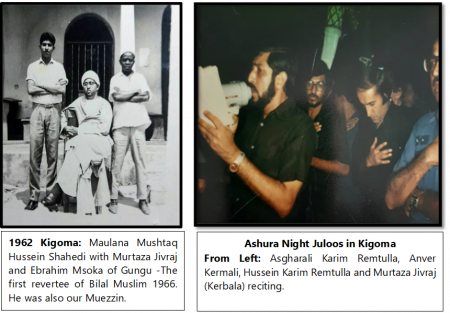 May Allah (SWT) by His infinite mercy and grace grant Marhum Murtaza bhai Jivraj a lofty status and place him in the proximity of Ahlulbayt (AS), Ameen. A request for Sura-e-Fateha for him and for all the Marhumeen.
SECRETARIAT
ARCHIVES SECTION OF THE AFRICA FEDERATION
10th April 2021 / 27th Shaban 1442 A.H
Resource: https://mcusercontent.com/5496132269473a782cfb7b798/files/619075a3-424f-4287-88b4-70fc7ae18d11/AFED_Archives_Bulletin_Tribute_to_Murtaza_bhai_Kerbala.pdf
In Conversation
A conversation with Alhaj Murtaza Kerbala in Dar es Salaam in September 2019 by Dr. Sibtain Panjwani of the Awakening Project who is based in the United Kingdom.
https://www.youtube.com/watch?v=G-0_YUK6OnQ
We convey our heartfelt condolences to Marhum's wife, sons Shaneabbas & Shabbir, daughters Sukaina and Sajida, his siblings, grandchildren and all family members.
We pray to Allah (SWT) to grant Marhum maghferat and place his soul amongst the blessed ones in the vicinity of the Chahardah Ma'sumeen (AS) and who continuously receive the mercy and grace of Allah (SWT), Ameen.
Sura-Al-Fateha is requested for Marhum Murtaza bhai and all the Marhumeen.
SECRETARIAT
Resource: https://mcusercontent.com/5496132269473a782cfb7b798/files/8c6ea887-084f-43a7-bf1c-fef61b18144b/Obituary_Alhaj_Murtaza_Kerbala.pdf