Mulla Muslim Mohammed Ebrahim Jivraj
Birth & Death
Birth Date: June 12, 1939
Death Date: September 22, 2001
Brief Profile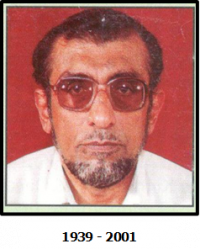 Muslim bhai Jivraj was born in Zanzibar on 12th June 1939. He completed his secondary education at St. Joseph school in Zanzibar. Thereafter he proceeded to Kampala where he successfully pursued accountancy qualifications. His late father, Marhum Maalim Mohamed Ebrahim Jivraj was a well-known personality in Zanzibar who's several decades of selfless services to the community was significant. He was the Editor of "Salsabil" a Gujarati magazine which was published in Zanzibar; he was also a Maalim (Teacher) and later became Headmaster of 'School Faize" – the night (Madressah) classes in Zanzibar for many years.
Life Journey
Maalim Jivraj following the Zanzibar Revolution in 1964 moved from Zanzibar to Dar es Salaam; here he worked as an Administrator in the Dar es Salaam Jamaat office for many years. In 1982 he migrated to Dubai, UAE where he retired but continued teaching young students in Madressah at Satwa KSI Mosque, he passed away in February 1999 in Dubai.
Community Services
Mulla Muslim Jivraj being inspired by his late father's modest lifestyle of services to the community and the Madh'ab of Ahlulbayt (A.S.) followed his footsteps. He was a teacher at Hussayni Madressah in Dar es Salaam since late 1970s teaching Dinyat and Islamic History. In 1980 he was elected a committee member of the Hussayni Madressah. Later on he served the Madressah as a Hon. Secretary and Deputy Principal.
A good Zakir of Imam Hussain (A.S.), Marhum had a unique way of capturing people's hearts with short but effectively toned majalises (with Bandh - Melodious) when reciting in Mehfils and during any death in the community. He also visited many places in Tanzania including Madagascar, Reunion, Dubai, and Milton Keynes in the U.K. for the recitation of Majalises in Muharram. His ability to recite Majalises at short notice earned him the title of "Mulla Express". He was also a fine "Nauha" and "Marshia" reciter especially during "Saf Matam". His recorded recitations are well heard globally.
He was one of the founder members of Ithna-Asheri Union Volunteer Corps (IUVC) in early 70s and served the community in various capacities including the Nyaz sub-committee, the Musafirkhana sub-committee between 1984 – 1987 and as captain of IUVC in 1984. Until the time of his death he was an active volunteer of Kafan Dafan committee which he served tirelessly. One of the aims of IUVC was to re-establish Majlis-e-Imam Hussain (AS) in Bagamoyo and Hussein Day program, both were successfully initiated in the early 1970s, Marhum was one of the senior members of IUVC at the time when the idea of re-starting the majlis in Bagamoyo sprung up. Three elders of our community, namely Marhum Amir Walji, Marhum Amir Kanji and Marhum Jaffer Dhirani supported the IUVC to raise funds for hiring buses and organizing Nyaz in Bagamoyo and thankfully this continues till to-date. The IUVC also revived the Hussain Day program in Muharram/Safar every year in in Dar es Salaam at KSI Jamaat Mosque; this event grew from strength to strength and continued for many years thereafter.
Sportsmanship Skills
An all-rounder, Marhum Muslim Jivraj was also a good sportsman and used to play soccer for a local club in Zanzibar and cricket for Ithna-Asheri Sports Club in Zanzibar and Union Sports Club in Dar es Salaam. He was a fast bowler and bragged many wickets for his team by his unique style of bowling, somewhat identical to the bowling style of Sri Lanka's cricketer, Lasith Malinga.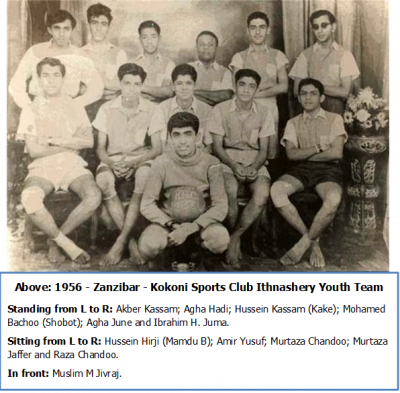 Death
On the evening of 22nd September, 2001 the community received the sad news of the sudden death of Alhaj Mulla Muslim Jivraj in Mumbai, India following a heart by-pass surgery at a prime age of 62 years. Many who knew him were shocked to receive the news of the passing away of this devoted Zakir of Imam Hussain (A.S.). Marhum left behind a widow, three daughters and two grandchildren. Marhum lives in the hearts of all those who loved him, in the memories of those whose lives he touched and in the work he did or inspired others to do.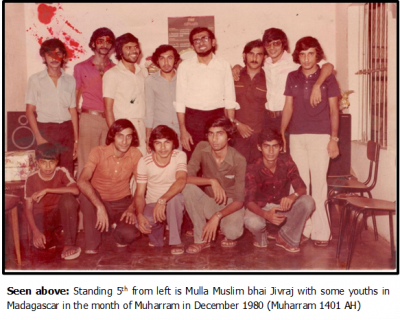 SECRETARIAT
ARCHIVES SECTION OF THE AFRICA FEDERATION
4th October 2019 (5th Safar 1441 AH)
https://gallery.mailchimp.com/5496132269473a782cfb7b798/files/8b812a2a-b071-48b8-8ae2-391e3268f38c/Archives_Section_News_Bulletin_Mulla_Muslim_Jivraj_1939_2001_Remembered.pdf