Zakira Marhuma Rukiya Bai Sherali Ahmed Ladha (Ruki Saleh)
Birth & Death
Birth Date: February 18, 1922 Death Date: September 30, 2010 (21st Shawwal 1431 A.H.)
Brief Profile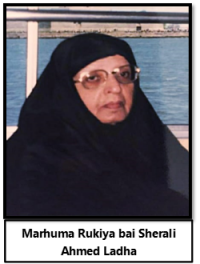 Some individuals silently dedicate their lives in the service of the community without seeking recognition. These are personalities who ardently and actively spent their lives doing tabligh, instilling the love of Ahlulbayt ('A) and Azadari of Sayyed al Shohada Aba Abdillahil Hussain ('A) and promoting our faith for which posterity will remain indebted to. It is through their service to our community do we see the exemplification of virtues. One such personality was Zakira Rukiyabai Sherali Ahmed Ladha famously known as 'RUKI SALEH'.
Rukiya bai was born in Zanzibar on 18th February 1922 to Marhum Salehmohammed Alarakhia (Saleh Madawa) and Marhuma Rehmatbai Kassam Somji. She had six siblings in total namely; Marhuma Fatmabai Merali, Marhuma Zehrabai Fidahussein Siwji, Marhum Gulamhussein Saleh (Golo Saleh), Marhuma Aminabai Husseinali Ahmed (CCP) and Alhaj Gulamabbas Saleh Alarakhia.
Family Life
Rukiya bai got her primary education at the Datoo Hemani Ithna'asheri Girls School in Zanzibar and later worked as a dressmaker and designer. On 6th October 1949/13th Zilhajj 1368 A.H., she got married to Alhaj Sherali Ahmed Ladha in Zanzibar and they were blessed with five children: Fatma, Gulshan, Gulamhussein (Babu), Munira and Raziya.
Dedication & Love for Islam
Growing up in Zanzibar in a place called Hurumzi (Wadi Bajar), Rukiya bai was always known for her dedication and love for the religion of Islam. She, along with a friend of hers and a neighbor (from the Ali Khaku family), had the passion for reciting nawha, marsiya, duas and ziyarats. After getting married, Rukiya bai moved to Pemba to reside with her husband.
One afternoon during the Muharram majlis, the speaker was unable to deliver her lecture as her mother had just passed away. Upon seeing this, the members present encouraged Rukiya bai to go on the mimbar and give the lecture. This happened in 1959 in Wete, Pemba which was a stepping stone towards five decades of Zakiri by Rukiya bai delivering majlis in various Imambarghas, Mehfils and in private homes where she would be invited to recite.
From 1959 to 1962, Rukiya bai recited locally in Pemba. Thereafter, she moved to Zanzibar and continued majaalis recitation until 1971. Due to her growing popularity, she was invited to recite in numerous cities across Tanzania and in some parts of Africa, with her first trip being to the city of Mwanza in 1969. She then also recited in Morogoro, Singida, Bukoba, Kigoma and even went to places as far as Kinshasa, Zaire (now known as DRC). Rukiya bai owned a large collection of majlis books in Gujarati for the local residents to read and she would even take notes prolifically. When she moved to Dar es Salaam, she would listen to audiotapes of famous Zakireen such as Allama Rashid Turabi, Allama Talib Jauhari, Allama Zeeshan Haider Jawadi, and others and use her own small tape recorder to record different parts of the majlis and note down important parts for ease of reference. In fact, her brother, Marhum Gulamhussein Saleh too shared the same interest as hers. He was passionate about collecting audio tapes (spools) of majlis and was recording majlises recited by Zakirs who visited Jamaats in Zanzibar and later in Dar es Salaam in the months of Muharram and Safar.
Community Services
Along with being a renowned Zakira, Rukiyabai was very well respected and known as a kind-hearted and helpful personality ready to help the ladies on any matter that they would need her assistance. With her pleasant nature, she was easily approachable and would be constantly consulted by the community ladies for various religious matters. It is reported that she always gave good counsel; the community members would be at ease and keen to listen to her and get her advice. She dedicated her time to reciting majlis and imparting knowledge; she even gave lectures in Kiswahili at the Bilal Centre for the ladies in Dar es Salaam.
Rukiya bai was a regular attendee at the mosque and mehfil programs. She was known to recite a short Urdu couplet/shairi before the majlis began. This was always something she loved doing and even on the days she would not be giving a lecture, she would recite the Urdu couplets enlivening the gathering of the tragic episode of the epic martyrdom of Imam Hussain (AS) and of his family members and the faithful companions who sacrificed their lives in the desert field of Karbala.
Her son Gulamhussein, famously known as Babu who presently lives in Allentown, P.A. in the USA has learned to recite Marsias and Matam from his late mother Rukiya Bai and practicing from young age at the Taziakhana in Zanzibar. Babu is seen regularly at Al Ahad Islamic Centre reciting old Marsias and Nawhas originating from Zanzibar that reverberates past memories of the community members who have settled down in the USA.
Death
Rukiya bai passed away on 30th September 2010/21st Shawwal 1431 A.H. in Dar es Salaam. May the Almighty Allah (s.w.t) elevate her soul amongst His chosen servants – Ameen.
We request our readers to remember Rukiya bai and all the Marhumeen with Sura-e-Fateha.

SECRETARIAT
ARCHIVES SECTION OF THE AFRICA FEDERATION
Article by: Sukaina Samir Habib - Daughter of Marhum Murtaza Jivraj (Kerbala) of Archives Section of Africa Federation
Date: 7th January 2022 / 4th Jamadi ul Aakhar 1443 A.H
Resource: https://mcusercontent.com/5496132269473a782cfb7b798/files/02e0619b-bfa2-1561-9e40-8493789b1a2e/Archives_Bulletin_Zakira_Rukiya_bai_Saleh_Allarakhia.pdf