Allama Talib Jauhari
Birth & Death
Birth Date: In The Year 1939
Death Date: June 21, 2020
Obituary & Tribute
The Secretariat received with deep sadness the news of the passing away of Allama Talib Jauhari who passed away in Karachi on Sunday 21st June 2020 and was buried on Monday 22nd June 2020.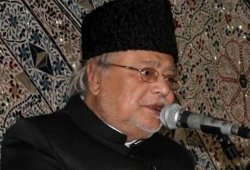 Brief Profile
Allama Jauhari Saheb was born in 1938 in Patna in the then British India and migrated to Pakistan in 1949. He obtained his Islamic theology for 10 years in Najaf, Iraq, under the guidance of Marhum Ayatullah-al-Uzma Sayyid Abu al-Qasim al-Khoei.
He served as the Principal of the Jamia Imamia Seminary in Karachi on his return from Najaf in 1965 and was also a teacher of the Islamic Studies at the Government College Nazimabad, Karachi for five years.
Achievement & Awards
Allama was one of Pakistan's highly respected and a renowned Shia Scholar, he was a powerful orator, his sermons used to be composed on observance of Allah's orders, pursuing the way of Prophet Muhammad (s.a.w.w.) and love and respect for Ahlulbayt (a.s.). His lectures were attended by people from different sects of Islam due to his Tafseer-e-Qur'an in a logical way.He was also an author, a poet, historian and philosopher. His book "Alamaat e Zahoor e Mehdi (a.s.)" is considered as one of the most comprehensive books compiled and written on the topic of Imam Al Mahdi (a.t.f.s.), the awaited Saviour and his book "Hadees–e–Karbala" is one of the few "Maqtal" written in Urdu and has been considered as one of the most well-compiled sources to the traditions related to the event of Karbala.
The Government of Pakistan awarded the Sitara-e-Imtiaz to Marhum for his contribution to the society at large.His death has robbed the Community of a well versed and highly knowledgeable Alim who will be missed for his heart touching masaib.
May Allah (s.w.t.) grant him maghferat and a high station in the proximity of Ahlulbayt (a.s.), Ameen.
We request for a Sura-e-Fateha for Marhum Allama Talib Jauhari and all the Marhumeen.

SECRETARIAT
CIRCULAR NO:JMT/057/2020
Date: 25th June 2020 / 3rd Zilkaad 1441
Resource: https://mcusercontent.com/5496132269473a782cfb7b798/files/1b673cef-e46b-4856-b22f-1cc738da42c4/Obituary_Allama_Talib_Jauhari_Saheb.pdf