Wete Jamaat, Pemba, Tanzania
Location - Pemba Island
Pemba known as 'Al Jazeera Al Khadra' (the green island, in Arabic) is an island forming part of the Zanzibar archipelago, lying off the east coast of Africa in the Indian Ocean. It is situated about 60 km to the north of the island of Zanzibar. It lies 50 km east of mainland Tanzania. Together with Mafia Island (south of Zanzibar), they form the Spice Islands. The estimated population of Pemba Island is about 300,000, with an area of 980 km². The island of Pemba currently has 4 districts; they are Chake Chake, Mkoani, Wete and Micheweni. Pemba Island is the untouched and pristine island of great beauty and fertility. The mosaic of forests, swamps, mangroves, hidden beaches and lagoons is scattered with the ruins of mosques and tombs mostly reclaimed by the forest – sites that date back to Arab domination when Pemba Island was seized by the Sultan of Muscat (Oman) in the 17th century. Pemba was once the world's major clove producer, making to almost 70%.
Mtemani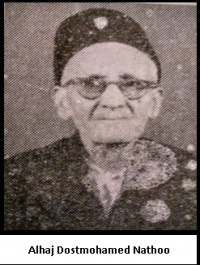 In 1910, eight families of our community lived half a mile from Mtemani which is the current commercial centre. They were Br. Habib Hasham Chatoo, Br. Karim Hasham Chatoo, Br. Khakoo Ramji, Br. Kermalli Hasham, Br. Hasham Hirji and Br. Ali Kasu. During the 1914 World War, the Mtemani area became commercially active and our community members moved in gradually. Wete at the time was in the early stages of development, it was like a small village. There were no proper roads, water and electricity. Wireless telegram communications started in 1914. Bullock carts were used for movement of goods. Donkeys were used for travel purposes. Since the donkey was the only method of travel, no one felt ashamed doing so. The first motor vehicles arrived in 1926. Telephone communication for public started in 1932. Piped water was installed in 1937 and electricity in 1958.
Development was in rudimentary stage. Houses were mostly made of corrugated Iron sheets with a few sturdy ones made from stone. There were no cars or vehicles of any kind. There was no electricity or piped water. Development was non-existent in what is now called the commercial area. If someone had to go to Wete-Mkoani, he had to plan a week beforehand. It would take six hours to travel by donkey. For those who opted to walk, it would take 10 hours and give one good exercise. The total distance was about 20 miles.
Wete Jamaat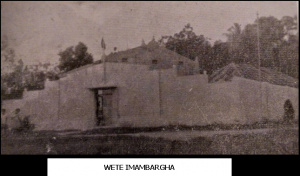 The KSI Jamaat mosque in Wete Pemba was constructed in 1939. Funds for the mosque were collected locally by Br. Hassanali Mohamed Walji, Br. Dostmohamed Nathoo, Br. Rashid Allarakhia Janmohamed and Br. Gulamhussein Walli Khatau. Br. Hassanali Mohamed Walji and Br. Rashid Allarakhia Janmohamed, on their own expense, travelled to Zanzibar, Mombasa, Tanga and Pangani to collect donations. The mosque was constructed under personal supervision of Alhaj Dostmohamed Nathoo. Construction of the Imambargha started in 1948 and donations for this project were collected in Zanzibar by Alhaj Gulamhussein Sachoo Lalji. The construction cost of the Imambargha was not high, as the doors and windows from the old Mtemani Imambargha were used in this project. The foundation stone for the Imambargha was laid by Alhaj Hassanali Mohamed Walji. He was the primary force behind the Mosque and Imambargha projects.
Graveyard
Initially there was a single graveyard for Ismailis and Ithnaasheris. As differences grew, Alhaj Khakoo Ramji donated his Shamba (farm) for use as a cemetery for the community. Alhaj Kermalli Peera Walli also donated an adjacent farm for the cemetery. A simple construction was built at the cemetery and this is used during Thursday, wafat and khushali majalises. The cemetery is enclosed by a stone wall on three sides and wire fence on one side. Members donated Shs: 5000 for this project and the Jamat contributed Shs: 5000. As a result of increase of population, the need for construction of a school became apparent. In 1927, the Indian Association collected donations and constructed a large room and employed a teacher to teach upto Std 5 Primary level. In 1945, the Government took control of this school and has been running it since then. For the last seven years (1953), children are being taught the Holy Qur'an by a local Muallim. Some members of the community provide religious education to children on voluntary basis during evenings.
Let us remember the past leaders of Pemba Jamaats, volunteers and all Marhumeens with Sura-e-Fateha for the maghferat of their souls.

Secretariat
Africa Federation Archives Section
Reference: https://gallery.mailchimp.com/5496132269473a782cfb7b798/files/Archives_Wete_and_ChakeChake_Jamaats.pdf