Shivji Alarakhia Khimji - The Pioneer of Lushoto
Shivji Allarakhia Khimji
Birth & Death
Birth Date: In The Year 1864
Death Date: In The Year 1945
Life Journey
Shivjibhai travelled by dhow from India to Zanzibar in 1895 with his wife Mulbai and children Salehmohamed, Nurmohamed and Virbai. After staying in Zanzibar for three years, he decided to travel to Pangani in 1898. He started business in Pangani. The main business at that time was betel nuts (sopari), copra and bananas. Our community's population in Pangani was about 100. There were two halls: a Mosque and an Imambargha. Slave trade was still prevailing and construction work was mainly done by slaves. Cement was not known and lime was used in construction. Lime was a strong ingredient in construction and could be considered equal to cement in present terms. You may be able to see sturdy 70 year old buildings in Pangani till today constructed by using lime. Due to Arab influence, the doors and windows bearing Arabic architecture can still be seen around the town centre.
Settlement in Afica
In 1907 Shivjibhai travelled from Pangani to Tanga. There were no motor vehicles and it took him 10 hours to travel by mule. From Tanga he went to Korogwe by train. He started a shop in Korogwe. The main communities in Korogwe were Bohoras, there were about 25 Hindu families also. The houses were made of mud and thatched roof with straw or banana leaves.
Salehmohamed Shivji Allarakhia Khimji
Birth & Death
Birth Date: In The Year 1886
Death Date: In The Year 1943
Brief Profile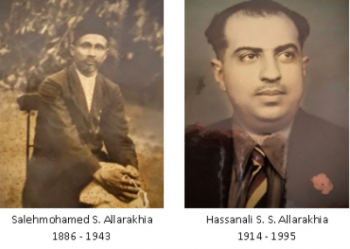 Salehmohamed was kind hearted and hospitable person. His hospitality was well known and deeply appreciated. He always had four to five guests on his table for meals at home. He would go to the train station with food and offer food to strangers and would welcome them home. Salehmohamed was generous and religious person. Salehmohamed was very keen on punctuality. He would prepare a schedule of all his travels for the whole year and send it to his agents and business colleagues. Those who wished to see him would check his schedule and try to meet him as per his travel schedule.
Business Journey
In 1909, Salehmohamed opened a shop in Mombo, two miles away from where he lived. He was the first person from Asian community to open a shop in Mombo. Business picked up in the Usambara area around Mombo. By 1917, Salehmohamed had 20 small shops in the district. In 1911, Salehmohamed arranged for the marriage of his younger brother Nurmohamed in Zanzibar. Unfortunately, Nurmohamed died in Mombo in 1914. Nurmohamed left behind a widow and six month old son Hassanali. Salehmohamed used to travel extensively using the mules. He would go with two local people who would carry their personal belongings and food and two others who would take care of the mules. They would cover 10 to 15 miles per day. Tanga was a main port where a lot of business transactions took place. The goods would go by train from Tanga to Mombo. From Mombo, the goods would be carried by porters to upcountry shops. Salehmohamed used to make frequent visits to Tanga. He took deep interest in the affairs of Tanga Jamaat of which he was a Trustee. He had provided for Shs: 10,000 in his Will for the construction of a new Imambargha to replace the old one which at the time was made of tin sheets. Tanga Jamaat collected Shs: 12,000 as donation from members. With the total amount of Shs: 22,000, the Imambargha construction project started as a result of the initiative of Habibbhai Kassam Manji.
Salehmohamed's father named his business as S. Allarakhia. When Salehmohamed took over, he changed the name to S. S. Alarakhia, which became their trademark and identity of the family. After the death of Salemohamed, his nephew Hassanali took over as S.S. Alarakhia & Co. Although Hassanali was son of Nurmohamed, he and his children Mohamed and Amirali were all popularly known as S. S. Alarakhia. In 1948 business was transferred to Lushoto and it continued until 1979 when it finally closed. Some of the areas where they had branches were Mombo, Lushoto, Soni, Bumbuli, Mlalo, Malindi, Shume, Gare and Magamba. These were run by Asian staff and local staff, (Wasamba'a)
Br. Gulamhussein Manji Dhirani was a manager at the Mlalo branch of S. S. Alarakhia. The first President of Africa Federation, Alhaj Abdulhussein Noormohamed referred to S. S. Alarakhia as the "Uncrowned King of Usambara". Usambara covers Lushoto and Mombo and other areas around Usambara mountains.
Death
Salehmohamed passed away in 1943 after suffering from cancer. Marhum Salehmohamed, his father Shivji and his nephew Hassanali are all buried in Tanga KSI Jamaat Cemetery.

Source: AF Trade Directory 1960
Published in Africa Federation Archives Section
10th June 2016 (4th Mahe Ramadhan 1437 AH)
Reference: https://gallery.mailchimp.com/5496132269473a782cfb7b798/files/Shivji_Allarakhia_Khimji_AFED_Archives_article_June_2016.pdf