Sheikh Gulamabbas M. K. S. Versi
Birth & Date
Birth Date: In The Year 1937
Death Date: December 23, 1988
Brief Profile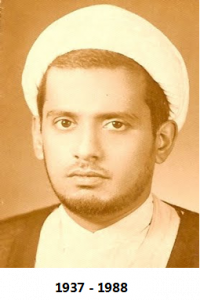 The late Maulana Sheikh Gulamabbas Versi (was fondly known by the name of Maulana Abbas Pinji) was born in Zanzibar in 1937 in a renowned family of Mohamedhussein Kassamali Versi; he was educated in Zanzibar and started reciting Majlises at a very young age. He drew inspiration in Majlises from eminent Aalims and Zakirs of Zanzibar like Alhaj Mulla MohamedJaffer Sheriff Dewji, Alhaj Mulla Hussein Allarakhia Rahim, Alhaj Mulla Ahmed Abdulrasul Lakha Kanji, and Alhaj Mulla Raza Rashid Nathani. Maulana Gulamabbas Versi was eager in learning hence was regularly attending Majlises and would engage in discussions with the visiting Aalims and Zakirs, impressed with their oratory power and their knowledge, just to name a few, they were; Allahmah Rashid Turabi from Pakistan, Maulana Gulamabbas Rizvi Saheb from Hyderabad in India, Maulana Seyed Aqa Raza from India, and other Zakirs who came to Zanzibar during the Ayam-e-Muharram and Safar to recite Majlises during the Ashra'ah. At the time of his death, Maulana Gulamabbas was the Resident Aalim of our Mikindani/ Mtwara Jamaat. He died on Friday, 23rd December, 1988 at the age of 51 at the Nyangao Mission Hospital, Lindi Region, after a short illness.
Community Services
Marhum Sheikh Gulamabbas was amongst the first batch of the students from our community sponsored by the Federation of KSI Jamaats of Africa (AFED) for higher religious studies overseas. He first enrolled himself at the Darul-Uloom Mohamediya, Surgodha, Pakistan commencing his studies in 1959. Later on, in September, 1962, he moved on to Jame Imamiyya Maddresatul Waizin, Karachi, Pakistan.
Sheikh Gulamabbas returned from his studies from Pakistan in May 1963 and soon thereafter was sent on a tour of Tabligh to Zaire (Congo-DRC). On completion of this tour he was posted as a Resident Aalim of Tunduru Jamat. His penchant for further religious knowledge saw him travelling to Najaf, Iraq, in June, 1965, where he stayed and studied until 1969. On his return to East Africa he resumed his duties as a Resident Aalim at Lindi. After giving his Tabligh services to Lindi Jamaat he was posted to Mikindani/Mtwara Jamaat where he remained until his death. Sheikh Gulamabbas Versi had an impressive record of dedicated services to various Jamaats, particularly those in Southern Regions of Tanzania. His unpretentious nature and the loving care he took of the Mikindani Mosque and Imambargha is a living proof of his commitment in serving our community in very remote areas, and sometimes in difficult conditions. The Community had indeed lost a very dedicated Aalim whose Tabligh activities and humble services will be missed by momineen in Mikindani/Mtwara in particular, and the community in general.
Family
Sheikh Gulamabbas was the 3rd born child of Mohamedhussein Kassamali Versi, his other brothers were Kassamali, Mohamedali, Aunali, Hassan, Jaffer, Ali, Sikander, Roshanali and two sisters Zehra Pirmohamed and Kaniz Moledina. Ali and Roshanali are presently in the U.K. Marhum Mulla Hassan was also Zakire-Imam Hussain (A.S.) and so is Mulla Roshanali.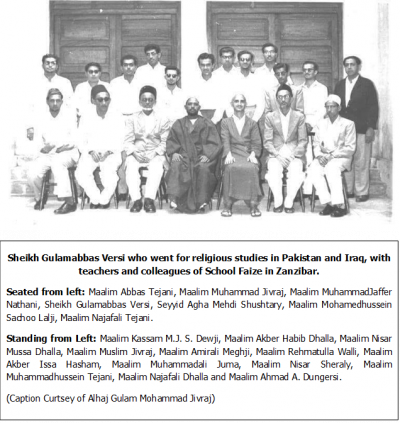 We request all our readers to remember Marhum Sheikh Gulamabbas Versi and all those who have been mentioned above and who are no longer with us today, we pray to Allah (SWT) to grant them all heavenly abode and we beseech to Him for His mercy and forgiveness – Ameen. Let us remember them and all Marhumeen with Sura-e-Fatiha.

Source: Federation Samachar 1989.
SECRETARIAT
ARCHIVES SECTION OF THE AFRICA FEDERATION
27th August 2018 (15th Zilhajj 1439 AH)
Reference: https://gallery.mailchimp.com/5496132269473a782cfb7b798/files/fd1c4bbe-d7bf-4583-aeb7-7e111634d9e9/Archives_News_Bulletin_Remembering_Moulvi_Sheikh_Gulamabbas_Versi.pdf