Sheikh Abdallah Seif Linganaweka
Birth & Death
Birth Date: In The Year 1939
Death Date: September 11, 2020 / 22nd Muharram 1442 AH
Obituaries & Tributes
Obituary by Africa Federation
Inna Lillahi Wa Inna Ilayhi Rajeeun
"To Allah we belong and to Him we shall return"

(Holy Qur'an, Surah Al Baqarah 2:156)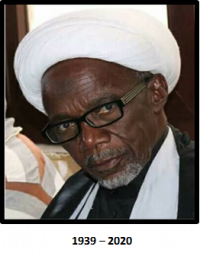 It is with immense sorrow and grief that Africa Federation Secretariat and Bilal Muslim Mission of Tanzania received the sad news of the death of Alhaj Sheikh Abdallah Seif Linganaweka who passed away peacefully in Dar es Salaam on Friday, September 11th, 2020 (22nd Muharram1442 A.H.) and was buried in Lindi, his home town on the following day, Saturday, 12th September 2020 (23rd Muharram 1442 A.H.) The passing away of Alhaj Sheikh Abdallah Seif is an irreplaceable loss not only to his family members, students and colleagues but to the entire Shia community in Africa.
Sheikh was under the tutorship of Allamah Sayyid Saeed Akhter Rizvi Saheb for many years. In 1968, he along with two of his colleagues travelled to Basra by ship for studies in Hawza of late Ayatullah Sayyid Muhsin Tabataba'i al-Hakim in Najaf, Iraq, he also studied in Lebanon and later on went to Qum where he studied for 7 years, a total, 11 years of religious studies. He returned to Tanzania in 1979 and continued serving Bilal Muslim Mission of Tanzania. Sheikh Abdallah Seif has bestowed the title of Sheikh upon his graduation in higher religious studies by Grand Ayatullah Sayyid Muhsin al-Hakim.
Sheikh was born in 1939 in Mnan'gole Village in Dimba region - Lindi, a southernmost coastal town in Tanzania. He was a learned, humble and pleasant personality and served the institution with great dedication and remained deeply committed to propagating the Shia Ithna-Asheri faith till his last breath. He served Bilal Muslim Mission of Tanzania between 1970 - 1980 under the then Chief Missionary, Allamah Sayyid Saeed Akhter Rizvi Saheb.
Video Clip of his recent interview: https://youtu.be/m-_uOKaFhnU
Condolence Message from Bilal Muslim Mission of Tanzania (Kiswahili)
"Inna Lilahi Wa Inna Ilayhi Rajeeun."
Uongozi wa Taasisi ya Bilal Muslim Mission of Tanzania umepokea kwa masikitiko makubwa taarifa ya msiba ya aliyekuwa mmoja wa walimu katika Taasisi hiyo, Sheikh Abdallah Seif Linganaweka. Tunatowa salamu za pole na rambi rambi kwa wanafamilia na mashia wote kwa ujumla. Hakika sisi sote ni wa Mwenyezi Mungu (Subhanahu Wa Ta'allah) na kwake tutarejea, Mola wetu Mlezi aiweke roho ya marhemu mahali pema peponi, Ameen. Uongozi – Bilal Muslim Mission of Tanzania (Dar es Salaam, Tanzania)
"Death of an Aalim is Death of Aalam."
We extend our heartfelt condolences to the family of Marhum Sheikh Abdallah Seif and pray to Allah (SWT) to grant Marhum maghferat and place his soul amongst the blessed ones in the vicinity of Chaharada Masumeen (AS) and who continuously receive mercy and grace of Allah (SWT). Sura-Al-Fateha is requested for him and all the Marhumeen.
SECRETARIAT
CIRCULAR NO: JMT/70/2020
Date: 16th September 2020 / 27th Muharram 1442