New Mosque & Imambarghah (Arusha Jamaat - 1956)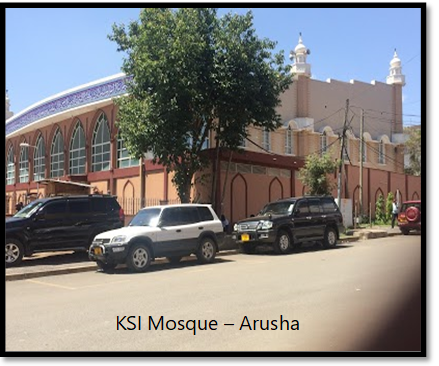 History of Arusha Jamaat
13th Rajab 1375, corresponding to February 1956, will indeed go into the history of the Arusha Jamaat when the visionaries and the pioneers of our institutions embarked on a project that would be a landmark in our community for generations to come. Indeed, it culminated into the community witnessing the opening of its mosque and Imambarghah facility. Our community in Arusha started when members started arriving around 1902 and by 1908 a sizeable community had been established. The pioneer families were: Nanji Damani, Mohamed Damani, Shermohamed Sajan, Esmail Ebrahim, Hasham Ebrahim, Jaffer Pardhan, Sachoo Jivraj, Nasser Lila and Suleman Ramji.
Majalis were initially held at the home of Hasham Ebrahim and later on at Shermohamed Sajan. The following members moved in after 1909: Bandali Ladak, Ali Damani, Sajan Ladak, Mohamedali Ladak, Hussein Karim, Gulamhussein Moledina, Remtulla Ladak, Alimohamed Pirbhai, Nazarali Karim, Gulamhussein Kanji, Remtulla Pirbhai, among others.
Increasing Need of the Community
There was no established Jamaat yet and majlis were being held at the home of Gulamhussein Kanji. By 1930 our community had reached 75 members. Due to increase in population, it was found necessary to construct an Imambarghah. The community obtained a piece of land measuring 50ft x 100ft on 33-year lease and an Imambarghah was constructed in 1931. On the land opposite the Imambarghah, a shop was constructed as an investment so that rent would be used for expenses of Imambarghah. In 1944, the family of Remtulla Pirbhai constructed two rooms above the shop to be used as Musafarkhana (guest-house). With the expansion of the community, the Imambarghah and Musafarkhana became inadequate. There was also a need to accommodate children who were having Qur'an classes conducted by a Maalim and religious classes conducted by the Aalim.
Considering the increasing needs of the community, the Jamaat decided to build a mosque and Imambarghah, a Musafarkhana and Madrasah with adequate facilities. The mosque has been donated by families of Jamal Ramji and Remtulla Pirbhai. The rest of the facilities were constructed from donations by community members.
Laying of Foundation in 1956
The opening of the new complex was an occasion that paralleled none other given the fact that this has been one Jamaat which, in a short period of time, has not only been graced to avail itself of almost every facility that one can think of in terms of infrastructure for religious propagation but also various charitable and educational institutions required for the upliftment and enabling it to serve the community.The laying of the foundation in 1956 was a starting point for the community to flourish and move ahead in progressing from a small mosque on the Sokoine Road which presently is a plot housing shops. The pioneers of this Jamaat and the various family trusts at the time started off the project of construction of the mosque in Arusha city centre that it now stands tall with its imposing minarets in the Arusha skyline. Much can be said about the foresight of those pioneers who numbering not more than a hundred people built a mosque and Imambarghah that has expanded today to house over a thousand people at any given time through the vision of the present generation that saw a need to expand the facility to accommodate the ever growing community. The fact that the plot and the plans set up in 1956 had provided for that expansion and the foresight of those pioneers, is in itself very commendable.
The community today has a modern Madrasah facility housing 11 modern classrooms, a media hall, a guest house for visitors, a religious library (Darul Ilmiyya Library) and a housing facility for a Resident Aalim. The community has been blessed with dedicated members with whose initiatives and financial contributions supported by donors have enhanced the vision of the pioneers in expanding the social facilities for the members and the citizens in general. They have also established a Clinic with both in-patient and out-patient facility, a nursery school (Hemani Nursery) and an educational academy (Jaffery Academy) which caters for almost 700 students from nursery and class one to form six. In that sense, the community in Arusha could be said to have a complete facility to provide not only for its community but for the society around it offering a reasonably efficient and affordable medical and educational facility. One can call it a milestone that Arusha Jamaat has accomplished many projects that are a showpiece to the community at large.
History will always record the contribution of this Jamaat in its golden pages not only for what it has in terms of its infrastructure but also in its ability to have nurtured leaders. It has hosted various conferences and Supreme Council meetings of the Africa Federation over the years. The Jamaat was also graced with housing the Federation Secretariat during the tenure of Marhum Alhaj Ebrahim Sheriff Dewji's] Chairmanship of Africa Federation from 1958 to 1964. Several members of Arusha Jamaat have played a key role in the various boards and committees of the Africa Federation. Members of Arusha Jamaat salute the pioneers and remember them for their dedication, contributions and foresight.
As we mark the celebration of the opening of the mosque complex, we begin with a prayer to rejuvenate our hearts and motives. A prayer that Allah (SWT) and the pure Ahlulbayt (A.S.) amply reward our founding fathers and the whole community for the foresight they had to have made this progress possible for us, and a pledge that it will continue to grow from strength to strength and not to allow the effort they put into their vision to stagnate. We must strive to put all our efforts and energies to continue thriving on the foundation they have laid down for our unity, development and progress, Ameen.
On behalf of Africa Federation and the AFED Archives Section, we extend our heartiest congratulations to Arusha Jamaat and its members for these great achievements. We pray to Allah (SWT) in this holy month of Ramadhan, the month with abundance of Allah's (SWT) grace and mercy to grant us more successes and to continue on the footsteps of our past community elders who had finest vision for this community and for our unity.
Let us recite Sura-e-Fateha for all our past leaders, elders and members of our community for their various contributions and sacrifices – Al Fateha.

SECRETARIAT
ARCHIVES SECTION OF THE AFRICA FEDERATION
Article Source: Federation Samachar Issue No. 5 Rabiul Awwal 1428, April 2007.
16th April 2021 / 3rd Ramadhan 1442 A.H
Resources: https://mcusercontent.com/5496132269473a782cfb7b798/files/371cd83b-ef68-4a31-a1b4-d3f2dc0fc4d1/Archives_Arusha_Jamaat_Celebrates_opening_of_Mosque_and_Imambargah.pdf