Hasham Ebrahim Mamdani, Moshi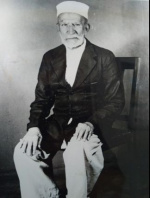 Birth & Death
Birth Date: In The Year 1882
Death Date: In July 1964
Life Journey
Hashambhai Ebrahim Mamdani was born in Changa Chela, Jamnagar, India in 1882. He migrated to Zanzibar where he worked for about 2 years and then travelled to Pangani where he joined in the employment of Hajibhai Khakoo for 6 years. Then he joined Ladhubhai Lalji in Pangani for one year and later moved to Moshi. The area where Moshi is currently situated was desolate woodland. He migrated to German Moshi which is now known as Old Moshi. He and his brother Esmail were the first Ithnaasheris to settle in this area. After the establishment of British rule, the new Moshi town started being populated. Later, Shermohamedbhai Sajan and Mohamedbhai Ebrahim joined them in Moshi.
Business Skills
Hashambhai opened a shop dealing with clothing and grocery provisions at Machame. After 7 years in Machame he moved to new Moshi. Later, he opened a shop in Arusha and ran it for 5 years. In 1919, he went to India where he stayed for two months and returned to Moshi. Hashambhai is currently retired and regularly takes part in Namaz and Majalis. He has three sons, all of whom are involved in the transport business. The current population of Khoja Shia Ithnaasheris in Moshi is 344 (1960).
Death
Hashambhai passed away in July 1964 in Moshi and was buried in Moshi.
About Moshi
Moshi Jamaat population grew to about 600 in the early 1980s, presently the population of Moshi Jamaat stands at 110 men, women and children, a drastic drop.
Please remember Marhum Hashambhai Mamdani, all the past leaders and volunteers of our Jamaats and all the Marhumeens with Sura-e-Fateha for the maghferat of their souls.

Source: AF Trade Directory 1960
Secretariat
Africa Federation Archives Section
14th November 2016 - (13th Safar 1438 AH)
Reference: https://gallery.mailchimp.com/5496132269473a782cfb7b798/files/Afed_Archives_Bulletin_HashamEbrahimMamdani_Moshi.pdf