Shermohamed Sajan
Birth & Death
Birth Date: In The Year 1852
Death Date: August, 1951
Brief Profile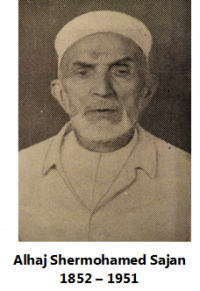 The family of Sajan Somji was prominent in the city of Nangalpur, Kutch, India. Sajan was well known as a successful and honest businessman with qualities of humility, generosity, community service, and leadership. He was born in 1852. His first son was born in 1870 and was named Shermohamed (Sher). Even as a teenager, Sher displayed exceptional leadership qualities and was the head of the Ismaili youths of Nangalpur.
Life Journey
Sajan and Sher travelled to Zanzibar from Mumbai via Oman. From Zanzibar they first went to Pangani and then to Arusha on foot with a party of 25 people. They had to carry food stuff and gifts to tribal leaders for permission to march ahead. The gifts which they gave out include items like beads, cigarettes, matches, candles, etc. When they reached Arusha they were impressed by its beauty and cool weather. They decided to set up their tents near the Themi River to rest for a few days before continuing their journey to Nairobi. The German officials who met them at Arusha convinced them to abandon their trip to Nairobi and instead start business in Arusha. As an incentive, they were asked to choose any plot near the Boma and construct their houses there. They would also be given official permission to start any business related to food, a large variety of strategic products and import and export of most goods. After a long thought, Sajan and Sher agreed to the offer. The German official started calling Sher as Shermohamed after noticing the name on the passport and after being told that it meant the Lion of Mohamed.
Shermohamed chose a piece of land of roughly 20 acres about 200 meters south of the Boma. They built a large six-bedroom house with plenty of space at the back for vegetable farm and living quarters of their workers. The construction of the house was completed in 1902/03 and the family moved into that house in 1903. Thus started the settlement of the first family in Arusha, Tanganyika. Shermohamed started going to Tanga to buy food and other products. They also started importing stuff from India, and exported some agro and other products, including hides and skins to India, UK and Germany.
Encounter with Masai Tribe
During his trips to Tanga, Shermohamed and his party encountered opposition from some of the Masai chiefs and also other tribes. They used to visit Masai villages to sell them beads in return for products which were produced by the Masai, such as hides and skins, vegetables and agro products. On some occasions, physical confrontation ensued after verbal arguments and Indians were looted of their possessions. In one such incident near Muheza, Shermohamed was himself injured and it took him several days to recover. The few German army and government officials who were present were not sufficiently trained or equipped to contain such riots by the Masai.
An important tradition among the Masai was the Circumcision Ceremony. Generally, only the Masai were allowed to go where the ceremonies were held. Sajan and Shermohamed understood the great importance of the ceremony and offered to the families whose boys were circumcised some medications which Sajan had brought from India which helped speed up the recovery and healing process. Masai men did not cover their bodies and the women wore skirts made of hides. Shermohamed had a working knowledge of their language - Kimasai. The Germans and the British therefore used Shermohamed to play a significant role in convincing the Masai men and women to cover themselves.
Business Skills
In 1912 the Germans introduced the use of motor vehicles for the transportation of goods. This resulted in a major change in the distribution system of goods, especially food products. It also enabled Shermohamed to double the volume of business in a few months and continue to increase rapidly. Soon after settling down in Arusha, Shermohamed married one of his cousins, Mariambai, and they had a family of 8 - 3 sons and 5 daughters, of whom one daughter did not survive. The three sons who survived were Hassanali (1905), Mohamed-Taki (1909), and Jafferali (1918).
As their business grew and the number of locations increased, it became necessary for Sajan and Sher to have sufficient manpower to help them in the management of the expanded business. They gave first preference to their own relatives and friends of the relatives. Sher went to the extent of helping them financially to start their own businesses - initially on a partnership basis and eventually for 100% ownerships. Those people included his closest friend, Murabbi Mohamedali Ladak Kanji who set up a hardware store in partnership with Shermohamed in Moshi in 1937. Others were Suleman Ramji (transport business in Arusha), Gulamhusein Moledina (clothing shop in Moshi) and Suleman Jivraj (Ismaili cousin) (retail shops) and others. The many people who were recruited directly for his business or assisted in other ways included at least the following: Remtulla and Gulam Ladak (brothers), Gulamhusein Kanji, Sajan Ladak, Husein Karim, Nazarali Karim, and many others.
Shermohamed was able to generate the profit and the cash which he was used to expand and consolidate his existing business empire and to also diversify into other sectors, such that his business empire would become the biggest in Tanganyika and in fact in the whole of East Africa. When the Standard Bank opened its first branch in Arusha in 1928, Shermohamed was the only non-European allowed to open a bank account. Prior to that all banking services were provided by the Shermohamed companies (in Arusha, Moshi, Pangani and Mbulu), which enabled their customers to deposit and withdraw money, and also to transfer money from one customer (company or individual) to another. Government offices would readily accept and cash bills of exchange signed by Shermohamed. Sometimes some customers would end up at Shermohamed's door in the middle of the night to draw money from their accounts, but Shermohamed never turned them back.
By around 1932, the Shermohamed Empire included retail shops selling all daily groceries, provisions and textiles, hardware, motor spares and agricultural items. He also owned coffee plantations and petrol pumps in Arusha and Babati and was also a major supplier to the central procurement department of the British Government.The name Shermohamed became a household name in Arusha, Moshi, Pangani and other cities, including Nangalpur. The first non-European house to be supplied with electricity and piped water was the Shermohamed house. The first 3 cars that came to Arusha belonged to the three Shermohamed brothers – Hassanali, Mohamed-Taki and Jafferali.
Some British visitors had some advertising material prepared about Shermohamed's role in tourism including the four colors letterhead which is shown elsewhere in this article. This was printed in London in 1935. Please note in particular the date of the 1904 when the company was established. All the phrases about tourism like the description of the elephants and rhinos, and the location of Arusha as a half way point between Cape Town and Cairo, etc which were used in that letterhead are exactly the same as are used even today – some 80 years later. In those days, however, tourism also included hunting safaris.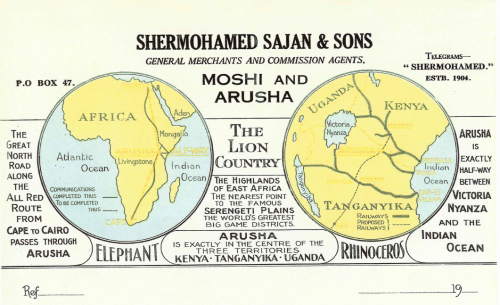 Life After World War 2
The business cycle was seriously interrupted by the onset of World War 2 starting 1939-40. Most of Shermohamed's enterprises suffered huge losses due to many reasons and the value of the assets declined. The youngest brother, Jafferali, was unable to sustain the huge losses suffered by the company and shortened his life. That was a major personal tragedy suffered by the whole family, but especially by Shermohamed himself, who had lost his wife some years earlier and had become very lonely. The company managed to survive to the end of World War 2 but with difficulty. In 1948 the family suffered another personal tragedy. On that day, the elder brother Hassanali had returned to Arusha from Tanga. The two children of Mohamed-Taki Shermohamed (Husein (5 years) and Nasim (4 years)) had been sent by their mother to welcome Uncle Hassanali. On the way back the maid stopped holding Nasim's hand and let her wander on to the road where vehicles were passing. Little innocent Nasim was hit by a truck and died on the spot.
Encounter with A Predator
Shermohamed liked reciting stories to his grandchildren. He would also talk frequently about some of his encounters with wild animals. One such story was that one day while going from Arusha to Babati with a truck full of goods the truck broke down at around 9 p.m. There was nothing they could do until somebody passed there which would probably not happen until the next morning; there were three of them – the driver, the helper and Shermohamed. He told the driver to sit inside the cabin on his own seat and he told the helper to sit inside the cabin on the seat that Shermohamed would have used. And Shermohamed decided to stretch out on his prayer mat on the ground next to the truck and fell fast asleep. Around 2 a.m. in the morning, some sixth sense woke him up. He was about to stretch his hands and get up when he became aware that he was not alone. His earlier jungle training had taught him that if he sensed the presence of an animal he should first slow down his breathing completely and pretend to be dead, which is exactly what he did. Then he remained calm and took stock of his surroundings and just as he had started to fear he could see one lion not more than about 15 feet from where he was. As he was reciting Surahs and praying to Allah, he was hoping that the helper had not seen the lions, because his first reaction might be to open his door to let his boss (Shermohamed) into the truck! After what seemed to be an eternity, the lion moved slowly away but Shermohamed waited at least another half hour before he got up slowly and opened the passenger side door and somehow managed to squeeze inside the cabin. Neither the helper nor the driver had seen anything until day light found the whole lion family resting under a tree about a quarter mile from the truck! They thanked God for His mercy!
Community Service
Shermohamed left behind a lasting legacy in East Africa. In addition to being a very successful businessman, he believed strongly in doing good, keeping a close family, and giving to charity. Shermohamed made large amounts of charitable donations, including to the building of local mosques, but preferred anonymity.He also sought ways to spread the Muslim faith. For those individuals whom he found had no religion, he would teach them about Islam and ask them to learn and adopt the practices of the religion whilst they worked within his enterprise. This practice may have led to the conversion of hundreds of people (especially the Fyomis of the Babati-Mbulu Area) to the religion of Islam.
Incident on Night of Shabe Qadr
Murrabi Shermohamedbhai Sajan had businesses in Arusha, Moshi and Pangani. In 1914 he went to Pangani to see his business He saw some of our families had no enough food for their families Because of the first world war the food was scarce and the govt had imposed ration card system. The ration given by the govt was not enough. Shermohamedbhai saw this situation and was very sad. He organised to buy ration from the people who had extra stock and gave the ration to our brothers. Somehow this news reached the D.C. Since it was against the law he was jailed for one month with hard labour. This happened when the month of Ramadhan had just started. On the nights of Shabe Qadr he requested the govt to allow him to go for Aamal of these nights. D.C. refused but later agreed on the condition that he should be chained in both the legs. He agreed and was allowed to perform Aamals of Shabe Qadr.
This incident was narrated to Africa Federation Trade Directory people by Murrabi Sulemanbhai Ramji in late 1950's.Murrabi Suleman's age at then was seventy seven years.
Reference Source: 1960 AFED trade directory in gujrati language Page No.102 and 103
Family
Shermohamed went for his first Hajj in 1905 under very difficult circumstances. In 1950 he expressed the desire to go for Hajj one more time before his death. He went for Hajj accompanied by his youngest son-in-law, Hussein Ibrahim. He was a very happy man when he returned from Hajj and passed away peacefully in August of 1951. His funeral the next day was attended by around 700 people, of all faiths. Arusha had never seen such a large funeral gathering. For a simple immigrant from Kutch, India, Shermohamed's story is one of immense courage and inspiration, and a rare tale of adventure and pioneering.
Shermohamed passed away in 1951 in Arusha leaving wife Mariambai, 3 sons and 4 daughters: Hassanali, Jafferali, Mohamedtaki, Laila Fazal Mohamedali Fazal, Sugra Gulamhussein Moledina, Fatma Gulamhussein Fazal Somji, Kulsum Hussein Juma Ebrahim
Let us remember Marhum Shermohamed and all Marhumeen with Sura-e-Fateha for the maghferat of their souls. May Allah (SWT) grant them a lofty place amongst His chosen ones – Ameen.

Source: Br. Hussein Taki of Miami and from AFED Trade Directory (1960)
SECRETARIAT
AFRICA FEDERATION ARCHIVES SECTION
11th May 2018 (24th Shab'an 1439 AH)
Reference: https://gallery.mailchimp.com/5496132269473a782cfb7b798/files/8fbc63a4-3bdb-43e1-bc26-d6c770829d04/Archives_Bulletin_Shermohamed_Sajan_of_Arusha_Final.pdf