Munira Bai Mushtaq Fazel
Birth
Birth Date: September 30, 1949
Brief Profile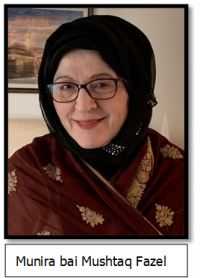 Munira bai was born on 30th September 1949 in Kampala, Uganda. Her parents – Marhum Ebrahim Allarakhia Kassam and Marhuma Rukiyabai Kassam were very active volunteers in Kampala Community and thereafter they continued their selfless services in Toronto Community where Ebrahimbhai was also the President of the Jamaat for a number of years. Marhum Ebrahimbhai was also the Chairman of Kampala Jamaat after 1996. Furthermore, he was a long term Trustee of Africa Federation as well as participated in almost all the Jamaat and Africa Regional Meetings and Conferences.
Life Journey
Munira bai acquired her education at Khoja Shia Ithna-asheri Primary School and Old Kampala Senior Secondary School. From a young age she was involved in social and communal activities. She was an active member of Girl Guide Association and a member of St. John Ambulance Brigade. After completing her schooling, she proceeded to the United Kingdom to study Montessori Method of Education and undertook a Diploma in Dressmaking. Upon her return to Uganda in 1971 she joined Khoja Shia Ithna-asheri Nursery School where she began the process of converting the school into a Montessori school. However, this task did not complete due to Idi Amin's expulsion order in early August 1972.
Community Services
Munira bai was involved in activities supporting worthy causes which included participation in the Interfaith "Out In The Cold Program". This Program was carried out during the frigid winter by the Toronto Jaffari Islamic Centre volunteers along with the volunteers from the Jewish Synagogue and the Buddhist Centre. In this program doors were opened to the homeless to provide shelter, food and clothing to prevent deaths from extreme cold. Munira bai has also been a part of the Ramadhan Campaign Against Hunger (RCAH) – To deliver Food Baskets to the needy Families. This Campaign was operated by Volunteers of Jaffari Centre in Toronto who put together the logistics of preparing the Food Baskets and the delivery schedules.
She has also conducted meditation classes from Islamic perspective to a group of participants. Furthermore, when Munira bai returned to Kampala from England to commence Montessori School, she taught English Language to our Community elderly ladies using Montessori Method.
Migration Journey
On August 4th 1972 a very shocking and disturbing announcement was made by the then President Idi Amin Dada ordering all Asians to leave Uganda within 90 days. This led to all of them to leave Uganda as soon as possible, meeting the deadline. The International Organizations had commenced the logistics by opening up their offices to take up applications for the refugee status. Munira bai had applied to the UK and Canada offices and both accepted her application. She and her family decided to go to Canada because once settled, she could sponsor her whole family to migrate to Canada. On October 21st 1972 Munira bai took her flight from Entebbe, the journey from Kampala was a very stressful and frightening ordeal due to several army and police checkpoints. Alhamdulillah she managed to board the plane, and fortunately met a girl from Mbarara by the name of Farial Mulani and they became friends. They ended up in Montreal initially and then to Ottawa where they found jobs and settled down. It was from here that Munira bai then sponsored the rest of her family members who had ended up in the Austrian Refugee Camps. Within 6 months of sponsoring them, they arrived in Ottawa. They were finally united.
Family
In 1975 Munira bai got married to Mushtaq Fazel in Toronto, and joined him to London. After 8 years they returned to Toronto where she operated Montessori School from her residence for 10 years. They are blessed with 2 lovely daughters Azmina and Salma, Sons-In-Law Mikael Ratansi and Javad Champsi and 3 grandchildren; Mahdi, Maisum and Emaan. Munira bai is now retired in Toronto and spends her leisure time with her grandchildren.
Munira bai's Message to the Community
Imam Ali ('A) has said, "When you are tested, be patient. Through patience and absolute faith in Allah (SWT) great things are accomplished."
My inspiration for the escapade from Uganda to Canada was my mother who instilled in me to have complete faith in Allah (SWT) and remember Bibi Zainab (SA)'s most horrifying ordeal, patience and the strenuous journey where she took control of her family and comforted them till the end of her life. Having completed the dangerous journey from Kampala to Entebbe and thereafter finally safe inside the plane, I thanked Allah (SWT) for my safety and I prayed for the safety of the families in Kampala.
At that point the words of wisdom that came to my mind for the guidance for the future for me or anybody who encounters any challenging situations is that, "The fear of trouble is more harmful than the trouble itself. Stay calm from within and trust the higher power in you." The strength will naturally be granted by Allah (SWT). – Those who trust Allah (SWT) never lose hope.
We pray to the Almighty Allah (SWT) for her good health and continued services to the community.

Source: Munira bai Mushtaq Fazel of Toronto, Canada.
SECRETARIAT
ARCHIVES SECTION OF THE AFRICA FEDERATION
30th April 2021 / 17th Ramadhan 1442 A.H
Resource: https://mcusercontent.com/5496132269473a782cfb7b798/files/ba67d48d-a773-4551-8dba-933441a2518b/Profile_Munira_Bai_Fazel_of_Toronto_Canada_The_Uganda_Ordeal.pdf