Mulla Muhsin Ali Mohamed Jaffer
Birth & Death
Birth Date: In the Year 1937
Death Date: October 14, 2022 (17th Rabbiul Awwal 1444 A.H.)
Obituaries & Tributes
Obituary by Africa Federation
The Africa Federation Secretariat received with deep sorrow and sadness the news of the death of Alhaj Mulla Muhsin Ali Mohamed Jaffer which occurred in London on Friday 14th October 2022 (17th Rabbiul Awwal 1444 A.H.) he was buried the same day at the Carpenters Park Cemetery in London after Jumaah prayers.
Brief Profile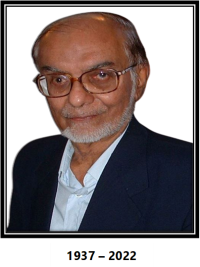 Born in 1937 Marhum Muhsin Ali Mohamed Jaffer was the third son of Late Ali Mohamed Jaffer. He was born and raised in Mombasa, Kenya. Both his father and Marhum Muhsin bhai were known for their passion in Tabligh, especially to the indigenous people of Africa.
Early Life of Tabligh
In his early life, Marhum was active in the affairs of Mombasa Jamaat. As the Khoja community continued to develop in East Africa, he made Tabligh a formal and institutionalized part of the community. He worked closely with Late Alama Syed Saeed Akhter Rizvi and Maulana Zafar Abbas Sahib in establishing Bilal Muslim Mission in the mid-sixties and was one of its last surviving founders. He travelled extensively in hinterlands of Kenya in propagating the mission of Ahlulbayt (a.s.) and establishing Centres. He also prompted the indigenous to pursue higher religious education in Qum and made arrangements for same. Today the mission continues to serve the local population all over East Africa under the banner of Bilal Muslim Mission, which operates under Africa Federation. Over the years his name became synonymous with Tabligh. It continued when he temporarily resided in countries like Tanzania and Madagascar in the early 1980s. In Madagascar, he established Mission Islamique in Morondava with the help of a few other people. He also inspired them to continue his work when he left. He even travelled to South Africa in 1999 and assisted in establishing Ahlulbayt (a.s.) Foundation of South Africa.
His zeal and dedication for Tabligh flourished when he finally settled down in UK in 1986 through the Islamic Education Board of the World Federation. He travelled to various countries in Europe including Bosnia, Sweden, Portugal and also went to Pakistan, China and Thailand. In all these countries he established contacts and encouraged local people to be active in Tabligh. He helped communities face challenging issues by presenting practical Islam to them through his lectures and majalis. In 1992, Muhsin bhai under the leadership of the then World Federation's President Alhaj Mulla Asgharali M. M. Jaffer introduced the Bosnia Desk for the purpose of the propagation of Islamic Shia Ithna Asheri faith amongst the Bosnian community. The Desk was active within the Dar al-Tabligh office in the UK for thirteen years, until it moved to Bosnia in 2005.
Death
Marhum was easily accessible and approachable as testified by many. He had a pleasant demeanour with the ability to make everyone, regardless of age, gender or creed, feel comfortable around him. His Gujarati Majlises will be remembered by many. Towards the end of his active life in his noble services, Marhum retired due to ill health and finally left this worldly abode on 14th October 2022. Marhum leaves behind his wife, a son, three daughters, twelve grandchildren and twenty great grandchildren. His progeny is also actively engaged in carrying out missionary work in various parts of the globe. His departure from this temporal world is a huge loss not only to the family but also to our Tabligh Institution – The Bilal Muslim Mission which he had held so dearly to his heart.
On behalf of the Africa Federation Chairman, Alhaj Amine Nassor, Office Bearers, Trustees and the Secretariat staff, we convey our heartfelt condolences to Marhum's wife, children and all the family members. We pray to Allah (SWT) to grant Marhum maghferat and place his soul amongst the blessed ones in the vicinity of the Chahardah Ma'sumeen ('A) and who continuously receive the mercy and grace of Allah (SWT), Aameen.
Sura Al-Fateha is requested for Marhum Muhsin bhai and all the Marhumeen.

SECRETARIAT
AFRICA FEDERATION ARCHIVE SECTION
Resource: https://mcusercontent.com/5496132269473a782cfb7b798/files/a26bf88b-40d2-3a1d-5e5d-a81c73c1a02d/Obituary_Alhaj_Muhsin_Jaffer_from_AFED.pdf