Mulla Abdulrasul Khaki
Birth
Birth Date: In The Year 1926
Brief Profile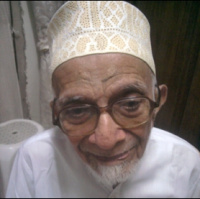 For the past one and half century, we (Khoja Shia Ishna-asheri) have survived and progressed as a community, thanks to many individuals in different walks of life who have quietly dedicated their lives in the service of the community without seeking any position or public recognition. To the community members settled in the West, when they observe middle aged individuals originating from Mombasa actively participating in religious activities and in other social services, invariably they will notice one common bonding force amongst them, i.e. they were taught by Alhaj Mulla Abdulrasul Mulla Hassanali Khaki at the Huseini Madrassah in Mombasa and the inspiration they drew from him.
Mulla Abdulrasul is a self taught individual, businessman by profession. He was born in Mombasa in 1926. A voracious reader with special interest in Islamic History and Fiqh, from a very young age, Mulla Abdulrasul sought the company of Ulama to further his knowledge.
At a young age, Mulla Abdulrasul joined Huseini Night School as a teacher when it was established in 1944 in Mombasa under the able leadership of Late M. M. Jaffer. In 1956 when Alhaj M M Jaffer passed away, Late H. M. Nasser took over as the Head Master of the Huseini Night School with Mulla Abdulrasul as his deputy. Few years later, Mulla Abdulrasul succeeded H. M. Nasser as Head Master of the Huseini Night School.
Teaching Islamic Education
Imparting religious education and conducting classes in Fiqh and Islamic history has been the lifelong mission of Mulla Abdulrasul. To this day, despite his age and a heart by-pass surgery that he had to undergo, followed by eye problems related to Glaucoma and retina detachments which limited his vision and curtailed his passion for reading, Mulla Abdulrasul is ever ready to conduct classes, even if it be for one student.
While engaged in business, his doors are open to visitors for individuals to walk in without appointment to seek clarifications on masael of Fiqh; on matters related to matrimonial disputes and on interpretations related to the Islamic laws of inheritance. Women often telephone him to seek clarifications and guidance on a variety of religious questions.
Apart from teaching in Huseini Night School and later on at the Huseini Madrasah, which he continued to serve until the year 2000, Mulla Abdulrasul also took special interest in conducting special classes for adults on Islamic History. For years he also ran special classes for prospective Hujjaj to acquaint them with the masael for Hajj. In early 1970's, late Dr. Jafferali Asaria, who was the then Hon. Secretary of the Federation of K.S.I. Jamaats of Africa, initiated the idea of adult classes for ladies. Mulla Abdulrasul conducted these classes on Fiqh, History and Muaamelaat (dealings) and indulged in interactive discussion with the participants seated behind the screen.
While on a visit to London for medical treatment, at the request of Mulla Asghar, Mulla Abdulrasul conducted special classes on Fiqh for the new converts to Islam. In addition to his role as a Madrasah teacher, since 1956, Mulla Abdulrasul has been an active member of the Ghusal Kafan Committee and has, over the years, taught scores of individuals on the related practices and masael. To his credit, he has trained three generations of pupils active in this field. He has also cooperated with the Bilal Muslim Mission of Kenya in running classes on Ghusal Kafan for Muallims from rural areas. Mulla Abdulrasul believed that for a religious leader (whether male or a female) to be effective, one must engage in social activities and be seen to be part of the society. All through his life, he practiced this outlook.
Community Servies
In 1974, Mombasa Jamaat convened a special Open Forum for ladies to review rites, rituals, customs and traditions practiced by the community. It was recognised that no effective changes in our traditions could be brought about without active involvement of the ladies section. The entire managing Committee of the Jamaat, accompanied by late Maulana Aqa Haider and Mulla Abdulrasul sat behind the screen as participants reviewed a wide spectrum of traditions and the changes proposed. Another sphere of his active involvement has been in match making and as a member of the Marriage Reconciliation Committee. In addition, he is also an effective Zakir delivering Majalis in Gujarati for which he has travelled to Madagascar and to Paris during Muharram. It is gratifying that the community leadership has often recognised services of such individuals during their life time.
In appreciation of his services, Mombasa Jamaat awarded him with a citation and the Africa Federation presented him with the Huseini Medal while the World Federation of KSIMC presented him with the Al Baqir award.
May Allah (SWT) in His Mercy bless Mulla Abdulrasul with longevity and good health and increase in his tawfeeqaat so that his living example may continue to provide inspiration to all those who dedicate their lives to serve in the way of Allah (SWT).

Reference: TRIBUTE TO A LIVING LEGEND
Article By: Hassan Ali M Jaffer