Mohamed Nathoo
Birth & Death
Birth Date: February 11, 1946
Death Date: August 17, 2023
Brief Profile in his own words
Most of my childhood was spent in the gullies of Zanzibar where initially we used to play those popular street games like marbles (chura, sokodiko), nyage, pita-pit and kidandi followed by tennis ball cricket and soft ball volleyball and football. I was completely obsessed with sports and my career in it began at the tender age of 12 when I represented my primary school, Sir Euan Smith Madressa, in cricket as well as volleyball. It lasted for 38 solid years when eventually in 1995 I hanged my boots. I cherish those days with my collection of photographs, which depict me at different times:
1958-1962 - Sir Euan Smith Madressa
1962-1965 - Ithnashery Sec. School
1960-1963 - Zanzibar Combined – Volleyball
1960-1963 - Ithnashery Gymkhana - Zanzibar
1968-1995 Dar-es-salaam - Union Sports Club
1972-1986 - Tanzania Cricket National Team
Sadly, sports, which earned me laurel and fame, also usurped my dearest ones. On 26th April 1982, my eldest brother Yusuf had suffered a heart attack on the cricket field while participating in the Veteran Cricket Festival and died on the same day. Worse on the fateful, Sunday of 1st November 1992, my son Kazim died in a car accident while on the way to his cricket league game.
Cricketing Memories
Overlooking the cemetery from the balcony of my house and staring at my possession of trophies in the adjacent room I do often give a thought to the inevitable and visualize life as a short span of time that out to come to an end one day. With my life it has been cricket that has taken much of its time right from Zanzibar four decades back when following in the footsteps of my elder brother Yusuf, I developed and graduated myself to big cricket. Alas Yusuf is no more and incidentally got heart attack right on the ground playing festival cricket and later dying on that same fateful day of 26th April, 1982. Zanzibar gave way to Dar es Salaam and with its flourished Union Sports Club. We nurtured it to Champions Club in 1973 and there after it has been 'UNION' all the way till 1992.
My obsession with cricket is attributed to Abdulrasul Bhaloo(Datchu) who inspired me to play the game and would even come to my house to fetch me up. Over here Yusuf Dhalla, Mohammed Pirbhai, Munawer Nurmohamed, Mustafa Pirbhai, Amir Nasser, Akber Gulamhusein, Raza Kara and Said Nyanya provided lot of encouragement and furthered my career. Amir Yusuf, Yusuf Kabana, Bashir Tejani and Amir Gulamhusein have all been my contemporaries since those old days and we have shared some very pleasant moments. They added lot of confidence in me and I shall always remember them. Amir Yusuf's contributions have been immense. I really appreciated his cricketing etiquettes and shrewdness on the field. Imagine his dedication when once immediately after his return from the hospital where he had been admitted and given drips he was made to play a particular game and he proved his worth claiming the highest share of wickets.
I highly respected Yusuf Kabana who had instilled into us the habit of saying our prayers at the grounds. This aspect of ours has been highly appreciated in Kenya, Malawi, Zambia and Zimbabwe and we had set a good example to our fellow Muslim brothers. Yusuf was the finest tactician and won us a tough battle against Dar Cricketers in 1980 when we bundled them out for 68 runs from being 56 for 3 at one stage against our meager score of 92 runs. That game also heralded the brilliance of Sajjad Lakha as the bowler.
Bashir Tejani and I have been childhood friends. In matters of courtesy he is par excellent. He never forgets to compliment a good performer, whichever team one may belong to. One particular thing about him that makes me very sentimental is that he never misses to send me his greetings on my birthday. He commands a very good knowledge of the game and remained our most elegant batsman. We have shared innumerable partnerships but the one that easily comes to my mind is the 117 runs between us against the visiting MCC side in 1982 when we came together at the score of 26 for 5. Amir Gulamhusein and I have played lot of cricket together. As a bowler I admired him a great deal. He reigned Dar es salaam scene for 4 years taking wickets left, right and center. His 7 wickets in a devastating spell against 'Bohoras' whom we bowled them out for some only 50 runs is still being remembered. Amir reminds me of his late brother Akber. Akku was a big morale boost and very much attached and dedicated to 'Union'. Despite him being a great cricketer at one stage he always used to make us feel very big.
So all along it has been cricket. I really loved the game and enjoyed playing it. The different nature of the teams, the happy spirit, the competitiveness of matches, the rejoicing off the field and the celebration thereafter, the meeting of so many good old friends, the warm involvement and appreciation of crowds who come to watch good cricket all contribute to the wonderful time that I have had. In my long career I must have scored hundreds of fifties but never had the honor of scoring a century even in a friendly match till when I notched one 120 runs not out against Dar es salaam Gymkhana with whom we were playing a friendly match. I was very much satisfied with myself on that Sunday in June, 1987.
The A G Tarmohamed tournaments have brought to me some everlasting memories. I can still recall the defeat at Lusaka in 1983 we inflicted upon Universal S.C. of Zimbabwe who have always been the contender and till then never lost a game in the tournament I was amongst the runs scoring 75. Another strong contender for the Tarmohamed trophy had been Universal S.C. Kenya consisting of 6 to 7 Kenya National players. Our last encounter at Lusaka in 1987 proved a very exciting one and eventually we emerged triumphant. It was very good teamwork on our part and we felt really great after the victory.
I had represented the National side for 15 consecutive years since 1972 during which I lead the team for 4yrs. before declaring my retirement in 1986. My proudest moment occurred on Tuesday evening 16th October 1984 in Daressalaam, when the Quadrangular tournament was won by Tanzania under my captaincy after the lapse of 19yrs. I held aloft the Sir Robert Menzes trophy amidst shouting and clapping by spectators who had turned in thousands at the Coast Gymkhana ground. Infact, it was my biggest achievement and I really felt at the top then. Time had moved very fast but at times it is also pleasant to let nostalgia overcome my other indulgence.
Lifting Upanga's Pranlal Divecha for a six in 1973 which clinched Union the league championship for first time since 1954 and heralded their glorious reign, sharing a mammoth partnership of 170 runs with Taher Amijee against Zambia at Nairobi in 1976 of which I contributed 93 in 4 hours 10 minutes at the crease, scoring 55 runs from 27 deliveries against Kinodoni S.C. in 1983, hitting 35 runs off the last two overs against Dar Cricketers including four consecutive boundaries of Al noor Fazel in the Saturday League game in 1984, striking 18 runs off one over from Al Nasir Hasham (Illala) in the 1984 Sunday League game against Dar Cricketers, the fastest innings in my career scoring 85 runs unbeaten in 57 balls against Annadil Burhani including 10 sixes in 1987, an unbroken partnership of 102 runs with Shakir Sheralli against Eaglets S.C. who boasted with 8 Kenyan National players in the Super-League finals in 1992 where I contributed 58 runs unbeaten, receiving 'Best Batsman' awards at TCA, DCA, TAGT and Union S.C. functions etcetera. I did the best I could for Union S.C. and Tanzania and I made the best out of whatever I had and above all I am proud to have belonged to the club that has won 18 yrs. in 20 yrs cricket championship in the country. In 1995 after a long spell of 38 yrs. cricket career I hanged my boots at the age of 50 yrs.
Courtesy: http://www.dewani.ca/mnintro.htm
Obituaries & Tributes
Tribute by Abdulrazak Sheriff Fazal
Brief Profile
If the communal services of the grand dad, Ali Nathoo, remain unparalleled in the history of Zanzibar, the contributions of the grandson, Mohamed Nathoo, remain unequalled in the history of Union Sports Club. Mohamed reminds me of a lanky boy in white shorts stylishly holding his bat and thrashing tennis ball in the gullies of Zanzibar in the 1950s. The confidence he exuded heralded the coming up of a potential cricketer.
Mohamed is well built athlete. He is a veteran cricketer who along with Shiraz Sumar and Bashir Tejani forms Tanzania's formidable batting line up. He is a pleasant personality who commands great respect from his contemporaries. It is also his amiability that makes one and all accessible to him. Mohamed was born on 11th February, 1946 in Zanzibar.
Cricket Career
His cricket career goes back to his primary school days when he played for ESM in 1958. He represented Ithnashri Gymkhana 'A' in 1960. While in Dar es salaam he joined Union Sports Club in 1968 and became a regular member of the National Team since 1972. Mohamed had the honour of captaining the National Team in the Quadrangular played in Zambia in 1977. Presently also he is the captain of the Tanzanian side and had the honour of regaining this year the Quadrangular trophy that had eluded Tanzania for 16 years. A majestic walk to the wicket foresees an innings that unleashes a series of strokes. It is characteristic of him to constantly consult his partner and also whisk off a patch of ground. His aptitude at running between the wicket forms an amusing part of his stay at the wicket. Mohamed's footwork commands different strokes in the game. His effortless drive off the front foot is so fluent that it even receives the applause of the bowler. His beautiful forward movement demonstrates to the onlookers the presence of a master batsman. Any short pitched delivery is hooked onto the fence or lifted out of the ground. The ease with which he handles the spinners is commendable.
The 1982-83 season saw Mohamed scoring more than 600 runs and at one stage he had six consecutive fifties to his credit. He is the first batsman to be awarded the best batsman trophy on its introduction in 1974. Mohamed has played big innings umpteen times but the sad note of his remarkable career has been a century that has always eluded him. He has reached the score of nineties on as many as ten instances but the nearest he reached towards a century was 99 when he was unfortunately run out. In 1975 the strong Upanga had scored 184 and Union were trailing at 40 for 4. Then came the turning point as Mohamed displayed a superb knock. His unbeaten 68, enabled Union win that vital game. Similarly against the visiting Minor Counties Team in 1982, wickets were tumbling at 26 for 5 when Mohamed and Bashir Tejani came together and shared a sixth wicket partnership of 117. That gave some respectability to Tanzania's score and Mohamed's personal contribution was 70 invaluable runs. Mohamed considers his 38 runs innings against the visiting MCC side in 1980 as a memorable one. It was a strenuous knock against the fierce bowling attack of Bill Merry who plays for Middlesex in the English Counties. It left on his thigh a mark resulting from one hostile delivery that had hit him. Concentration is one of Mohamed's biggest virtues. In the 1976 Quadrangular he batted against Zambia for 4 hours 10 minutes scoring 93 runs. He times his innings as the situation demands. When a faster scoring rate is required runs flow from his bat as evidenced last season when off 27 deliveries he scored 55 runs that included 2 sixes and 6 boundaries against Kinondoni, 18 runs off one over from Tanzania's fast bowler Alnasir Hasham and four consecutive boundaries off Alnoor Fazal, Tanzania's leading off spin bowler.
In the AG Tarmohamed tournament in Lusaka this year Mohamed hit 75 solid runs against Zimbabwe's Universal enabling Union its first ever victory against the Zimbabwe team. In fact no other participating team had ever won against Universal since the inception of the Tarmohamed tournament, that was the first defeat inflicted on them. Mohamed is a pioneer of Union that has reigned supreme over the local scene for almost a decade. Mohamed's consistency with the bat has been one of Union's main strength. His exuberant and flamboyant style on the field boosts the morale of his team. The memory lingers of the drama at the Kinondoni ground when Union in a decisive game against Upanga required just 6 runs to emerge champions. Excitement was high while at the wicket stood the forlorn Mohamed awaiting the delivery from Tanzania's fastest bowler, Pranlal Diwecha. A leisurely pull from Mohamed dispatched the ball into the spectators' stand. That six had won Union championship after 19 years.
Mohamed has performed innumerable rescue acts for Union. His wicket is the most difficult to capture and when he is dismissed there is sheer rejoicing by opponents. It is generally felt that as long as Mohamed's wicket remains Union's optimism does not fade. When he is out Union's hope also sinks. Volleyball is another sports where Mohamed has excelled. His fine smashing game has thrilled the Dar es salaam public.
Courtesy: http://www.dewani.ca/magmohamednathoo.htm
Obituary by Africa Federation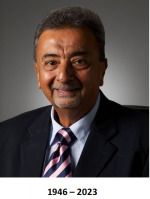 It is with immense sorrow and grief that the Africa Federation Secretariat received the sad news of the sudden demise of Murrabi Alhaj Mohamed Hussein Ali Nathoo, who passed away in Dar-es-Salaam on Thursday 17th August 2023 and was buried the same night. Born in Zanzibar 11th February 1946 he was amongst the nine children blessed to his parents Hussein and Rukiya Nathoo. He obtained his primary and secondary education in Zanzibar. He was the grandson of Murabbi Hajji Ali Nathoo, a selfless, devoted leader of the community and a philanthropist who played major role in the construction of the Zanzibar Kuwwatul Islam Jamaat Mosque, famously known as Junni Masjid in Kiponda area, the first Mosque of the Khoja Shia Ithna-Asheries in the world built in 1881 in Zanzibar. Hajji Ali Nathoo served as the President of Khoja Shia Ithna-Asheri Kuwwatul Islam Jamaat Zanzibar for 28 years, he passed away in 1957 at the age of 86.
Mohamed Bhai's sporting career started in the narrow streets of Zanzibar with volleyball and cricket as his favorite games, he represented his primary and secondary schools in both these games and played for the Ithna-Asheri Gymkhana 'A' division in cricket and Zanzibar Combine in volleyball at the young age of 16. On his migration to Dar-es-Salaam in 1967 he joined the Ithna-Asheri Union Sports Club (Union Sports Club) and played for its volleyball and cricket team until 1995. He was a proud part of the cricket championship that the club enjoyed for 18 years out of 20 years (1973 - 1992) and 4 years in volleyball 3 a side Championship (1968 - 1972) until the traditional volleyball style was abolished in Tanzania in 1972. His consistency and flamboyant style in the in the game of cricket provided him the opportunity to play for the Tanzania National Cricket team for 15 years from 1972 to 1986 and had the privilege to lead the side for 4 years. During his captainship in 1984, Tanzania won the championship of East and Central Africa after a lapse of 16 years; for which he was honored with the Tanzania National Award in 1984. He was declared the Sportsman of the Year and awarded the prestigious Abul Fazal Trophy by the Africa Federation in 1975 and was bestowed the Abbasi Medal in 2008 by the then Chairman of Africa Federation, Alhaj Ramzan Nanji.
On his retirement from active sports, he decided to serve Union Sport Club in leadership position and was its Chairman, from 1996 to 2000 before he took up the Chairmanship of Ithna-Asheri Union from 2000 to 2004. He was elected as the Vice Chairman of the Dar-es-Salaam Jamaat in 2004 and continued to hold the position for three consecutive terms under the Chairmanship of Alhaj Anwarali Rajabali Dharamsi. In February 2010 he took over from Alhaj Anwarali Rajabali Dharamsi who became Chairman of Africa Federation, Mohamed Bhai completed the remainder of the term as President of Dar es Salaam Jamaat up till July 2010. At the Federation he served as the Chairman of the Sports Council for the term 1998 - 2001 and was also a nominated Councillor for nine years. He remained available to the AFED Office Bearers whenever required. He was also a member of the Constitution Review Committee (CRC) of Africa Federation from 2007 to 2010.
Marhum Mohamed Bhai was an ardent supporter of Ithna-Asheri Union and Union Sports Club during his entire tenure in Dar es Salaam, he would leave no stone unturned to defend Ithna-Asheri Union and Unions Sports Club during its thick and thin. Being one of the stalwarts of Union Sports Club he was highly respected by the sports officials and sportsmen from different clubs within and outside the country.

AFED Chairman, Alhaj Amine Nassor had conveyed the following message on the sad demise of Alhaj Mohamed Nathoo:
"It is with a heavy heart that I convey this message of condolences to the family of Marhum Mohamed Bhai Nathoo. Mohamed Bhai played a crucial role in the sports arena of the community in Zanzibar and Dar es Salaam. Equally, he was dedicated and a committed member of our community having served in various capacities both in the Jamaat and in Africa Federation, his sudden death is saddening and has deprived the community of a kind hearted and devoted member, may Allah (SWT) grant him maghferat and grant solace to the bereaved family members, Ameen"

Photographs from AFED Archives: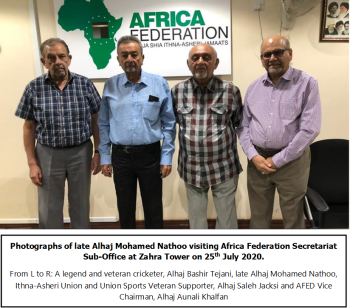 We convey our heartfelt condolences to his daughter Nasreen bai, his son in law Murtaza bhai Versi, grandson Aliraza Versi and all family members.
We pray to Allah (SWT) to grant Marhum maghferat and place his soul amongst the blessed ones in the vicinity of Chaharada Masumeen (AS) and who continuously receive mercy and grace of Allah (SWT). Sura-Al-Fateha is requested for Alhaj Mohamed bhai Nathoo and all the Marhumeen.

SECRETARIAT
Africa Federation
CIRCULAR NO: JMT/083/23
Date: August 21, 2023
Resource: https://mcusercontent.com/5496132269473a782cfb7b798/files/63fb7e56-74aa-7cf1-a731-68c5330085f0/Obituary_Alhaj_Mohamed_Nathoo.pdf