Ali Nathoo
Birth & Death
Birth Date: In The Year 1871
Death Date: March 28, 1957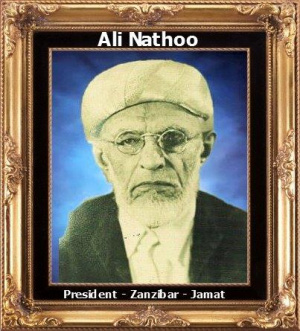 About
In the history of Khoja Shia Ithna-asheri in East Africa and the people of Zanzibar in general, Haji Ali Nathoo name shall always be remembered, not only as one among the most successful merchants and traders of the time but also as a selfless and devoted leader of the Community and a Philanthropist. He was born in Cutch-Nagalpur, India in 1871 and migrated to Zanzibar in 1886 at the age of 15 years.
Haji Ali Nathoo served as the President of Khoja Shia Ithna-asheri Kuwwatul Islam Jamaat Zanzibar for 28 years. By his generosity and love of the community, he financed the entire building of the first floor of Kuwwatul Islam Jamaat Imambargha in Zanzibar (also known as Junni Masjid).
Life Journey
After World War I (1914-1919), he was approached by the Zanzibar British Resident at the time for donation whereby he provided a blank cheque. This action of generosity and compassion drew sentiments by the British Government who offered to bestow upon him Knighthood with the title "Sir".
Haji Ali Nathoo, a humble and a staunch devotee of Ahlulbayt (AS) declined the offer of Knighthood but instead requested for two Public Holidays to be observed in Zanzibar, on 10th Muharram (Ashura) and 21st Ramadhan. His proposal was accepted by the British Government and the two days were marked as Public Holidays in Zanzibar and Pemba from 1920 to 1964. After the first year of the Zanzibar Revolution the two public holidays were abolished but to date there is still a street known as "Kwa Ali Nathoo" in Zanzibar.
Death
He passed away after a short illness on Thursday 28th March, 1957 in Zanzibar at the age of 86 years, and was buried at the Khoja Shia Ithna-Asheri Kabrastan near Raha Leo. Sadly the graves were demolished and the Kabrastan was flattened by the Zanzibar Revolutionary Government just few years after the 1964 revolution in Zanzibar. (Unfortunately we could not find a photograph of the old Kabrastan in our Archives).
Let us remember Marhum Haji Ali Nathoo and all Marhumeens with Sura-e-Fateha.
Reference: http://www.africafederation.org/publications/archives/657-africa-federation-archives-haji-ali-nathoo-a-distinguished-leader-and-a-philanthropist