Anwarali Rajabali Dharamsi
Birth
Birth Date: March 22, 1951
Brief Profile
Alhaj Anwarali Dharamsi, fondly known as Anwar Bhai, was born in Kilwa, Tanzania on 22nd March 1951 to his parents Rajabali bhai and Fatma bai of the well-known Dharamsi family of Masasi and Lindi. He studied and grew up in Lindi. Upon completing his studies in 1965, Anwar Bhai started managing their small family business. His responsibilities multiplied many folds due to the sudden death of his father in 1966; being the elder son, he had to oversee the affairs of the family and take care of his siblings enduring economic challenges in managing a large family single-handedly and supporting the education of his siblings.
An Inspirational Journey
In 1970 he moved to Dar es Salaam where he started from a humble establishment occupying a small retail shop outlet and later changed to transport business starting with only one truck which he himself used to drive, delivering goods to upcountry towns in Tanzania. He spent three years in Dubai, UAE engaged in transport business before returning to Dar es Salaam to start a new beginning.
Gradually the fleet grew and in 1980, he formed a Company known as Tanzania Road Haulage (1980) Ltd. whose main activity initially was logistics. Steadily, the business grew to a multi-faceted company having a group of companies dealing in Transport & Logistics, Copper Handling, Container Handling, Clearing & Forwarding, ICD Facilities and Real Estate, with modern infrastructure and offices in Dar es Salaam, Zambia and Congo – DRC.

Some of the companies under his management and direction are:
i. Tanzania Road Haulage (1980) Ltd.
ii. Oceanair Freight Forwarders Ltd.
iii. Kurasini Container Terminal (ICD)
iv. Ubungo Business Park Ltd.
v. A & R Investments Ltd. – Real Estate Company.
Community Services
Anwar Bhai always took a keen interest in the progress of the community and quietly devoted himself to whatever social service he could render to the community and society at large, and thus served in various fields, his philanthropist services know no borders. He was appointed as the Co-Chairman of Setwel under Africa Federation in the years 2002 – 2004. The Board's main activities were to assist the Somalia evacuees' settlement and rehabilitation and one of his achievements was the attainment of Tanzanian Citizenship for evacuated Somalia Community brethren in 2004, a huge step towards their settlement. Thereafter he served as the President of KSI Jamaat of Dar-es –Salaam for three terms from 2004 – 2010. During his term, the Jamaat embarked on the project of the redevelopment of Mehfil-e-Abbas in Dar-es-Salaam from a single-storey to a four-storey modern design building as well as the reconstruction and extension of Dar-es-Salaam Jamaat Ladies and Gents Imambargha and refurbishment of KSI Jamaat Musafirkhana to a modern standard two storey building. Furthermore, Anwar Bhai initiated the Housing Scheme (House to Own) for the community members in Dar es Salaam known as Juma Haji Residency at Maweni Street and Amersi Mawji Residency at Mataka Street in the city center. Today, these twelve storey high rise buildings with a total of 80 flats, sold for ownership to our community members at reasonable prices stand tall as a testimony to his dedication, contribution and foresight.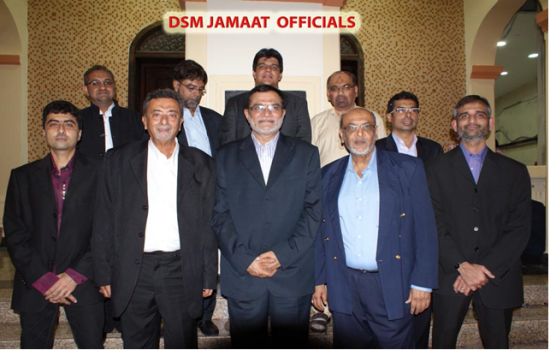 He also managed to purchase two old buildings from NHC for the expansion of Ebrahim Haji Charitable Health Clinic near the KSI Jamaat Mosque along Indira Gandhi Street and also acquired through the financial assistance of the Africa Federation the annex plot adjacent to the KSI Jamaat Mosque to be used for religious purposes only. Anwar Bhai took up the Chairmanship of the Federation of KSI Jamaats of Africa (Africa Federation) in 2010 and served for two terms 2010 – 2013 and 2013 - 2016. In 2011, under his able leadership and with the support of his office-bearers managed to bring back Conseil Regional of Madagascar (CROI) into AFED's fold after an absence of seven years from Africa Federation, it is one of the remarkable achievements during his tenure in enhancing unity and brotherhood in the community, which he adores. During his tenure, in 2013, Union des Associations Khodjas Shia Ithna asheri de la Reunion (UAKSIR) became a new Member of the Africa Federation, following the Adoption of amendments to the AFED constitution. Anwar Bhai established the Women's Board following a Supreme Council Resolution of 2011 and initiated the process for Women's Membership in Jamaats following the adoption of a Supreme Council Resolution of 2015. During his term, the first commercial project of 20 modern warehouses was undertaken by the Federation in 2012 - The Umoja Complex on a 4-acre plot along Julius Nyerere road in Dar es Salaam was embarked upon to keep up with the aims and objectives of progressive development making AFED self-sufficient in the future. In his term, there was also the construction of Al Qa'eem AFED building in Arusha consisting of 24 flats of a good standard for renting out at a reasonable rate to our community members in Arusha and two shop outlets on the ground floor for generating income towards the building maintenance.
In Dar es Salaam, the first joint housing project was Al Sadiq Residency, an eight-storey building with 20 flats and 2 shops on the ground floor at Tandamti in Kariakoo area, the plot belonged to Dar es Salaam Jamaat. The project was financed by Africa Federation, World Federation and some donors. Upon completion, in May 2011 it was handed over to Dar es Salaam Jamaat for accommodating its members. In 2011 Africa Federation along with Shia Asna-Asheri Jamaat of Nairobi (SAAJ) registered a company by the name of AFSAAJ for the purpose of acquiring a plot in Lavington, Nairobi's high-end residential area with a loan from Africa Federation. Here, Al Haadi Residency with 32 flats was built on this plot for members of our community in Nairobi. Africa Federation in 2012. provided a bridging loan to Arusha Jamaat for the construction of phase one of the Al Mahdi housing project on plot 13 which is located in the city center of Arusha. The old Jamaat building on this plot was demolished paving the way for the first housing project scheme in Arusha Jamaat. When completed, the building with 14 residential flats will also house the Madressah for boys and girls on two floors which Anwar Bhai is donating. The ground and first floor shall be for commercial renting to generate income for the Jamaat. The Housing Development Board of Africa Federation is currently supervising this project.
Anwar Bhai during his tenure also supported the Mombasa Jamaat by providing partial financial support from Africa Federation and also from the World Federation for the construction of 26 flats in one of the Towers at Jaffery Complex (JIC) specifically for the welfare members of our community in Mombasa Jamaat, under the trust of the Jamaat.
Achievements & Awards
Upon completion of his tenure, he was bestowed with the highest award - The Haydari Medal by Africa Federation for his honorary, dedicated and exemplary services to the community. The honor was performed during the AFED Conference by the newly elected Chairman Alhaj Shabir Najafi and Sheikh Dr. Murtadha Alidina in April 2016 in Dar es Salaam.
Wherever Anwar Bhai has held a leadership role, he has always invested his own funds as donations to ensure long-term sustainability of that organization and has donated to causes globally and continues to do so even after he has left all these roles. Due to his noble benefactions, he was presented with the Kaukabe Khidmat Award – The Star of Service Award by the World Federation at their virtually held Postponed Conference in May 2021 as an acknowledgment of his outstanding services in meritoriously leading Dar-es-Salaam Jamaat, Africa Federation and The World Federation and for his generous support towards numerous charitable projects around the world.
President of World Federation
Anwar bhai was elected to the highest office in the Community as President of The World Federation of KSIMC for the term 2017 – 2020. During his presidency, many projects were embarked upon being the launch of Khoja News and the collection and digitizing of the books related to Khoja history and culture (Khoja Heritage) as well as the Khoja academic conference which was first of its kind was held. At the same time, 2 Khoja Heritage trips took place.
As President of The World Federation, he also took over his biggest mission which was the digitalization of MCE which is the WF flagship project. The task was to ensure that the platform was ready for the digital world. Furthermore, he set up digital services under IE (Islamic Education) and re-established the external Tabligh Department.
His foresight for the betterment of the community was such that there was an increase in the investment funds to make WF financially self-sustaining. Thus, one of his other attainments was the Launch of Legacy giving. The concept of long-term legacy was delved into where in the olden times people used to give Waqf. This was restarted and it was quite successful as it resulted in additions to the WF Legacy assets.
Additionally, to his credit is also the interaction session, a kind of town hall meeting with members of the community which was started during his leadership, this used to be held prior to the commencement of any World Federation Executive Meeting in whatever place it was held. At the same time, at every Exco local contributions of the host Jamaat volunteers were recognized with awards and medals.
As he approached the end of his term as World Federation President, the Covid-19 Pandemic hit. Anwarbhai started off the campaign of COVID-19 Global KSIMC Emergency Appeal which was then continued by the new team.
Philanthropist & Leader
Anwar Bhai is a philanthropist and a leader who leads by example - A successful entrepreneur, modest and sincere in his interaction and dealing be it in business, family matters, or social services in the community. His focus has always remained firmly towards the development of our community towards Islamic and Family Values which are in accordance with the guidance from the Holy Qurán and the teachings of Ahlulbayt (AS). A man with strong determination and passion to a mission so dear to his heart which is to uplift the community to higher levels of development and progress in religious and secular education, economic empowerment and social services. His services are not confined within but extend outside the community as well. Anwar bhai's simplicity, sincerity, humility and congenial nature captivate many hearts in our community in Africa and beyond the borders of Africa.
His theme has always been – "Unity is our Strength", "Caring and Sharing are our moral and religious duties"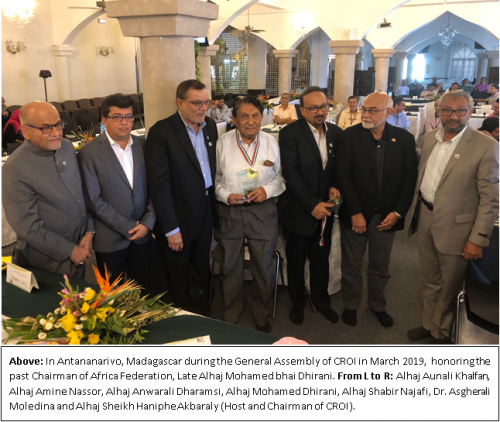 We pray to Almighty Allah (SWT) to grant good health to Alhaj Anwar bhai with lasting happiness and prosperity and to bless him with increased tawfeeqat to continue serving the community and humanity. Ameen.
SECRETARIAT
ARCHIVES SECTION OF THE AFRICA FEDERATION
Date: 22nd April 2022 /20th Ramadhan 1443 A.H
Resource: https://mcusercontent.com/5496132269473a782cfb7b798/files/5a27aee5-4396-2394-2126-5dc9c69ee705/Archives_Bulletin_Alhaj_Anwer_Dharamsi_April_2022_.01.pdf