Mohamed Hassan Pyarali Hemani
Brief Profile & Community Services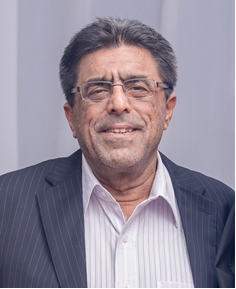 Mohamed Bhai was first inducted into community service when he was elected Hon Secretary of Arusha Jamaat in 1971, at the age of 20 years. He was also elected to represent the Arusha Jamaat as Councillor to the Africa Federation and served the Jamaat in various capacities until his migration to Mombasa in 1983. Whilst in Mombasa he rendered his services to the Jaffery Sports Club and the Jamaat in various capacities. He was Chairman of the Mombasa Jamaat from the year 2000 to 2004. He was also the Vice Chairman and Trustee of the Bilal Muslim Mission of Kenya from the year 1998 to 2009, he then migrated to Dar es Salaam.
Achievements & Awards
In 2010 he was elected as the Hon Treasurer of the Africa Federation and served also as a Managing Trustee for nine years until 2019 when he retired from active business life and community services. He was awarded the Husseini Medal by the Africa Federation Chairman Shabir Bhai Najafi in recognition of his meritorious services to the community spanning almost five decades.
Appointment of the Africa Federation Central Bilal Board (CBB) for the Term; 2022 - 2025
The Africa Federation is pleased to appoint Mohamed Hassan Bhai to share his wealth of experience in external Tabligh as the new Chairman of the Central Bilal Board, tasked to bolster further the development and administration of the Bilal boards of Tanzania, Kenya and Uganda; as well as explore the opportunities and potentials of extending the work of external Tabligh to Kigali, Bujumbura, Lilongwe, Maputo and Nampula.
The Chairman, Alhaj Amine Nassor and the Office Bearers of Africa Federation extend their heartiest congratulations and best wishes to Alhaj Mohamed Hassan Bhai on his appointment and we pray for his good health, tawfeeqat and success in serving the Mission and in delivering to the Mission's Aims and Objectives for the term 2022 - 2025.
AFRICA FEDERATION ARCHIVE SECTION
SECRETARIAT
CIRCULAR NO: JMT/011/22
Date: September 02, 2022
Resource: https://mcusercontent.com/5496132269473a782cfb7b798/files/eebd5fb6-5946-3fea-70e0-4b4d7a2bbf2f/Circular_Appointment_of_the_Central_Bilal_Board_CBB_2022_2025.pdf