Kharumwa Jamaat
Location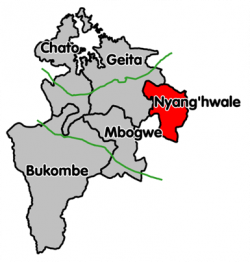 Kharumwa is a town in Geita region of North Western Tanzania, East Africa. It is the administrative centre for Nyang'hwale district. Prior to 2012, Kharumwa was part of Geita district under Mwanza region. Nyang'hwale district is one of the five districts of Geita region of Tanzania. Its administrative centre is the village of Kharumwa. It is bordered to the North by Sengerema district, to the East by Misungwi district and Shinyanga rural district, to the South by Kahama district and to the West by Geita district. As per data of 2012, the population of Nyang'hwale was 148,320. Nyang'hwale was established in 2012, when it was split from Geita district and became part of the newly established Geita region.
Settlement of Khoja Community
The settlement of Khoja community in Kharumwa started during the German rule in 1900's. The pioneers were Nasser Virji family who started wholesale and retail shops in Kharumwa. This attracted many of our brothers to settle in Kharumwa. Nasser Virji Company employed many of our Khoja brothers. In 1920 a plot was acquired to be used as burial ground (kabrastan). There are about twenty graves in that graveyard. Later on, a hall was constructed using mud, bamboos and corrugated iron sheets. The cost of this hall was contributed by the Khoja brothers of Kharumwa. This hall was used as mosque, imambargah and Madressa.
In 1950, Suleiman Manji and Fazal Manji (brothers) opened a wholesale shop which was managed by an accountant from India. His name was Barot Tharoo. After Barot Tharoo, another accountant was employed from Surat, India. His name was Ebrahim Alibhai Patel. His salary was Shs 100 per month and housing and meals were provided by the company Suleiman Manji and Brothers.
Kahrumwa - Agriculture Land
Kharumwa is situated in a very fertile land and the locals are traditionally farmers. Agricultural produce like peas, gram seed, chick peas, moong, mustard, wheat, rice and cotton were produced in large quantities. The livestock and dairy farming produced ghee in big quantities and was marketed all over Tanzania.
Kharumwa Jamaat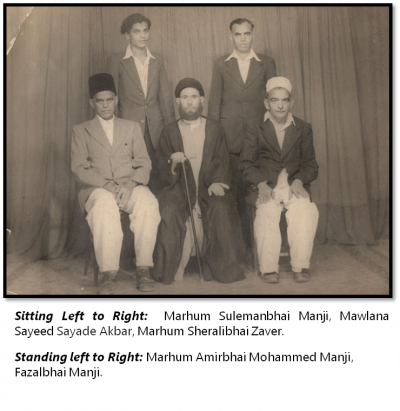 Nasser Virji Company advised our brothers to engage in business of buying agricultural and dairy products. At that time, most of the agricultural produce was bought by our brothers and sold to Ladha Meghji and Company in Mwanza. Most of our brothers in Kharumwa were buying their goods for business from Suleiman Manji Brothers Company, on credit. This helped our brothers who had no capital to run their businesses. Kharumwa Jamaat was run by Suleiman Manji who was President and Treasurer of the Jamaat. His secretary was Hassanali Abdullah Dhirani. After Suleiman bhai Manji, his brother Fazal Manji became President and Treasurer and Gulamabbas Ladha Damji was the Secretary. Kharumwa Jamaat had also built a primary school called Indian Public School. This was in 1950's. Three teachers were employed; Ebrahim Master, Daya bhai Patel and P.Z. Shah. They were staying in teachers' quarters. The school also had a volleyball ground. In 1959, Kharumwa team participated in Regional tournament held in Kahama, Mwanza region.
In the year 1961, Gulamhussein Ebrahim built the mosque with two shops. The shops were rented and the income was used to support Jamaat expenses. Around Kharumwa there were several villages where our brothers had shops and they used to come and join the Muharram and Ramadhan majlises.
Our brothers used to reside in the following villages:
1. Sarawi: Ramzanali Mohamed Bhimji, Husein Bachoo Suleiman and Noormohamed Jivraj
2. Usambiro: Pyarali Moledina
3. Bukoli: Mohamed Haji Somji
4. Ushetu: Mulla Kassam Murji
During the rainy season, the roads between Geita and Mwanza were flooded, sometimes totally impassable, for several weeks. Kharumwa did not have electricity and water supply. The residents were using lanterns as a source of light. For water they had to employ a man to bring water from a port on Lake Victoria called Nyamtukuza, which was at a distance of 18 miles. Donkeys were used as a means of transport to carry water drums. Rain water was harvested and stored in drums. In 1953, British government dug water wells which eased the water problem to some extent. In 1959, when Marhum Ebrahimbhai Sheriff Dewji (then Chairman of AFED), visited Kharumwa to raise funds for education and tabligh foundation, he was able to raise the amount of Shs 16,000. At that time, there were about 15 families at Kharumwa.
The families were:
1. Suleiman Manji and Brothers
2. Mohamed Manji
3. Fazal Manji
4. Gulamhussein Ebrahim
5. Hassanali Abdullah Dhirani
6. Rashid Murji
7. Hassanali Rajabali
8. Jaffer Fazal
9. Gulamhussein Bandali
10. Ebrahim Sherali
11. Rajabali Zaver
12. Sheralli Zaver
13. Hussein Dawood Pardhan
14. Jivraj Kunverji
In 1970's, our brothers started moving out of Kharumwa. Since there was no one to look after the mosque property, the mosque was temporarily given to Sunni brothers to run as Madressa. In return, they looked after the mosque property. At present, the mosque property is being taken care of by a caretaker Faraji Said Mubarak (Sunni Arab). The fate of the school and teachers quarters is unknown.
Mwanza
In Mwanza Region there were several villages where our brothers had shops.
Below is the list:
1. Misungwi: Mohamed Jaffer Harji
2. Malampaka: Abdulhussein and Company, Gulamhussein Daya, Yusuf Alibhai, Mohamedali Kermali, Hassanali Alibhai, Kermali Dharamsi
3. Nansio: Shahabuddin Alibhai, Sherali Mohamedtaki, Noorali Ladha Meghji, Haji Khimji
4. Ibaraginnery: Bandali Damji, Mohamedali G.A. Satchu, Jafferali Abdulrasul Noormohamed, Ali Hassan Ahmed, Haji Juma
5. Magu: Nazarali Jetha, Rashid Tarmohamed, Sherali Rajabali Ismail
6. Ngudu: Fidahussein Manji, Hassanali Manji, Pyarali Valimohamed, Abdul Karim Merchant
7. Kisasa: Rajabali Gulamhussein Sumar
8. Luguru: Shariff Khimji
9. Mshanwa: Ladha Jivraj
10. Shanwa: Habib Pirbhai Dhanji, Kassamali Dev Karan
11. Kome: Mohamedali Haji Somji, Bandali Walli Kalyan
12. Sengerema: Rashid Dhalla's elder brother Hussein Dhalla
13. Buyombhe: Jafferbhai
14. Katunguru: Rashid Dhalla, his son Mohamedrafiq and Family
Community Services
Aalims, Mullas and individuals who provided religious services to Kharumwa Jamaat are:
1. Maulana Sayeed Sayade Akbar
2. Maulana Sayeed Azizul Hassan Naqvi
3. Hassan Abdulla Dhirani
4. Gulamabbas Abdallah Sumar
5. Mulla Ramzan Sumar
6. Mulla Nisar Chandoo
7. Jaffer
8. Ramzan Alimohammed Meghji
9. Gulamabbas Ladha Damji

Information compiled by Murtaza Jivraj (Kerbala) and Yusuf Fazal Manji
Photo courtesy: Yusuf Fazal Manji
Source: Archives section of Africa Federation
13th May 2016 (6th Shabaan 1437 AH)
Reference: https://gallery.mailchimp.com/5496132269473a782cfb7b798/files/Kharumwa_Jamaat.pdf