Noormohamed Jivraj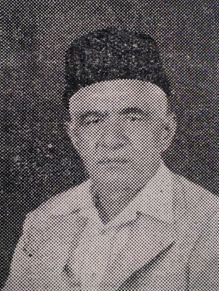 Birth
Birth Date: In The Year 1886
Life Journey
Alhajj Noormohamed Jivraj was born in 1886. In 1915, Murabbi Noormohamed Jivraj became the first Ithnaasheri to settle in Arua. He was 29 years old at that time. Noormohamed was 19 when he travelled by dhow from India to Mombasa. From Mombasa he travelled by train to Kisumu and onwards by boat to Entebbe. He then walked 21 miles to reach Kampala. He worked for 5 years at Datoo Damji. In 1910, he went to Masindi, 130 miles from Kampala to start his own business. Masindi was undeveloped, with all houses made of mud and thatched roofs. After five years in Masindi, he moved to Arua where he opened a shop. He also opened another shop in Karuma, 14 miles away in the Congo. In 1921 he went to India and returned in 1928. By this time there were already ten Indian families in Arua and a few sturdy homes had been built.
More settlements in Arua
After the 1912 treaty, Arua, which was under Belgian rule, was placed under British administration. The area was primitive and the locals hardly covered their bodies until after 1950. Motor vehicles were introduced in 1928. Janmohamed Teja had come to settle but he passed away in three years. Alibhai Hirji came in 1949 and Alibhai Suleman Kaba came in 1952. Majlis, Nyaz and Muharram azadari was held at Br Kaba's home. By 1957, the number of members of the community had risen significantly. As a result of praiseworthy efforts of Abdulrasul Alibhai Bhanji of Mombasa, the community decided to build an Imambara.
Construction of Imambargah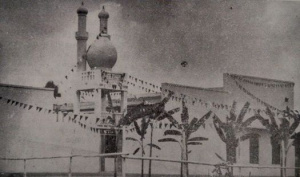 Br Rajabali Jivraj donated Sh 50,000 for the benefit of his Marhum father Noormohamed Jivraj. A further Sh 15,000 was collected from other members, Sh 28,000 from the Congo and Sh 25,000 from different Jamats of East Africa. The funds were used to build an Imambargha and Musafarkhana. The front portion of Imambargha was used for teaching Quran, and kept open to all Muslim children. The opening ceremony of the new Imambargha was conducted by President of Africa Federation, Alhaj Ebrahim Hussein Sheriff in February 1960. A teacher was hired, under the aegis of Indian Association, to run a class for educating the children. After receiving a grant, the school was run on grant-aided government school. In 1960 there were a hundred Asian shops in Arua, out of which 12-13 are from the Khoja Shia Ithna-asheri community. In 1956, running water was facilitated.
Need For Cemetery
There was a very sad incident in 1954. A one and half year old child had died and no one from the 4-5 families resident in Arua knew the rituals of ghusal, kafan and burial. As a result, help was obtained from our African Muslim brothers and the child was buried in their cemetery. Since 1958, the Bohora and Ithnaasheri community have both been provided with land for cemetery.

Secretariat
Africa Federation Archives Section
25th March 2016 (15th Jamadil Aakhir 1437)
Reference: https://gallery.mailchimp.com/5496132269473a782cfb7b798/files/Alhaj_Noormohamed_Jivraj_Arua_Uganda.pdf