Abdulla Datoo Pardhan
Abdulla Datoo Pardhan - Merca, Somalia
Birth & Death
Birth Date: In The Year 1880
Death Date: In The Year 1966
Brief Profile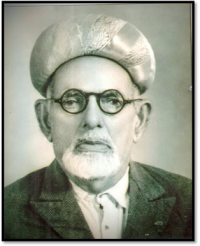 Haji Abdulla Datoo Pardhan was born in Mundra, Kutch, India in 1880. He studied up to Level 2 Gujarati at Haji Lalji School which had about 150-175 pupils. There was no established Jamat and Thursday and Wafat majalis were held at this school. Master (Teacher) Noormohamed Hasham, an uncle (masa) of Abdullabhai was trained in Mumbai and was providing primary-level education to children at this school. Every morning, he would teach the children Quran for 1-2 hours. The school had also employed Br. Gulamhussein for teaching and for reciting majalis. Whenever there was death in the community, Master (Teacher) Noormohamed would go to the home of the deceased with some boys and recite Quran and perform Ziyarat rituals.
Role of Bhavnagar
The prominent zakir in Mundra at that time was Mulla Murji Manji. He later travelled to Zanzibar and joined the firm of Abdulla Hameer. He spent the last days of his life in Pangani where he died. Bhavnagar was the centre for the propagation of Shia Ithna asheri faith in the areas of Kathiawad, Kutch and Gujarat. Religious publications like Noor e Hidayat, Rahe Najaat and Bahare Majlis helped in bringing about religious awakening in the community.
Ashura Majalis
In 1890-91, Remtulla Kassam Gulamali from Pangani, Hirji Jaffer from Zanzibar, and Nasser Mawji from Mumbai went to Mundra for Muharram and they decided to collect donations for Ashura Nyaz. While looking for a place to hold Ashura majlis and nyaz, they found a suitable building owned by Marhum Molu Khalfan. A permission was sought from his widow and she readily agreed to provide the building for majlis. The Waaras was then contacted and he also, in accordance with his liberal nature, gave the permission.
Azadari - part of Ismaili faith
During those days, Azadari of Imam Hussein was an integral part of Ismaili faith. There was a pulpit (mimbar) at the Jamatkhana and photos of Hazrat Ali AS and Imam Hussein AS (with veiled faces) were placed alongside the Aga Khan. His Excellency the Aga Khan, Shah Sultan Muhammad Shah and his son Ali Shah had arrived in Mundra. They stayed at the shrine of Gulamali Pir on the outskirts of the town. On the day of Ashura, both father and son, had walked, with their heads uncovered, from their place of residence to the Jamatkhana and performed azadari rituals. Alams (flags) were made in Jamatkhana and people would go around them performing azadari and matam. The Mukhi would recite the martyrdom narrative in Sindhi language and it would end with recitation of Ziyarat.
In earlier days, Namaz was conducted at the shrine of Hassan Pir. Later on this was done at the residence of the Waaras. Alhaj Dawood Nasser, a pioneer of our community, was of very young age and he would recite Azaan at these gatherings.
Life Journey
Abdullabhai Datoo was 12 when he left for Africa. He travelled with Haji Remtulla Kassam to Mumbai by a ship owned by a Memon, Haji Kassam. They then travelled to Zanzibar by a ship owned by Seyyid Barghash one of the five steamers he owned which made regular trips between Mumbai and Zanzibar. The ships' names were: Kilwa, Nyanza, Awaka, Akola and Barawa. After staying five months at Zanzibar, Abdullabhai left for Pangani. At Pangani, there was a business establishment of Haji Kassam of Zanzibar. Their agent in Zanzibar was Saleh Hassan and they also had a good business relationship with Haji Sheriff Dewji.
In 1896, Abdullabhai and Remtulla Kassam arrived in Merca by the steamer called 'Awaka'. They met Hajibhai Muraj, a fellow passenger, on this ship. Hajibhai Muraj had gone to Dar es Salaam for his marriage and was returning to Merca with his wife. He was a guest of Haji Mohamedbhai Muraj in Merca. Abdullabhai was a business partner with Remtulla Kassam for 27 years after which he opened his own business which ran upto 1955 in Merca. Due to difficulty in providing for education for his children in Merca, he decided to move to Mogadishu. His eldest son Mohamed resided in Merca. (A report of 1960)
Marriage and Family Life
Abdullabhai's first marriage was with Khatija, daughter of Haji Remtulla Kassam in 1908. She bore him a child, Mohamedali. After the untimely passing away of his first wife, he got married with Kulsum, a second daughter of Haji Remtulla Kassam in 1920 in Merca. After the death of second wife, he got married to Sherbanu, sister of Maalim Abdulrasul Bandali of Zanzibar in 1938 and from whom he had two sons, Gulamabbas and Firozali.
Abdullabhai went to Hajj in 1937. He had been to his homeland India twice during his stay in Merca. At the age 81 years when this interview was taken he expressed a youthful zeal for performance of ziyarat of Aimma (AS). Abdullabhai passed away in 1966 at the age of 86 and is buried in Mogadishu, Somalia.
Secretariat
Africa Federation Archives Section
30th November 2015 (17th Safar 1437 AH)
Reference: https://gallery.mailchimp.com/5496132269473a782cfb7b798/files/AFED_Archives_Buletin_Haji_Abdulla_Datoo_Pardhan_01.pdf