Remtulla Kassam Gulamali & His Sons from Cutch, Mundra - India
Birth & Death
Birht Date: In The Year 1864
Death Date: In The Year 1939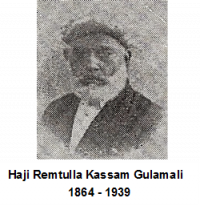 Brief Profile
Remtulla Kassam Gulamali Bhagat was born in 1864 in Mundra, Cutch, India. In 1879, he and his brother Haji travelled to Pangani by dhow. The two brothers operated a partnership for two years. Remtulla decided to travel to Mogadishu, Somalia where he operated a business for five years. Finding no success in business, he moved to Merca, Somalia in 1886. At Merca, the business flourished very well and in a short period his concern became famous throughout the coast of East Africa. Remtulla got married in Pangani to Rukiya bai with whom he did not have any children. After the death of his wife, he got married to Sakina bai in Mundra, Cutch in 1902. He had eight sons and six daughters from this second marriage.
Life Journey
Remtulla bhai had been to Ziyarat twice and once to Hajj. During his Ziyarat trip in 1914, World War I broke out and he had to extend his stay in India by two years before returning to Somalia. Due to invasion of Abyssinia (Ethiopia) by Italy in 1935, he migrated to Zanzibar as it was not safe to live in Somalia. Before moving to Zanzibar, he handed over the business to his eldest son. While in Zanzibar, three of his sons got married there.
During famine, Marhum used to import millet from Kenya and distribute it freely to the poor. To others, he used to sell at a very reasonable price. During the great famine of 1929-1930 which resulted in large number of deaths, he imported a large quantity of cereals for free distribution.
Pious & Generous Person
Remtulla bhai was a very pious and generous person. The community and the public at large benefited a lot from his private and public charity. He led Merca Jamaat for many years. In 1935, the Italian Government, in appreciation of his public service awarded him the title of Cavaliere (Knight). In 1937 he was awarded a higher title Ufficiale (Officer). In 1939, as arrangements were being made to honour him with the higher title Commendatore (Commander), he passed away in Zanzibar at the age of 75.
Short History of His Two Sons
Hussein Haji Remtulla Kassam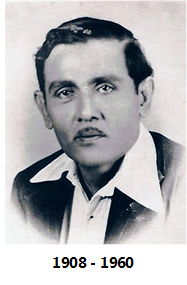 Birth & Death
Birth Date: In The Year 1908
Death Date: In The Year 1960
Brief Profile
Hussein Haji Remtulla Kassam was born in Merca, Somalia in 1908. He had good opportunity to stay with his brother in Pangani from 1914 to 1917. At Pangani, he obtained religious education, Quran recitation and Gujarati studies from Mulla Jaffer.
Personal Life
In 1936, he married Rukiya bai, daughter of Mohamed Kermalli (Kabana). He did not have any children from this marriage. He then married Rukiya bai Hassanali Giga, his late brother's widow, from this marriage he had two sons and two daughters. Hussein bhai lived in Merca since 1918. He became President of Merca Jamaat in 1955 to-date (1960).
Kassamali Haji Remtulla Kassam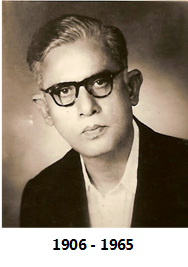 Birth & Death
Birth Date: In The Year 1906
Death Date: In The Year 1965
Brief Profile
Kassamali Haji Remtulla Kassam was born in Merca in 1906. Like his brother, he obtained his education from Mulla Jaffer at Pangani. Kassamali bhai had been working with his father since young age. After the death of his father, he started his own independent business. He married Sugra bai Mohamed Murji in Zanzibar in 1924. He had one son and one daughter from this marriage.
Community Services
Like his father, Kassamali bhai had served both the community and public at large. In recognition of his public service, the Italian Government awarded him in 1951. Kassamali bhai went to Hajj in 1955.
Family
Remtulla Kassam's children are Mohamed, Kassamali, Hussein, Abdulrasul, Hassan, Ali, Habib, Laila, Fatma Mohamed Abdulrasul Haji, Kulsum Abdulla Datoo and Khatija Abdulla Datoo. (All are Marhums).
Let us remember and pray for Marhum Haji Remtulla Kassam Gulamali, his family members, past leaders of our Community, Volunteers who have served the Community and are no longer with us in this world and all the Marhumeens for the maghferat of their souls with Sura Fateha.

Source: AFED Trade Directory - 1960
SECRETARIAT
ARCHIVES SECTION OF THE AFRICA FEDERATION
19th May 2017 (22nd Shab'an 1438 AH)
Resource: http://africafederation.org/oldafrica/publications/archives/1638-africa-federation-archives-a-brief-profile-of-alhaj-remtulla-kassam-gulamali-from-cutch-mundra-india